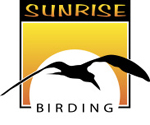 Sunrise Birding LLC
Birding & Wildlife Tours
---
Upcoming Tours
---
Brazil: The South Revealed!
May 23-June 5, 2015
>Info & reservations
Minnesota: Connecticut Warbler Special!
June 11-14, 2015
>Info & reservations
Italy: Birds & Wine!
June 29-July 6, 2015
>Info & reservations
Panama: Darien Lowlands!
Aug. 31-Sep. 5, 2015
>Info & reservations
Panama: Canopy Tower & Lodge Special!
Sep. 5-12, 2015
>Info & reservations
Guyana: Jewel of the Neotropics
November 1-15, 2015
>Info & reservations
Jamaica:
Endemics Galore
Nov. 29-Dec. 5, 2015
>Info & reservations
Honduras:
Pico Bonito Special!
plus Panacam/Lake Yojoa
January 16-21, 2016
>Info & reservations
Sri Lanka: Endemics & Specialties
plus Blue Whales!
Jan. 25-Feb. 4, 2016
>Info & reservations
Southern California
Feb. 6-14, 2016
>Info & reservations
India: Birds, Tigers & the Taj Mahal
Feb. 13-24, 2016
>Info & reservations
Trinidad: Piping Guan Quest
March 14-15, 2016
>Info & reservations
Trinidad: The Best of Asa Wright
March 15-19, 2016
>Info & reservations
Tobago: Little Gem of the Caribbean
March 19-24, 2016
>Info & reservations
Lesvos: Spring Migration Magic
April 23-30, 2016
>Info & reservations
Svalbard: Ice Bears & Ivory Gulls
June 15-22, 2016
>Info & reservations
Romania:
Danube Delta
plus Transylvania
July 1-12, 2016
>Info & reservations
Uganda:
Shoebill Special
July 30-Aug 7, 2016
>Info & reservations
---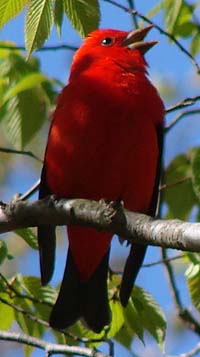 BIRDING WORKSHOPS

Sunrise Birding LLC is pleased to offer professionally guided Birding Workshops in southern New England. Join our Mailing List> to receive the latest schedule and see below for current offerings.
Advance registration is required for all workshops and some require advance payment. See the details for individual offerings. A confirmation with directions and meeting location will be emailed to registered participants a few days before each event. Please review and accept our terms and conditions>> prior to registering. Participants are encouraged to dress for the weather, bring binoculars, water, and a spotting scope (if you have one). More about Guided Weekend, Day Trips, Walks & Workshops >>
Above: Scarlet Tanager. Photo by Gina Nichol.
---
2015 SPRING BIRDING WORKSHOPS
By popular demand, Sunrise Birding will offer a series of Spring Migration Birding Workshops to study the unfolding of spring from an avian perspective. Join us for a Spring Migration Celebration! These workshops will focus on identifying migrating and nesting birds by sight and call. Most workshops will range from 2-3 hours, weather permitting. Pre-registration is required.
Click here to register>
A confirmation and directions will be emailed a few days prior to the walk.
Cost is $10 per walk unless noted.
• Friday, May 8 -- EAST ROCK PARK, New Haven, 7 AM
• Monday, May 11 -- BRANFORD SUPPLY PONDS, 7:30 AM
• Wednesday, May 13 -- HAMMONASSET STATE PARK, 8 AM
• Monday, May 18 -- BRANFORD SUPPLY PONDS, 7:30 AM
• Tuesday, May 19 -- CHATFIELD HOLLOW, 7:30 AM
---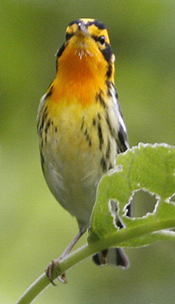 2015 DAY TRIPS
Mount Auburn Spring Birding Workshop
Saturday, May 16, 2015
Established in 1831 by the Massachusetts Horticultural Society, Mount Auburn Cemetery has become a well known birding hotspot especially during the spring migration. Join us to explore this lush 175-acre urban oasis in Cambridge, Massachusetts and look for the neotropical migrants that are passing through the the breeding birds that are beginning to set up territories. Contact gina@sunrisebirding.com to register for this trip. More info>
---
About Sunrise Birding LLC Bird Walks & Day Trips:
Preregistration is required for all programs.
Please review the Terms and Conditions prior to registering. First time attendees will be required to submit a signed copy of the Terms & Conditions.
Payment occurs just before the event begins and some programs require payment in advance. Cash or check accepted. Workshop and Day Trip prices vary. Please check the specific itinerary.
Most events take place entirely outdoors. Be prepared for changing weather conditions. Trails may be over uneven ground and bathroom facilities may not be available. Plan to be out in the field for 2 to 4 hours for local birds walks and longer for workshops and day trips.
Though not particularly strenuous, these programs are intended for persons in reasonably good health and physical condition. Participants must be capable of walking over uneven terrain. Footwear should be sturdy. Terrain may be muddy and wet. Footwear should be appropriate for such conditions.
Be sure to bring any personal necessities such as sunscreen, insect repellent, and drinking water.
Binoculars are advised for all programs and participants must supply their own. Spotting scopes are recommended as they can be very useful for studying birds at a distance.
---