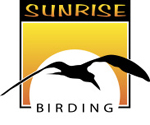 Sunrise Birding LLC
Birding & Wildlife Tours
---
Upcoming Tours
---
Colombia Birding Spectacular!
Feb. 14-Mar. 7, 2015
>Info & reservations
Southern California: Winter Getaway Special!
Feb. 21-Mar. 1, 2015
>Info & reservations
Colorado: Dance of the Chickens!
April 7-17, 2015
>Info & reservations
Greece: Lesvos Spring Migration!
April 25-May 2, 2015
>Info & reservations
Brazil: The South Revealed!
May 23-June 5, 2015
>Info & reservations
Minnesota: Connecticut Warbler Special!
June 11-14, 2015
>Info & reservations
Australia: Cassowary House, O'Reilly's, Queensland, Darwin & Kakadu
June 2015
>Info & reservations
Italy: Birds & Wine!
June 29-July 6, 2015
>Info & reservations
Brazil: Pantanal Wildlife Safari!
July 31-Aug. 8, 2015
>Info & reservations
Panama: Darien Lowlands!
Aug. 31-Sep. 5, 2015
>Info & reservations
Panama: Canopy Tower & Lodge Special!
Sep. 5-12, 2015
>Info & reservations
Guyana: Jewel of the Neotropics
November 1-15, 2015
>Info & reservations
Jamaica:
Endemics Galore
Nov. 29-Dec. 5, 2015
>Info & reservations
Sri Lanka: Endemics & Specialties
plus Blue Whales!
Jan. 25-Feb. 4, 2016
>Info & reservations
India: Birds, Tigers & the Taj Mahal
Feb. 13-24, 2016
>Info & reservations
Morocco: The Sahara to the Atlantic Coast
March 15-25, 2016
>Info & reservations
Cuba!
April 2-12, 2016
>Info soon
Lesvos: Spring Migration Magic
April 23-30, 2016
>Info & reservations
Romania:
Danube Delta
plus Carpathians
June 1-12, 2016
>Info soon
---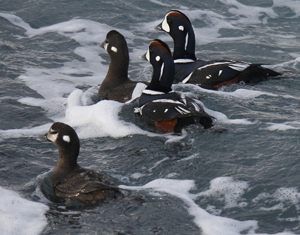 BIRD WALKS & WORKSHOPS
Sunrise Birding LLC is pleased to offer professionally guided Bird Walks & Workshops in southern New England. Join our Mailing List> to receive the latest schedule and see below for current offerings.
Advance registration is required for all walks and workshops.
A confirmation with directions and meeting location will be emailed to registered participants a few days before each event. Please review and accept our terms and conditions>> prior to registering. Participants are encouraged to dress for the weather, bring binoculars, water, and a spotting scope (if you have one). Click here to register>> More about Guided Walks & Workshops >>
Above photo: Harlequin Ducks. Beavertail State Park, Rhode Island. Photo by Steve Bird.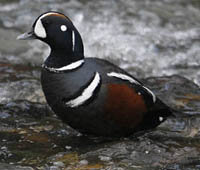 Day Trip - Birding for a Cause:
Coastal Rhode Island


Winter Birding Workshop


To benefit the Ocean State Bird Club


POSTPONED TO SUNDAY, FEBRUARY 1


8am – 4pm
Weather Date: Sunday, February 1, 2015
Logistics and cost>
Click here to register>>
Join Dan Berard and Gina Nichol to discover the avian specialties that spend the winter along the Rhode Island Coast during a day of birding to benefit the newly formed Ocean State Bird Club. We will begin our winter adventure at Trustom Pond National Wildlife Refuge, Rhode Island's only undeveloped salt pond and home to one of the most active winter bird feeders in the state. After checking the feeders for winter finches and wintering sparrows such as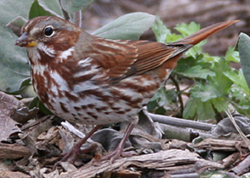 Fox and White-crowned, we'll walk the trails in search of wintering warblers, Red-shouldered Hawks and maybe even one of the Barred Owls or Great Horned Owls that roost in the refuge. After a short, easy walk to the pond we'll learn about the many species of waterfowl that winter here such as Ruddy Duck, Hooded and Red-breasted Merganser, Lesser and Greater Scaup, Common Goldeneye, Northern Pintail, Green-winged Teal and possibly Redhead or Canvasback.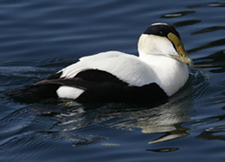 Next, we'll head east to Jamestown to scan the large rafts of Common Eider, Black Scoter and Harlequin Ducks that spend the winter at Beavertail State Park. Renowned for beautiful vistas of the rugged rocky coastline of the Atlantic, Beavertail is an important wintering area for a variety of waterfowl which can been seen by scanning from various stops along the main road. While scoping from the cliffs overlooking the sea, we'll keep an eye out for Purple Sandpipers, Bonaparte's Gulls, Red-throated Loons and Razorbills.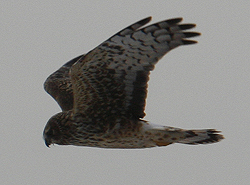 From Jamestown, we'll cross the bridge into Newport to visit Sachuest National Wildlife Refuge, a favorite winter haunt for Northern Harriers, Snowy Owls, and we may be lucky to see the island's pair of Barn Owls. The open scrub and field habitat of the refuge attracts Eastern Meadowlark, Eastern Bluebird, Red Fox, Coyote, and Short-eared Owl. Northern Harrier and Rough-legged Hawk often hunt over the open landscape. We'll also explore other, lesser-known ponds and forests around Newport to add to our list. Time permitting and to round out our waterfowl list for the day, we'll visit nearby fields where thousands of geese feed before going to roost at night. These flocks often have odd species mixed in such as Snow Goose, Greater White-fronted Goose, Cackling Goose and even Barnacle Goose and Pink-footed Goose have been seen.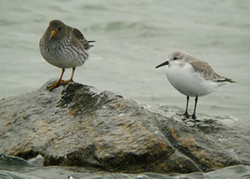 Not only will we have the opportunity for a well-rounded species list, we'll also discuss tips for identifying these birds at a distance and in tricky conditions and how to scan large groups of birds and distinguish species more efficiently and successfully. Come learn and advance your birding skills with us!
Dress warmly and bring a scope if you have one. Bring a packed lunch. We will postpone the trip the night before due to rain, heavy snow, or unsafe conditions.
Logistics:
Coastal Rhode Island
Winter Birding Workshop
Saturday, January 31, 2015 8am – 4pm
Registration is required for this trip. Click here to register>>
Meeting location and more information will be sent to registered participants. We'll meet at 8am in South Kingstown, RI. From there, we'll carpool to each hot spot and make side trips based on what's been reported. We'll return to the meeting point in South Kingston at 4pm. Transportation from southern Connecticut can be arranged. Please indicate your interest in organized transportation from Connecticut on the registration form or contact Gina Nichol at gina@sunrisebirding.com for more information.
Donation: $10 per person to benefit the newly formed Ocean State Bird Club.
In addition, tips for your hardworking leaders are appreciated and at your discretion. If you need suggestions, click here>
About Dan Berard: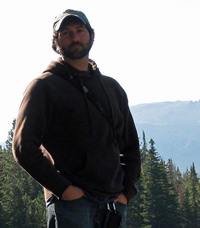 Dan Berard is a lifelong birder for whom birds were a gateway into a fascination with natural history. He has led birding and natural history tours across North America, Hawaii, Trinidad and Tobago, Mexico, Panama and pelagics on both coasts. While in Panama, he worked at the Canopy Tower counting raptors for the Panama Audubon Society's Raptors Oceans to Oceans hawk watch and was a consultant for the Emmy Award winning documentary Earth Flight. He is the Vice President of the Ocean State Bird Club and enjoys teaching people how to identify birds and approach birding in a different way.
QUESTIONS?
Contact Gina Nichol at gina@sunrisebirding.com or Dan Berard at DJBerard84@gmail.com Click here to register>>
Photos, top to bottom: Harlequin Duck, Fox Sparrow, Common Eider, Northern Harrier, Purple Sandpiper & Sanderling.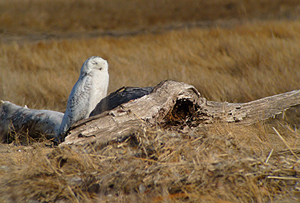 Snowy Owl. Hammonasset State Park, CT. Photo by Gina Nichol.
---
About Sunrise Birding LLC Bird Walks & Day Trips:
Preregistration is required for all programs.
Please review the Terms and Conditions prior to registering. First time attendees will be required to submit a signed copy of the Terms & Conditions.
Payment occurs just before the walk begins. Cash or check accepted. The fee is $10 per person for each local walk. Workshop and Day Trip prices vary. Please check the specific itinerary.
Walks take place entirely outdoors. Be prepared for changing weather conditions. Trails may be over uneven ground and bathroom facilities may not be available. Plan to be out in the field for 2 to 4 hours for local walks and longer for workshops and day trips.
Though not particularly strenuous, these programs are intended for persons in reasonably good health and physical condition. Participants must be capable of walking over uneven terrain. Footwear should be sturdy. Terrain may be muddy and wet. Footwear should be appropriate for such conditions.
Be sure to bring personal necessities such as sunscreen, insect repellent, and drinking water.
Binoculars are advised for all programs and participants must supply their own. Spotting scopes are recommended as they can be very useful for studying birds at a distance.
---