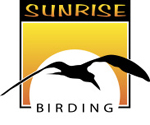 Sunrise Birding LLC
Birding & Wildlife Tours
---
Upcoming Tours
---
Cuba
plus Havana extension
April 2-13, 2017
>Info & reservations
Lesvos: Spring Migration Magic!
April 28-May 6, 2017
>Info & reservations
Finland: Owls, Grouse & more
May 28-June 3, 2017
>Info & reservations
Norway: Lapland & Varanger
June 3-9, 2017
>Info & reservations
Svalbard: Ice Bears & Ivory Gulls
June 15-22, 2017
>Info & reservations
Panama Canopy Camp Special
Sept 3-8, 2017
>Info & reservations
Brazil: Pantanal with Eduardo Patrial
plus Jardim da Amazonia Lodge
Sept-Oct 1, 2017
>Info & reservations
Galapagos
Wildlife Cruise
Sept 23-Oct 1, 2017
>Info & reservations
Guyana: Jewel of the Neotropics
Oct 29-Nov 11, 2017
>Info & reservations
Jamaica: Endemics & Specials
December 2-9, 2017
>Info & reservations
Bosque del Apache & Arizona
Jan 6-13, 2018
>Info & reservations
New Zealand: Island of Endemics
Jan 31-Feb 20, 2018
>Info & reservations
Costa Rica Special!
Feb 3-9, 2018
>Info & reservations
Guatemala:
The NEW Hotspot plus Tikal
February 2018
>Info & reservations
Amazon RIver Cruise!
March 16-25, 2018
Plus Machu Picchu extension
>Info & reservations
Southern Brazil
March 27-April 11, 2018
>Info & reservations
Colorado Grouse & Chickens
April 7-17, 2018
>Info & reservations
Chile: Penguins, Condors & Pumas
October 10-20, 2018
>Info & reservations
---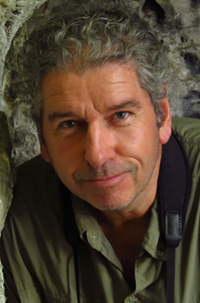 BIRD WITH BIRD!
2016 Fall Migration
Bird Walks
Click here to register>
Sunrise Birding is offering a special series of Fall Migration Bird Walks to be led by birding guide extraordinaire, Steve Bird. Join Steve to experience fall migration at some of the best locations on the Connecticut coast. These field birding sessions will focus on how to identify, migrating passerines, shorebirds, raptors and others.
Walks will range from 2-3 hours, weather permitting. Space is limited and advance registration is required for all walks. Click here to register>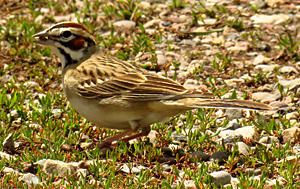 A confirmation and directions will be emailed a few days prior to the walk. Cost is $10 per walk payable at the beginning of the walk (except where noted). Please review and accept our terms and conditions>> prior to registering. Participants are encouraged to dress for the weather, bring binoculars, and any other personal necessities.
Lark Sparrow. Photo by Gina Nichol.
---
2016 FALL SCHEDULE
Click here to register>
Monday, October 3, 2016 -- Lighthouse Point Park, New Haven, 8 AM

Thursday, October 6, 2016 -- Silver Sands State Park, Milford, 8 AM
About Steve Bird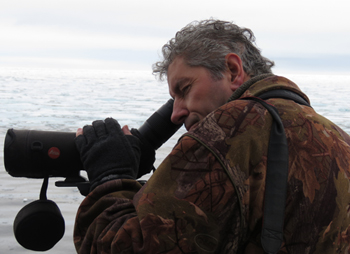 Steve is a full-time Wildlife Tour leader who has travelled the world in search of birds and many other forms of wildlife. He presently leads tours for UK-based company Zoothera Birding and US-based company Sunrise Birding. Having birded throughout the world, Steve enjoys passing on the wealth of information he has acquired. His knowledge, enthusiasm and tireless leadership skills, combined with a pleasant, easy-going attitude and great sense of humor have made him a very popular leader, and it is this and his uncanny success in finding birds that has seen him gain an avid band of followers.
Preregistration is required for all programs.
Please review the Terms and Conditions prior to registering. First time attendees will be required to submit a signed copy of the Terms & Conditions.
Payment occurs just before the event begins and some programs require payment in advance. Cash or check accepted. Workshop and Day Trip prices vary. Please check the specific itinerary.
Most events take place entirely outdoors. Be prepared for changing weather conditions. Trails may be over uneven ground and bathroom facilities may not be available. Plan to be out in the field for 2 to 3 hours for local birds walks and longer for workshops and day trips.
Though not particularly strenuous, these programs are intended for persons in reasonably good health and physical condition. Participants must be capable of walking over uneven terrain. Footwear should be sturdy. Terrain may be muddy and wet. Footwear should be appropriate for such conditions.
Be sure to bring any personal necessities such as sunscreen, insect repellent, and drinking water.
Binoculars are advised for all programs and participants must supply their own. Spotting scopes are recommended as they can be very useful for studying birds at a distance.
---
Join our Mailing List to receive the latest schedules of walks and tours. Mailing List signup>>