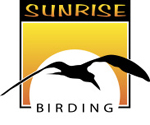 Sunrise Birding LLC
Birding & Wildlife Tours
---
Upcoming Tours
---
Guyana: Jewel of the Neotropics
November 1-15, 2015
>Info & reservations
Jamaica:
Endemics Galore
Nov. 29-Dec. 5, 2015
>Info & reservations
Honduras:
Pico Bonito Special!
plus Panacam/Lake Yojoa
January 16-21, 2016
>Info & reservations
Sri Lanka: Endemics & Specialties
plus Blue Whales!
Jan. 25-Feb. 4, 2016
>Info & reservations
Minnesota: Northern Owls, Grouse & Grosbeaks
Jan. 27-31, 2016
>Info & reservations
Southern California
Feb. 6-14, 2016
>Info & reservations
India: Birds, Tigers & the Taj Mahal
Feb. 13-24, 2016
>Info & reservations
Trinidad: Piping Guan Quest
March 14-15, 2016
>Info & reservations
Trinidad: The Best of Asa Wright
March 15-19, 2016
>Info & reservations
Tobago: Little Gem of the Caribbean
March 19-24, 2016
>Info & reservations
Lesvos: Spring Migration Magic
April 23-30, 2016
>Info & reservations
Romania:
Danube Delta
plus Transylvania
May 27-June 3, 2016
>Info & reservations
Minnesota: Connecticut Warbler Special!
plus Boreal Extension
June 10-15, 2016
>Info & reservations
Svalbard: Ice Bears & Ivory Gulls
June 15-22, 2016
>Info & reservations
Brazil:
Pantanal Wildlife Safari
July 9-19, 2016
>Info & reservations
Uganda:
Shoebill & Gorilla Special
July 30-Aug 7, 2016
>Info & reservations
Arizona:
Hummingbirds, Owls & more!
July 31-Aug 8, 2016
>Info & reservations
Galapagos
Wildlife Cruise
Sept 24-Oct 2, 2016
>Info & reservations
Panama: Darien Lowlands!
September 4-9, 2016
>Info & reservations
Cape May Migration with Kevin Karlson
Sept 25-Oct 2, 2016
>Info & reservations
Chile: Condors, Penguins and Pumas in Patagonia
Oct 11-20, 2016
>Info & reservations
Namibia, Botswana & Victoria Falls
Nov 28-Dec 7, 2016
>Info & reservations
New Mexico : Bosque del Apache
Dec 3-10, 2016
>Info & reservations
Thailand! Chiang Mai, Spoon-billed Sandpiper & Kaeng Krachan
With Kevin T. Karlson
January 7 - 18, 2017
>Info & reservations
---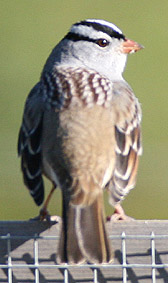 Fall Migration 2015

BIRD WALKS!
Click here to register>

By popular demand, Sunrise Birding will offer a series of Fall Migration Bird Walks in September, October and November 2015. Join birding expert Frank Mantlik for field birding sessions that focus on how to identify, migrating passerines, sparrows, raptors and shorebirds. Walks will take place at premier birding sites in Connecticut.
Most walks will range from 2-3 hours, weather permitting. Advance registration is required for all walks. Click here to register> A confirmation and directions will be emailed a few days prior to the walk. Cost is $10 per walk payable at the beginning of the walk. Please review and accept our terms and conditions>> prior to registering. Participants are encouraged to dress for the weather, bring binoculars, water, insect repellent, and a spotting scope (if you have one).
---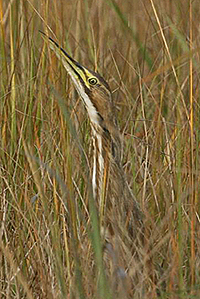 2015 Fall Bird Walk
SCHEDULE
Leader: Frank Mantlik mantlik@sbcglobal.net (cell phone: 203-984-9410)
Click here to register>
Tuesday, September 22, 8 AM
Osbornedale State Park/Kellogg Center, Derby


Wednesday, September 23, 1 PM
Boothe Park Hawkwatch, Stratford


Wednesday, September 30, 8 AM
Silver Sands State Park, Milford


Thursday, October 1, 8 AM
Lighthouse Point, New Haven


Monday, October 5, 8 AM
Hammonasset Beach State Park, Madison


Monday, October 12 (Columbus Day), 8 AM, Lighthouse Point,
New Haven


Friday, October 16, 2:30 PM
Stratford Point/Short Beach, Stratford


Thursday, October 22, 8 AM
Sherwood Island State Park, Westport


Monday, November 2, 8AM
Lighthouse Point, New Haven


Friday, November 6, 8:15 AM
Milford Point, Milford


Join our Mailing List to receive the latest updates and
schedules of walks and tours. Mailing List signup>>
Photos: White-crowned Sparrow by Walt Duncan, American Bittern and Cave Swallow by John Schwarz (www.birdspix.com), Brant by Gina Nichol.
Preregistration is required for all programs.
Please review the Terms and Conditions prior to registering. First time attendees will be required to submit a signed copy of the Terms & Conditions.
Payment occurs just before the event begins and some programs require payment in advance. Cash or check accepted. Workshop and Day Trip prices vary. Please check the specific itinerary.
Most events take place entirely outdoors. Be prepared for changing weather conditions. Trails may be over uneven ground and bathroom facilities may not be available. Plan to be out in the field for 2 to 4 hours for local birds walks and longer for workshops and day trips.
Though not particularly strenuous, these programs are intended for persons in reasonably good health and physical condition. Participants must be capable of walking over uneven terrain. Footwear should be sturdy. Terrain may be muddy and wet. Footwear should be appropriate for such conditions.
Be sure to bring any personal necessities such as sunscreen, insect repellent, and drinking water.
Binoculars are advised for all programs and participants must supply their own. Spotting scopes are recommended as they can be very useful for studying birds at a distance.
---
Photos above: Dunlin by Gina Nichol. Caspian Terns by Gina Nichol.