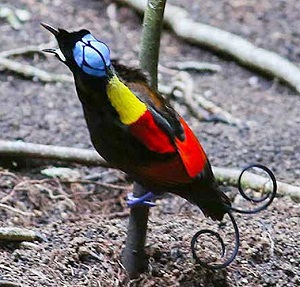 WEST PAPUA
Birds-of-Paradise Special!
September 16 - 29, 2025
In association with Bird's Wildlife & Nature LTD of Plymouth, England.
Gina Nichol & Steve Bird will be leading this tour with local guides.
Birders have been visiting Papua New Guinea now for many years with poor infrastructure and degraded accommodations. Now, the new place to go to see Birds-of-paradise is West Papua. With improved infrastructure and hotels close to birding hotspots, seeing the incredible Birds-of-Paradise can be done in an easy and much more relaxed manor without the need for camping or roughing it. This tour was designed by our expert local guide with these factors in mind, and hence here we have a tour to this iconic part of the world that can now be enjoyed by everyone.
Starting in the lowland rainforest of Nimbokrang at the base of the Cyclops Mountains, we can look for Twelve-wired Bird-of-paradise and the Lesser Bird-of-paradise, as well as Magnificent Riflebird, King Bird-of-paradise, and even Pale-billed Sicklebill as well as host of other incredible species.
We will then move on to the fabled Snow Mountains where a huge range of sought after birds await us including Macgregor's Honeyeater and Snow Mountain Quail. Finally, our tour will take us to Waigeo Island where we stay in a dive resort beside the beach and from here we have easy access to to the display grounds of one of the strangest and most sought after birds, the incredible Wilson's Bird-of-paradise. From hides we can watch and photograph males birds vying for the attention of females, an incredible sight. There are, of course, other Birds-of-paradise here and a whole host of other delights.

If you've ever dreamed of seeing a Bird-of-paradise, this trip is for YOU!
It is designed to get up close and personal with members of one of the most enigmatic families of birds in the world. Don't miss it!
For itinerary details, go to Bird's Wildlife & Nature LTD>

TO RESERVE YOUR PLACE ON THIS TOUR, email [email protected]