---
LESVOS: Europe's Biggest Week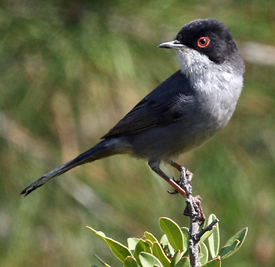 The Greek Island of Lesvos is renowned for its ancient history, incomparable natural beauty and tradition of hospitality. Celebrated as the Princess of the Northwest Aegean Sea, this stunning island has become known by birders as one of the best locations in Europe to witness spring migration. In late April and early May, a continual stream of migrating birds pass over the island as they move from their wintering grounds in Africa to their breeding grounds in Europe. Keen birders return year after year to experience the migration magic of Lesvos and search out the island's special birds, including Krüper's Nuthatch, Cinereous Bunting, Cretzschmar's Bunting, Rüppell's Warbler, Sardinian Warbler, Scopoli's Shearwater, Isabelline Wheatear, Masked and Red-backed Shrike and more. This program will reveal the avian delights of Lesvos with vivid photographs of its birds against the backdrop of charming fishing villages, sea coasts, salt pans, sparkling rivers and lakes, and the slopes of Mount Olympus.

Photos: Sardinian Warbler, Lesvos, April 2016 by Steve Bird. Poppy Fields in Lesvos, April 2016 by Gina Nichol.
---
CHASING WILD CATS
Wild cats are some of the world's most endangered species and their elusive habits and secretive lives capture our imagination. This program takes a look at the wild felines of the world and what it takes to see them in their native habitats. Adventures in search of the American Puma, the Eurasian Lynx, Jaguar, the mythical Snow Leopard, and others are vividly illustrated with striking photographs as the lives of some of the most endangered and mysterious creatures in the world are revealed.

Eurasian Lynx. Photo by Steve Bird.
---
COLOMBIA'S AVIAN TREASURES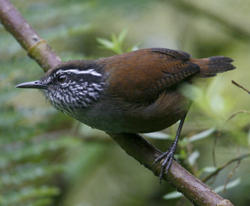 The avian riches of Colombia are legendary. With at least 1870 species, Colombia boasts more species than any country in the world! The country holds at least 73 endemics and 21 species new to science discovered since the first major field guide was published in 1986. From a birding perspective, the opportunities here are unsurpassed. Until now however, Colombia has been off limits to birders. Security concerns have kept Colombia closed for decades. In recent years, efforts by the Colombian government and military to address safety problems have significantly improved the situation and Colombia is now open for birding! Gina Nichol spent the better part of two months birding Colombia in 2009 and has been working with the Colombian government and ornithological community to develop tours to this bird-rich country. This program will reveal the avian riches of this once taboo birding destination and depict what it is like to bird Colombia with vivid photographs of many of the colorful species in this wonderful country.
Photo: Munchique Wood Wren by Steve Bird.
Back to top
---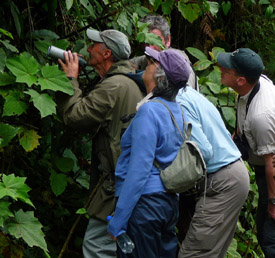 HOW TO GET BETTER VIEWS OF BIRDS!
One of the most satisfying aspects of bird watching is getting a good close view of a wild bird, one that allows you to study plumage features, observe behavior or simply enjoy the aesthetic experience. Try as we may, getting close to birds is not so easy. Binoculars and spotting scopes help and most birders know not to wear white in the field but what are some other ways to improve your chances of getting a prolonged, satisfying view of a bird? This program will focus on "Fieldcraft", the field practices and specialist skills for observing birds at close range. Techniques intended to advance birding proficiency and get those killer views will be revealed with the goal of raising gratification and lowering frustration that can accompany our favorite pursuit.
Photo: Birders in Colombia by Gina Nichol.
Back to top
---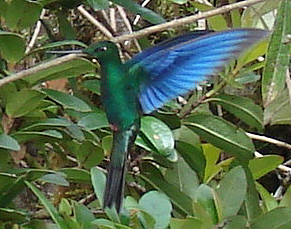 HUMMINGBIRDS: Magic in the Air
With more than 330 species known in the world, hummingbirds are the second largest family of birds after flycatchers. These tiny aeronautic marvels have the ability to hover, fly backward, and migrate long distances. The physiological capacity of hummingbirds to raise and lower their heart rate and body temperature to survive cold nights is unmatched in the animal world. This program illustrates the amazing adaptations of these glittering gems and describes their fascinating life histories. Vivid photographs of hummingbirds in the United States, Costa Rica, and Ecuador tell the story of how these birds survive in habitats that range from tropical forests to the forests of the Andes Mountains.
Photo: Great Sapphirewing , Ecuador by Steve Bird
Back to top
---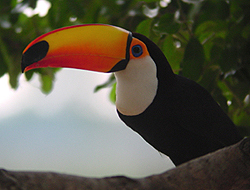 SAFARI BRAZIL
The seasonal wetlands of the Pantanal region of west central Brazil offer some of South America's finest wildlife viewing opportunities. In an open, safari-type setting along the famous Transpantaneira Highway, spectacular concentrations of egrets, herons, storks, and ibis can be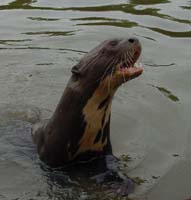 seen in vast, open wetlands. Five foot tall Greater Rheas (South America's equivalent to the Ostrich) roam the open pasturelands. The air is filled with the raucous calls of Hyacinth, Red-and-Green, Red-bellied, Golden-collared Macaws and tropical animals including Yellow Anaconda, Black-and-Gold Howler Monkey, Crab-eating Fox, Giant Anteater, Capybara, and Jaguar live in the surrounding habitats. This program describes the stunning habitats and remarkable wildlife of the Pantanal region. Striking photographs illustrate the area's extensive marsh and river habitats, huge waterfalls, cerrado, and gallery rainforest and vividly document its intriguing, exotic, wild residents.

Photos: Toco Toucan (right) & Giant Otter (left) by Gina Nichol.

Back to top
---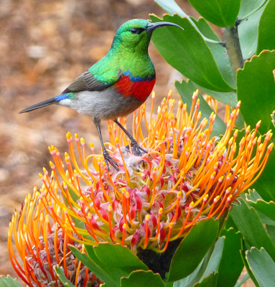 UNDER SOUTH AFRICAN SKIES
The southern tip of Africa is one of the greatest biodiversity hotspots in the world and attracts birders, botanists and mammal enthusiasts from around the globe. Harboring a multitude of endemic birds, the classic African mammals, and a rich and unique botanical heritage, the multi-ethnic nation of South Africa stands out as a wonderful destination for nature enthusiasts. The Cape Peninsula, often called the "Jewel of South Africa", offers spectacular, wild, rugged scenery that is home to penguins, ostriches, several types of antelope, and the unique "fynbos" vegetation. Further into the interior of the country, the world renowned Kruger National Park is one of the largest game reserves in Africa and is home to lions, leopards, elephants, and giraffes and more than 500 species of birds. This program chronicles a journey from the Cape Peninsula up to Kruger National Park with vivid photos of birds, animals and stunning landscapes and describes what it is like to travel in this varied and sometimes distinctly un-African country.
Photo: Southern Double-collared Sunbird by Gina Nichol.
Back to top
---
UPCOMING TALKS by Gina Nichol
British Birdfair Lecture Programme, Sunday, August 18, 2019, Gina Nichol,
LESVOS: Spring Migration Magic, 11 AM, Osprey Lecture Theatre
---
Feedback from recent talks by Gina Nichol:

Sunday, August 19, 2018, British Bird Fair, Rutland, England
-- LESVOS: Spring Migration Magic, 10 AM, Osprey Lecture Theatre (LM1)

From one of the attendees: "Just got back from a second day at the Rutland Birdfair. We just found most of the talks and image shows to be on a higher plane than previous years, and one of the real highlights was an excellent presentation today on Lesvos by American wildlife tour leader Gina Beebe Nichol.
Particularly pleasing was that Gina drummed home to the large audience that the magnificent efforts by islanders and others to deal with the large passage of refugees had little effect on Lesvos as a tourist/birding destination.
We went to several great talks at Birdfair, but our love for Lesvos made Gina's really stand out. The audience certainly loved it."
Frank W., England
---
© Sunrise Birding. All rights reserved.
All photos by Gina Nichol unless otherwise noted.
Contact Gina Nichol at
gina@sunrisebirding.com
---