First and Last Name:

Daytime Phone Number:

(for notification of changes)

E-mail Address:

Name & Phone Number  of Emergency Contact:

Most walks will range from 2-3 hours, weather permitting. Advance registration is required for all walks. Cost is $10 per walk payable at the beginning of the walk (unless noted as free). Participants are encouraged to dress for the weather, bring binoculars, water, insect repellent, and a spotting scope (if you have one). 

Note: Your email address must be able to accept a confirmation email from mantlik@sbcglobal.net

Meeting location information will be sent via email with a confirmation a few days ahead of time.

Registration and attendance at Sunrise Birding LLC programs implies agreement with and acceptance of Sunrise Birding's terms and conditions.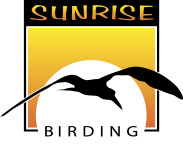 FALL MIGRATION BIRD WALKS 2017!

Registration Form