Steve Bird's Bee-eaters
See more of Steve's original art here>
Contact Steve for commissions at [email protected]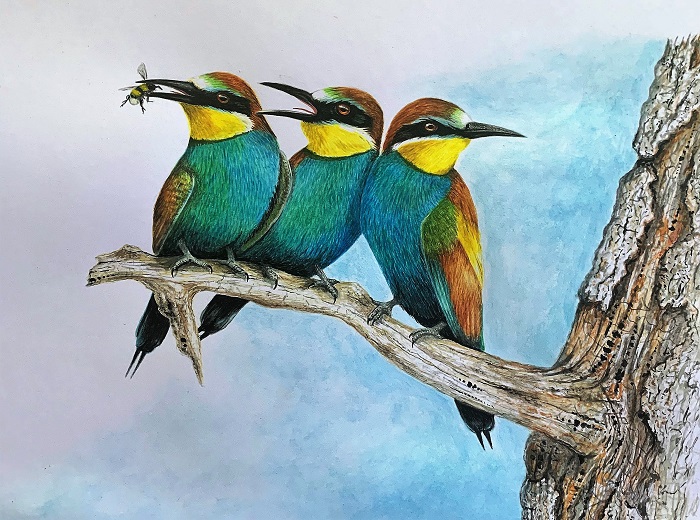 European Bee-eaters, 10" x 12" original watercolor by Steve Bird
---
SUMMER 2020 Update Plus, get a Steve Bird original!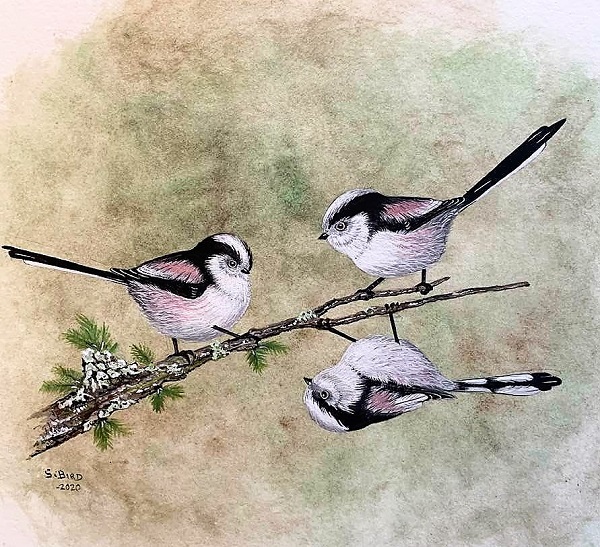 Long-tailed Tits by Steve Bird. See more here>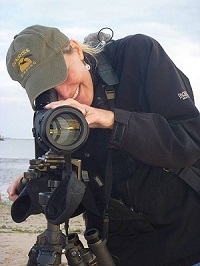 Spring migration is winding down and breeding birds are settling in here in southern New England. Things are slowly opening up and we are continuing to monitor the coronavirus situation as it relates to upcoming tours as well as planning for new tours in 2021.
PLANNING FOR TRAVEL IS GOOD FOR YOUR MENTAL HEALTH
Please take a look at our tour offerings> as it could for your mental health! This recent article in National Geographic> says, "According to researchers, looking ahead to your next adventure could benefit your mental health. Even if you're not sure when that adventure will be." We have experienced this benefit in recent months as we plan for future tours. Planning provides a feeling of hope and optimism and gives us something to look forward to. So if there is a tour that you have been thinking about>, let us know!


STEVE BIRD ORIGINALS
In the meantime, Steve has taken up illustrating and painting again after a long hiatus. Above is a painting of Long-tailed Tits that he did for me. He is willing to do commissions, especially of species seen with us on past trips. See more of Steve's original art here> Contact Steve to discuss options at [email protected]
CONNECTICUT BIRD WALKS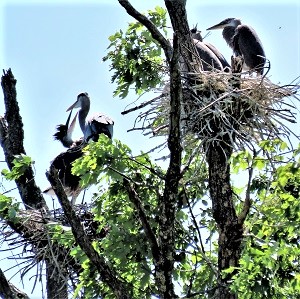 For local birders in southern New England, our guided local bird walks will be starting soon. We are also offering private, Backyard Nature Walks, Birding Walks, and Birding by Ear sessions (with health precautions, of course).
For more information about private tours, go here>
Once again we want to thank all of our wonderful clients, guides and agents around the world for their support during this difficult time. Stay well and we look forward to birding together again soon!
Gina & the Sunrise Birding Team


Great Blue Herons at a rookery in Dutchess County, NY, June 2020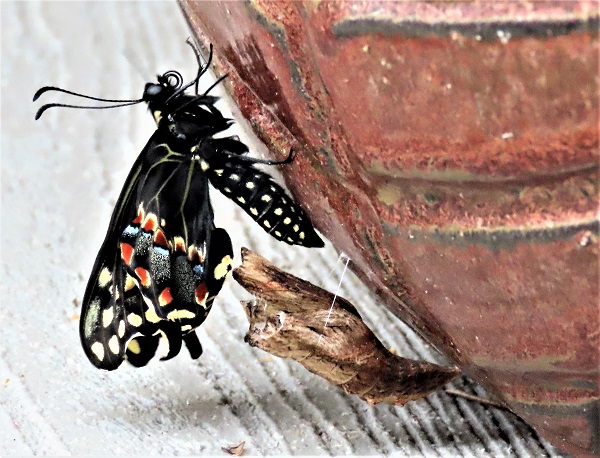 A Black Swallowtail butterfly emerges from a chrysalis on my deck! June 2020

---
May 2020 Update: SPRING COLORS!


Baltimore Oriole by Gina Nichol.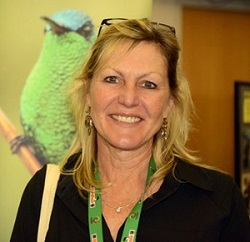 Dear Sunrise Birding Friends & Family,

These unprecedented times and the uncertainty of the future continue to present challenges to all of us. I hope you and your loved ones are staying well. We continue to miss sharing long awaiting travel adventures with our amazing clients and are working hard to reschedule postponed tours. We are also continuing to plan new tours to far away places like Mongolia, Bolivia and Malaysia, and adding destinations closer to home like Texas.
We have been touched by the kindness and generosity of our clients who continue to send supportive messages. We are grateful beyond words for your continued support and inspired to look forward with renewed hope. Thank you!

In the meantime, spring migration has peaked in southern New England this week reminding us to keep moving forward. Birds are in full song, warblers are passing through, shorebirds are not far behind, and our breeding birds have settled in.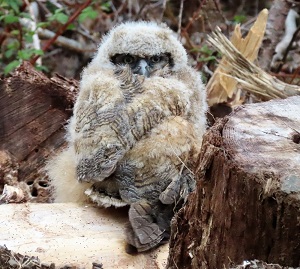 In April, between long sessions in the office trying to work out the impacted tours, I took solo mental health walks in a nearby natural area where I found and monitored an active Great Horned Owl nest. Photos and notes about that experience can be found here> The experience inspired me to develop a new presentation entitled, "Looking for Owls" which will be available soon.
Migration and the experience with the owls reminded me of the joy that birding offers. I hope you can take the opportunity to enjoy the avian delights of the season whether it be simply listening to the sounds outside your window or getting out to witness the magic of migration. We look forward to sharing adventures with you soon. Feel free to take a look at our upcoming tour offerings and dream about the possibilities>.
We also offer private tours, including domestic, international and private local birding tours in southern New England. If you have questions, want to arrange a private tour, or want us to pencil you in for an upcoming group tour so that you have something to look forward to, we'd love to hear from you.
Stay well and good birding!

Gina & the Sunrise Birding Team
[email protected]
And don't forget to social distance!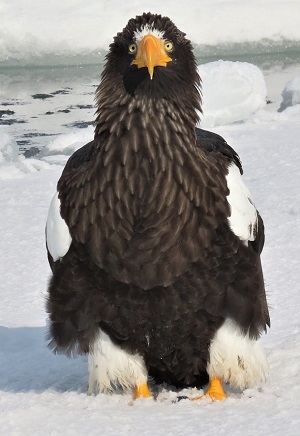 JAPAN! Trip highlights
Our 2020 Japan tour featured incredible wildlife spectacles of Cranes, Snow Monkeys, Steller's Sea and White-tailed Eagles, and fantastic views of Blakiston's Fish Owl in Rausu. Highlights and videos are posted here>
Our next trip is filling now. Don't miss the amazing wildlife of Japan! Contact [email protected] to hold your place!
JAPAN! Cranes, Eagles, Owls
& Snow Monkeys!
February 5 - 16, 2021
Info & reservations>

Contact [email protected] to hold your place!
Photo: Steller's Sea Eagle by Gina Nichol.
More photos & videos>
---
LATEST REPORTS
---
NEW TOURS!
Check out these newly added tours! Contact [email protected] to hold your place!
SERBIA LONG-EARED OWL SPECTACLE
January 11 - 19, 2021
Serbia has rapidly become the most talked about birding destinations in Eastern Europe. Why? Because, it is the best place in the world to see Long-eared Owls in incredible numbers right in the town square of a village in northern Serbia! Join us to experience the spectacle of the Long-eared Owl winter gathering in the now world famous town of Kikinda. The town's main square holds huge gatherings of Long-eared Owls, upwards of 800 in some years, and has been declared by the local government as a nature reserve. More info>
NORTHWEST ARGENTINA
with Eduardo Patrial
February 13 - 28, 2021
Famed for its attractive unspoiled scenery, northwest Argentina offers the birder a wealth of rare and spectacular birds. From the beautiful Yungas Cloud forests to tumbling mountain streams, Monte Desert,
Cacti Scrubland, Altiplano and high Andean Grasslands, we will not only be entranced by the outstanding beauty of this country, we will also be able to see many endemic and much sought after species. More info>
BULGARIA: Spring in the Balkans
May 5 - 14, 2021
Bulgaria stands at a crossroads on the Balkan Peninsula which 'separates' Europe and Asia. Because of this, Bulgaria has become one of Europe's best bird watching destinations. It is the gateway to many eastern European species and several Asiatic species which can be found on the western-most edge of their range. There is a vast range of habitats to discover and over 420 species have been recorded in this stunningly beautiful country and it is not uncommon to record 200 species during a 9-day tour such as ours. More info>