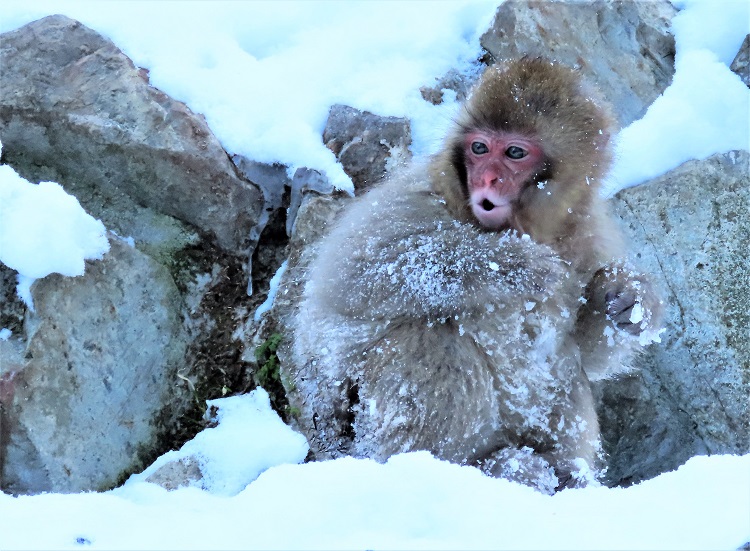 Snow Monkey, Japan, 2020. Photo by Gina Nichol. See Snow Monkeys in Japan in 2022>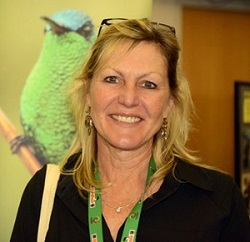 The Year Ahead
As the rollout of the covid vaccines offer a light at the end of this long and difficult tunnel, we are working to add new tours for our travel deprived clients. Please check our calendar> or list of tours> for new additions.
Messages of kindness, support and encouragement from our clients, guides, operators, and colleagues around the world have kept us moving forward. I am grateful for our extended Sunrise Birding family and we are ready to travel and share exciting adventures with you again in the near future. We are monitoring the situation in each destination and making decisions on tours 60 days in advance of the departure date. We will contact registered clients directly.
As we gear up for post pandemic travel, please remember that we do arrange private tours> for small groups of friends, bird clubs, etc. And, we are giving several online presentations> to Audubon groups and bird clubs in the coming months. If you belong to a group and want an online presentation, please have your program person contact us.
Stay safe and let's get through this!
Gina & the Sunrise Birding Team

Above: Gina Nichol. Photo by Steve Broker.
---
2020 RECAP

The year began like most others with a full schedule of tours and a few scouting trips to new destinations. Early in January, Gina & Steve traveled to BELIZE to visit lodges and birding areas and plan some new itineraries. Highlights>> included 271 Species in 9 days! Ocellated Turkey, Agami Heron, Striped Owl, Stygian Owl, Bat Falcon, Rufous Woodcreeper, Keel-billed Toucan, Yellow-tailed Oriole, Chestnut-colored Woodpecker, Fork-tailed Flycatcher, Red-capped Manakin, Morelet's Seedeater, Jabiru, King Vulture, and Green Shrike Vireo were among the avian treats we enjoyed. Special thanks to our hosts and guides. We look forward to bringing groups to this tropical, bird-filled country. If you are interested in Belize, let us know and we'll keep you informed about upcoming tours>>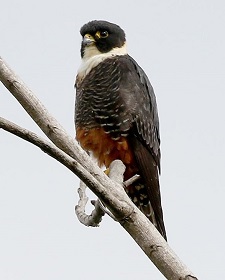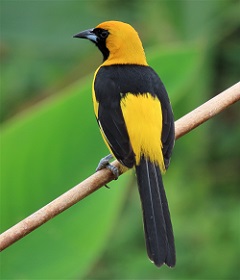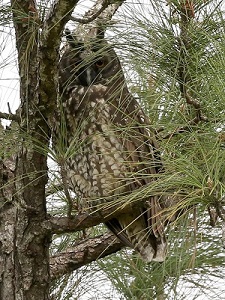 Photos from Belize, 2020: Bat Falcon by Steve Bird, Yellow-tailed Oriole by Gina Nichol, Stygian Owl by Steve Bird.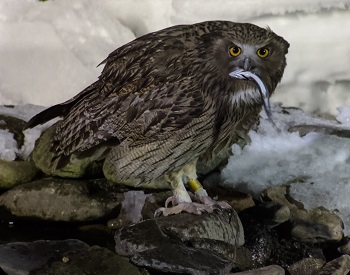 In February, the winter specialties of JAPAN were in our sights with Gina and Steve taking a group to this magical destination that offers wildlife, nature, and cultural experiences like no other. Highlights and the full trip report can be seen here>> We saw upwards of 15,000 Cranes, the famous "Snow Monkeys", a stunning Ural Owl catching the morning rays, and the impressive Blakiston's Fish Owl. A short boat trip into Hyuga Harbor allowed super close views of the much desired Japanese Murrelet. And to top it off, the "dancing" Red-crowned Cranes in a snowy setting gave an amazing show. The trip concluded at Rausu, where we sailed for 20 minutes to the edge of the sea ice and spent the morning with 300 Steller's Sea and White-tailed Eagles! We enjoyed many wonderful meals, stayed in some very unique places, and saw incredible wildlife. Needless to say, we're going back in 2022>>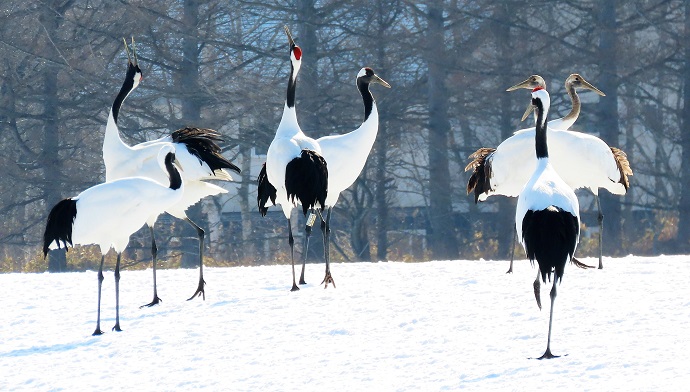 Photos from Japan: Blakiston's Fish Owl by Keith Langman, Red-crowned Cranes by Gina Nichol.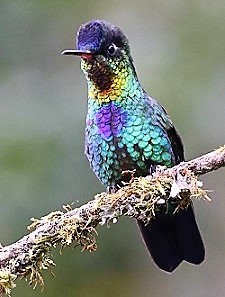 Meanwhile that same month, Frank Mantlik took a group to COSTA RICA for another very successful Hummingbird & Quetzal Special. Among the top sightings were many views of Resplendent Quetzal, Spectacled Owl, Bare-shanked Screech Owl, Black-and-white Owl, Sunbittern, and 20 species of hummingbirds. A pdf of the trip report can be found here>>. Our next Costa Rica trip is set for late March 2021>> if it's safe and we have another tour set for March 2022>>. Inquire about Costa Rica tours here>>

Photo: Fiery-throated Hummingbird, Costa Rica by Frank Mantlik.

Also in February, Frank Gallo led a tour to TEXAS looking for winter specialties. With the help of Phil Rusch and our friend Clay Taylor in Corpus Christi, some of the memorable sightings of the tour included Whooping Crane, Aplomado Falcon, Hook-billed Kite, "Mangrove" Yellow Warbler, Red-billed Pigeon, Morelet's Seedeater, Rose-throated Becard, Green Jay, Buff-bellied Hummingbird, Ferruginous Pygmy Owl, great views of a slew of raptors, Audubon's, Altamira, and Hooded Orioles and so much more. A pdf of the trip report can be found here>> Of course, with these results, we'll be heading back in 2022>>. Inquire here>>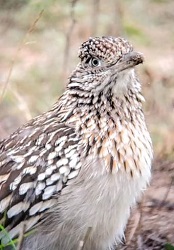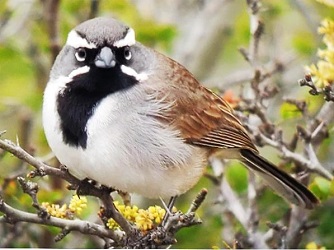 Texas photos: Greater Roadrunner and Black-throated Sparrow by Frank Gallo.

In March, Gina and Steve led a private group to COSTA RICA. This was a two week trip with time birding the Pacific coast, the Caribbean lowlands, and the central mountains. The photos below offer a glimpse of this successful, private adventure. Inquire about private Costa Rica tours here>>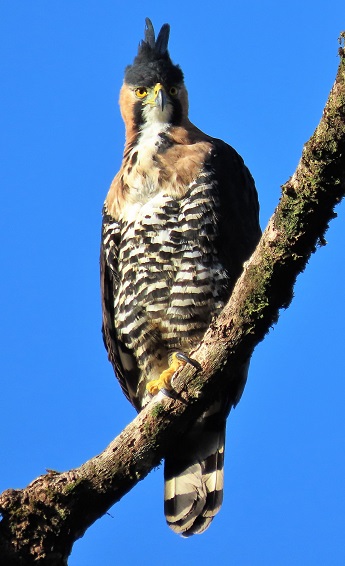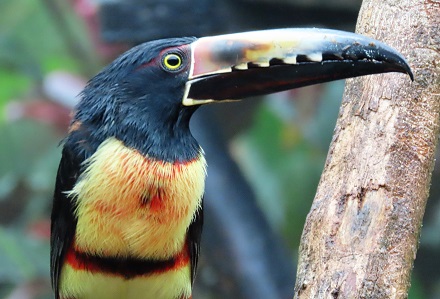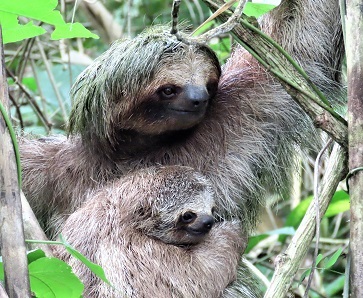 Costa Rica photos: Collared Aracari, Brown-throated Three-toed Sloths & Ornate Hawk Eagle by Gina Nichol.

Just before the pandemic shutdown, Sara Zagorski and Frank Mantlik represented Sunrise Birding at the Massachusetts Birders meeting. Thanks to Sara and Frank and everyone who stopped by to say hello.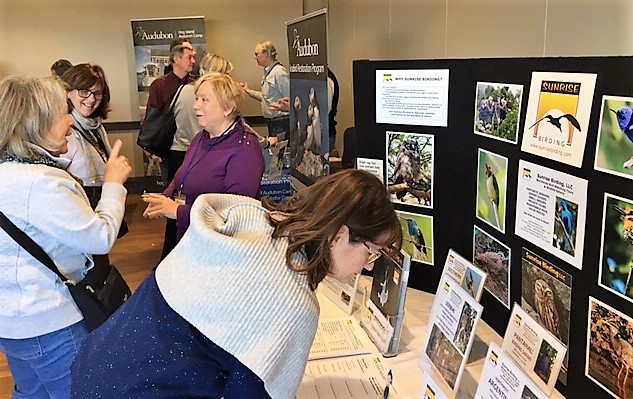 Photo: Mass Birders Meeting, March 2020 by Frank Mantlik.
At the end of March, Sunrise Birding went on "pandemic pause" for the next several months. During the pandemic, Steve Bird has been painting again>> and doing art commissions. Sunrise Birding was featured in the September issue of Connecticut Magazine in an article by Todd McLeish (pdf download)>>. And, in November, our fantastic guides Frank Mantlik and Frank Gallo were featured in this NATURE'S HEROES article in a local Connecticut newspaper>>.
Jocotoco Antpitta. Watercolor by Steve Bird.

These months have been a time of reflection and looking back on past trips, rescheduling trips, and developing some new itineraries which will feature short trips to Maine>> and longer tours in new destinations like the Lesser Antilles>>. We're continuing to offer private group birding tours>>, local birding tours in southern New England>>, online presentations>>, and hope to receive funding for a new and exciting project in early 2021.
We want to thank our guides, drivers, operators, colleagues in the industry, and especially our clients for their continuing support through this most unusual time. We look forward to traveling with you again soon!
Gina & the Sunrise Birding Team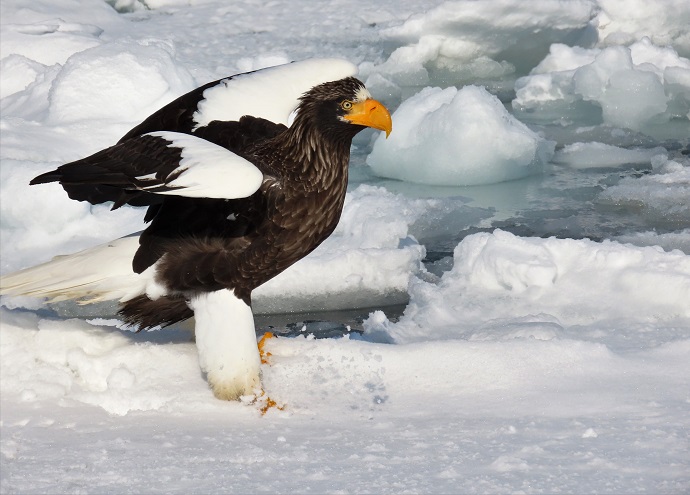 Photo by Gina Nichol, Japan, Steller's Sea Eagle ready to go (so are we!)
---
WE'RE TAKING NAMES!
Put your name on a tour. Let us know what tours you are interested in so we can contact you when it's time to commit. Contact [email protected] or complete our online inquiry form>
---
STEVE BIRD ORIGINALS
Steve is continuing to illustrate and paint again and he is willing to do commissions, especially of species seen with us on past trips. See more of Steve's original art here> Contact Steve to discuss options at [email protected]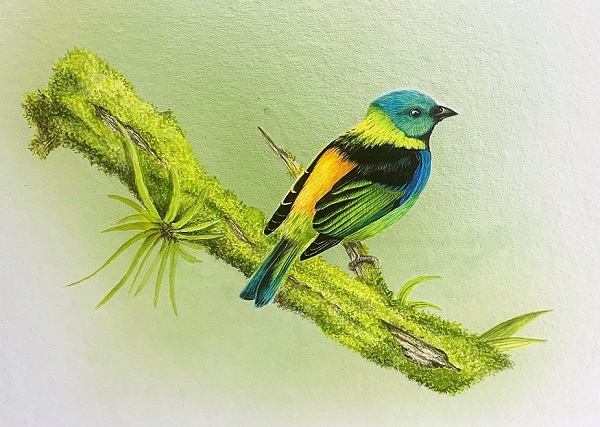 Green-headed Tanager, watercolor by Steve Bird
---
PRIVATE BIRDING TOURS
Plan your own private birding tour, including domestic, international and private local birding tours in southern New England. If you have questions, want to arrange a private tour, we'd love to hear from you. Contact [email protected] or complete our online inquiry form>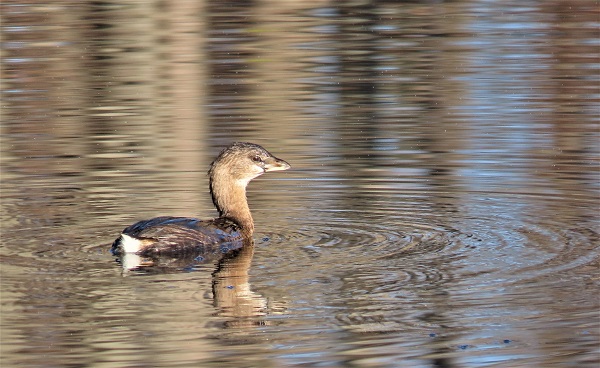 Pied-billed Grebe, November 9, 2020. Photo by Gina Nichol.
---
•RECENT TOUR REPORTS
•MORE TOURS
•TOUR VIDEOS ON YOUTUBE
---
OUR GOAL:
Sunrise Birding's ethos is to provide the best possible birding experience for the best value. We maintain high standards and have gained a reputation for using the best local guides in combination with our expert leaders and finding the target species and seeing them well—all at a reasonable pace and for a value price. See what the buzz is about! The photo galleries, trip reports, and clients speak for themselves! A complete schedule of Sunrise Birding LLC events is online at this link>

Gina Nichol
Sunrise Birding, LLC
203.453.6724
Email: [email protected]
Web site: http://www.sunrisebirding.com