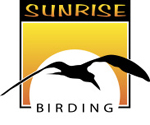 Sunrise Birding LLC
Birding & Wildlife Tours
---
Upcoming Tours
---
Guatemala & Tikal
Nov 24-Dec 9, 2018
>Info & reservations
Central Chile
January 7-18, 2019
Plus Easter Island extension
>Info & reservations
Trinidad & Tobago
February 2-10, 2019
>Info & reservations
Baja California
Winter Whale & Endemics Special
Feb 6-17, 2019
>Info & reservations
Costa Rica Special!
Feb 10-16, 2019
>Info & reservations
Jamaica: 29 Endemics
Feb 24-March 2, 2019
>Info & reservations
Colombia:
Specialties of Mitú
with Diego Calderon
Mar 21-30, 2019
>Info & reservations
Cuba!
March 24-April 3/4, 2019
>Info & reservations
Amazon Cruise
April 5-14, 2019
>Info & reservations
Lesvos: Spring Migration Magic!
April 20-27, 2019
>Info & reservations
Spain: Grand
Spring Tour
April 24-May 8, 2019
>Info & reservations
Delaware: Red Knot Spectacular!
May 13-16, 2019
>Info & reservations
Finland: Owls,
Grouse & more
May 26-June 1, 2019
>Info & reservations
Pennsylvania:
Henslow's & more
May 31-June 2, 2019
>Info & reservations
Norway: Lapland & Varanger
June 1-7, 2019
>Info & reservations
Costa Rica: Dragonflies & Nature
June 22-July 1, 2019
>Info & reservations
Uganda: Shoebill & Gorilla Special!
July 20-28, 2019
>Info & reservations
Pantanal Wildlife Safari
July 17-26, 2019
>Info & reservations
Panama!
Canopy Tower
20th Anniversary Special!
Aug 1-8, 2019
>Info & reservations
Panama!
Canopy Camp
20th Anniversary Special!
Aug 8-15, 2019
>Info & reservations
Borneo
August 20-31, 2019
>Info & reservations
Panama:
Dragonflies & Nature
Plus Canopy Camp
Sept 14-24/28, 2019
>Info & reservations
Bolivia
Oct 1-15, 2019
>Info & reservations
Guyana: Jewel
of the Neotropics
Oct 18-31, 2019
>Info & reservations
New Zealand:
Islands of Endemics
Nov 4-25, 2019
>Info & reservations
Guatemala & Tikal
Plus Tikal
Nov 23-Dec 2/7, 2019
>Info & reservations
Japan: Winter Specialties
February 5-16, 2020
>Info & reservations
Morocco:
Sahara to Atlantic
March 21-31, 2020
>Info & reservations
Oregon:
Cascades & Malheur
May 26-June 4, 2020
Info soon!
Peninsular Malaysia
July 31-Aug 12, 2020
>Info & reservations
Chile: Condors, Penguins & Pumas
Oct 10-20, 2020
>Info & reservations
---
Join Frank Gallo and explore key and lesser known birding sights around Connecticut as part of our Birding in Connecticut Spring Field Trip Series to celebrate the release of Frank's new book of the same name. Explore some of the popular Connecticut birding spots with the expert and discover the lesser known places!
Schedule (details below): Click here to register>
ECOLOGY PARK HAWK ID & DIURNAL MIGRANTS WORKSHOP
Branford, CT, Tuesday, October 16, 2018, 8 AM.


SOUTHBURY TRAINING SCHOOL FARM, Central CT
Saturday, October 20, 2018, 8 AM.


HIDDEN GEMS - CONNECTICUT'S SOUTHWEST COAST
Tuesday, Oct 30, 2018, 8 AM.


SOUTHEAST CT COAST FROM WATERTOWN WEST
Sunday, November 4, 2018, 8 AM.

Cost per session:
$55 per person, advance registration. $65 the day of the trip (cash).
Preregistration and advance payment is required to hold your space.
Click here to register> Then follow up with full payment by check to
Sunrise Birding LLC, PO Box 274, Cos Cob, CT 06807 or via PayPal.
---
ECOLOGY PARK HAWK ID & DIURNAL MIGRANTS WORKSHOP

Branford, CT, Tuesday, October 16, 2018, 8 AM.
Click here to register>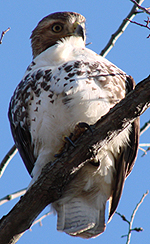 Ecology Park in Branford is a relatively new park overlooks Long Island Sound and the Shoreline Greenway Trail. The gazebo on the park's summit offers an elevated 360-degree view of Connecticut's Coastal migration flyway, and may in time, come to rival legendary Lighthouse Point in New Haven for numbers and diversity of species passing by the site. Already, the park boasts an impressive array of species and has days with spectacular numbers of migrants, including scores of hawks, swallows, and blackbirds. This is a great place to learn to identify hawks and other diurnal migrants. Frank Gallo will offer a mini workshop on hawk identification, as well as providing tips and tricks for identifying songbirds in flight. Time permitting, the group will also explore the adjacent Greenway Trail area.
Red-tailed Hawk. Photo by Gina Nichol.
---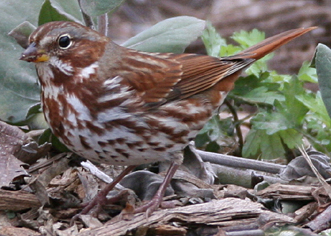 SOUTHBURY TRAINING SCHOOL FARM, Central CT

Saturday, October 20, 2018, 8 AM.
Click here to register>


Central Connecticut holds some of the State's finest shrub- and grasslands. The old farm at Southbury Training school is known for attracting sparrows, especially during migration, including White-crowned, Lincoln's, Vesper, Fox and Field, as well as Eastern Meadowlarks, American Kestrel, Horned Lark, and American Pipits. The area is also very good for raptors. In addition, the many hedgerow thickets have been known to support small numbers of Brown Thrashers, Eastern Towhees, and even Yellow-breasted Chat (rare). Come explore this lovely and expansive farm with Frank Gallo. If time permits, we'll also visit the nearby upper Housatonic River and Mitchel's Farm to look for Bald Eagles and waterfowl.

Fox Sparrow. Photo by Gina Nichol.
---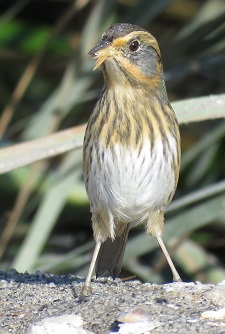 HIDDEN GEMS:
CONNECTICUT'S SOUTHWEST COAST

Tuesday, Oct 30, 2018
Fairfield and Bridgeport: Meet at Ash Creek Open Space, Fairfield, 8 AM.

Click here to register>

The coast from Bridgeport to Fairfield has an array of well- and little-known parks that are wonderful for birds. We'll begin our journey perusing the marshes and woodlots at Ash Creek Open Space, arguably Fairfield's finest site for finding unusual ducks and waders. Eurasian Wigeon has occurred on multiple occasions, along with both teal and a wide array of other dabbling ducks. The marsh may hold lingering Clapper Rail and Nelson's Sparrows. We will also visit St Mary's by the Sea and Captain's Cove, both renowned waterfowl sites, the former for sea ducks, and the latter for both scaup species and their cousins, Canvasback, Redhead, and even the rare, Tufted Duck. Join Frank Gallo for a wonderful day of waterfowl watching and exploring the ins and outs of Connecticut's Southwest Coast.
Nelson's Sparrow. Photo by Gina Nichol.
---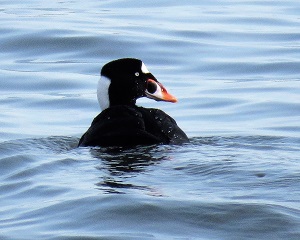 SOUTHEAST COAST
WATERTOWN
TO THE WEST
Sunday, November 4, 2018
Watertown Town Beach, 8 AM.
Click here to register>
Connecticut's Southeast coast is unfamiliar to many, but offers opportunities to see a variety of species often less common in other areas the state, such as Common and King Eiders, Razorbills and other alcids and Red-necked Grebes. This are can also be good for Northern Gannets, all three scoter species, Long-tailed and other sea ducks, loons, Purple Sandpiper, Great Cormorant and many other species. We'll begin our journey at Waterford Town Beach, known locally as a gathering place for eiders, scoters, and Purple Sandpipers, before continuing west along the coast to other birding hotspots. Join Frank Gallo for a day exploring less known birding sites down east!
Surf Scoter. Photo by Gina Nichol.
---
MORE DETAILS:
A confirmation and directions will be emailed a few days prior to the trip. Please review and accept our terms and conditions> prior to registering. Participants are encouraged to dress for the weather, bring binoculars, and any other personal necessities.
About Sunrise Birding LLC Field Trips:
Preregistration is required for all programs.
Please review the Terms and Conditions prior to registering.
First time attendees will be required to submit a signed copy of the Terms & Conditions.
Advance registration and payment are required. Cash or check accepted.
Walks take place entirely outdoors. Be prepared for changing weather conditions. Sanitary facilities may not be readily available.
Trails may be over uneven ground and bathroom facilities may not be available. Plan to be out in the field for 2 to 3 hours for local birds walks and longer for workshops and day trips.
Though not particularly strenuous, these programs are intended for persons in reasonably good health and physical condition. Participants must be capable of walking over uneven terrain.
Footwear should be sturdy. Terrain may be muddy and wet. Footwear should be appropriate for such conditions.
Be sure to bring any personal necessities such as sunscreen, insect repellent, and drinking water.
Bring binoculars! Participants must supply their own but if you don't have any, please say so ahead of time and we may be able to loan you a pair!
Spotting scopes are recommended as they can be very useful for studying birds at a distance.

Cancellations and Refunds: All cancellations must be made in writing. In the event that you must cancel your booking at any stage, all payments you have made to Sunrise Birding, LLC will be retained by us, except at our discretion. You may have the opportunity to transfer your booking to another tour or another person, provided you are unavoidably prevented from coming on the tour. In this case, you will bear any extra costs that such changes may incur. There are no refunds once the trip is confirmed to go ahead and no refunds will be made for unused meals, transportation, or other trip features. Sunrise Birding, LLC cannot accept liability for airline cancellations or delays or penalties incurred by the purchase of non-refundable airline tickets or other expenses incurred by tour participants in preparing for this tour.
---
Join our Mailing List to receive the latest schedules of walks and tours. Mailing List signup>>