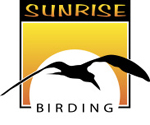 Sunrise Birding LLC
Birding & Wildlife Tours
---
Upcoming Tours
---
Borneo: Birds & Orangutans
May 20-30, 2023
>Info & reservations
Spain: Pyrenees Birding & Nature
June 24-July 2, 2023
>Info & reservations
Bolivia!
with Diego Calderon
Plus Blue-throated Macaw
Aug 17-Sep 1, 2023
>Info & reservations
Spain: Fall Migration
Sep 2-16, 2023
>Info & reservations
Panama: Raptor Migration
Oct 28-Nov 6, 2023
>Info & reservations
Lesser Antilles:
Every Endemic Tour!
Jan 22-Feb 4, 2024
>Info & reservations
Jamaica: 29 Endemics
Jan 21-28, 2024
>Info & reservations
Japan: Winter Specialties
February 4-15, 2024
>Info & reservations
Honduras: Easy!
Feb 18-26, 2024
>Info & reservations
Chile & Argentina:
Birds & Wine
March 3-14, 2024
>Info & reservations
Costa Rica:
Toucan/Tanager Special
March 16-23, 2024
>Info & reservations
Costa Rica Special
March 22-29, 2024
>Info & reservations
Vietnam: Endemics & Specialties
Mar 27-Apr 7, 2024
>Info & reservations
Lesvos: Spring Migration
April 17/20-27, 2024
>Info & reservations
Finland:
Owls & Grouse
May 18-24, 2024
>Info & reservations
Norway:
Varanger Peninsula
May 24-30, 2024
>Info & reservations
West Papua:
Bird-of-Paradise Special!
Aug 20-Sep1, 2024
>Info & reservations
Bolivia!
with Diego Calderon
Plus Blue-throated Macaw & San Pedro Tanager
Oct 31-Nov 15, 2024
>Info & reservations
Solomon Islands
May 15-June 3/8, 2025
>Info & reservations
---
Join Frank Gallo and explore key and lesser known birding sights around Connecticut as part of our Birding in Connecticut Spring Field Trip Series. Explore some of the popular Connecticut birding spots with the expert and discover the lesser known places! Our trips this year will be to the Northwest (Kent, River Road) and Northeast Highlands (Boston Hollow).
Cost per session:
$65 per person, advance registration. ($75 the day of the trip, cash).
Preregistration and advance payment is required to hold your space.
Register> Then follow up with full payment via PayPal.
Schedule (details below): Register>
Contact Frank at [email protected] with questions or for more info.

---
Boston Hollow, Ashford, CT
Saturday, May 20, 2023, 8 AM - 1:30 PM
Meet at Boston Hollow.
Click here to register>
Boston Hollow in Ashford is a 2-mile-long ravine through Yale Forest lands. A small stream runs its length, shaded by hemlocks, with steep forested hills and scattered cliffs on either side. It is the place to hear and see such beauties as singing Winter Wrens, Canada Warblers, and Northern Waterthrushes. Black-throated Blue Warblers sing from its hillsides and Blackburnian and Black-throated Green Warblers reside in its hemlock groves. It's a place where Common Ravens nest on the cliffs, and Broad-winged, Red-shouldered, and Cooper's Hawks nest in its forests. Northern Goshawks even hunts the deep woods here.
A visit to Boston Hollow is a chance to explore lush northern forests rich with birdlife. It's the only place in Connecticut that I've found Red Crossbill in June. It's a place where Hermit Thrushes sing their ethereal song and Nashville Warblers have nested. Its Spruce stands may hold nesting Golden-crowned Kinglet or Magnolia Warbler. Evidence of Pileated Woodpeckers can be found throughout the hollow, and Least Flycatcher, Blue-headed Vireo, and Brown Creeper are heard along much of its length. It's a beautiful place to explore.
After lunch (not included, bring your own), time permitting, we'll visit other local sites.
---
COVID-19 PRECAUTIONS WILL BE OBSERVED
To ensure everyone's health and safety, we ask that you familiarize yourself with and follow CDC guidelines for COVID-19. Bring binoculars and any accoutrements that you need as equipment will not be shared. Please do not attend if you are not feeling well or have been recently exposed to the virus that causes COVID-19. Please cover your cough or sneeze with a tissue and dispose of it properly. Water to wash hands may not be available, so please bring hand sanitizer or hand wipes.
MORE DETAILS:
A confirmation and directions will be emailed a few days prior to the trip. Please review and accept our terms and conditions> prior to registering. Participants are encouraged to dress for the weather, bring binoculars, and any other personal necessities.
About Sunrise Birding LLC Field Trips:
Preregistration is required for all programs.
Please review the Terms and Conditions prior to registering.
First time attendees will be required to submit a signed copy of the Terms & Conditions.
Advance registration and payment are required. Cash or check accepted.
Walks take place entirely outdoors. Be prepared for changing weather conditions. Sanitary facilities may not be readily available.
Trails may be over uneven ground and bathroom facilities may not be available. Plan to be out in the field for 2 to 3 hours for local birds walks and longer for workshops and day trips.
Though not particularly strenuous, these programs are intended for persons in reasonably good health and physical condition. Participants must be capable of walking over uneven terrain.
Footwear should be sturdy. Terrain may be muddy and wet. Footwear should be appropriate for such conditions.
Be sure to bring any personal necessities such as sunscreen, insect repellent, and drinking water.
Bring binoculars! Participants must supply their own but if you don't have any, please say so ahead of time and we may be able to loan you a pair!
Spotting scopes are recommended as they can be very useful for studying birds at a distance.

Cancellations and Refunds: All cancellations must be made in writing. In the event that you must cancel your booking at any stage, all payments you have made to Sunrise Birding, LLC will be retained by us, except at our discretion. You may have the opportunity to transfer your booking to another tour or another person, provided you are unavoidably prevented from coming on the tour. In this case, you will bear any extra costs that such changes may incur. There are no refunds once the trip is confirmed to go ahead and no refunds will be made for unused meals, transportation, or other trip features. Sunrise Birding, LLC cannot accept liability for airline cancellations or delays or penalties incurred by the purchase of non-refundable airline tickets or other expenses incurred by tour participants in preparing for this tour.
---
Join our Mailing List to receive the latest schedules of walks and tours. Mailing List signup>>