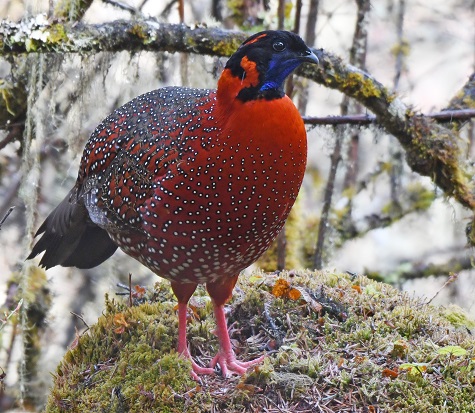 BHUTAN!
Birding & Culture


April 20 - May 5, 2025


Contact [email protected] to reserve!
Trip Cost & Travel Planning> Registration Form>

Tour Registration, Terms, Cancellation Policies>

The Buddhist Kingdom of Bhutan lies on the eastern edge of the Himalayas and is known for its unique culture and dramatic landscapes. For birders, the "Land of the Thunder Dragon" holds prized avian specialties only attainable with a trip to this unspoiled country.
Bhutan's top most wanted bird species include Beautiful Nuthatch, Black-necked Crane, Rufous-necked Hornbill, Satyr Tragopan, Ward's Trogon and White-bellied Heron and all are possible on this tour. But there are many more unique species to see in Bhutan (300-350 species on this tour) as well as rare mammals, flowers, butterflies and more.
Join Gina Nichol and Steve Bird along with expert local guides for a unique journey
to experience the birding and cultural highlights of Bhutan.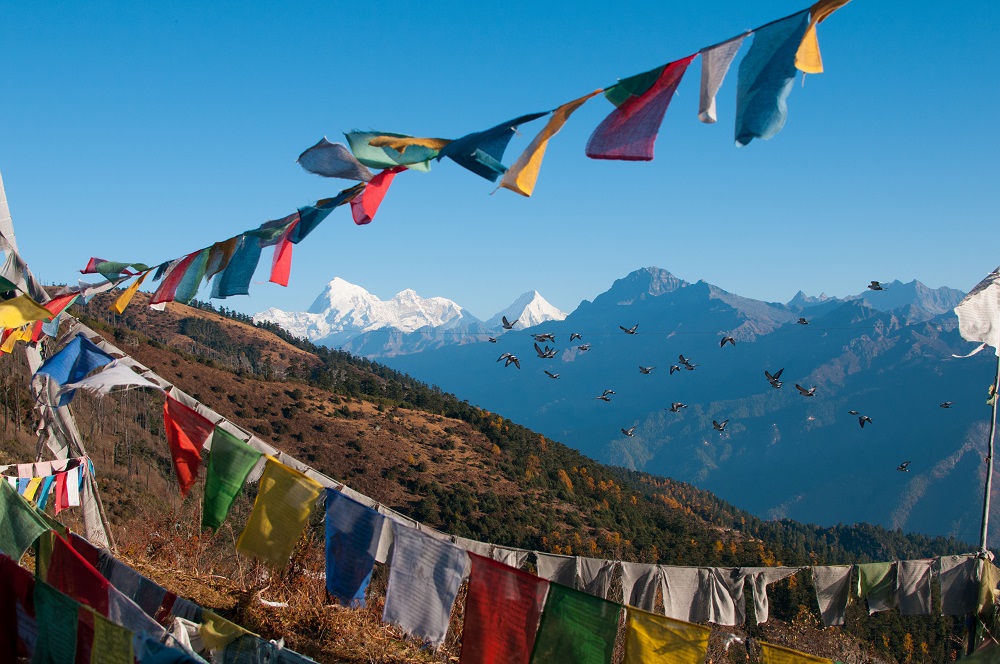 ---

ITINERARY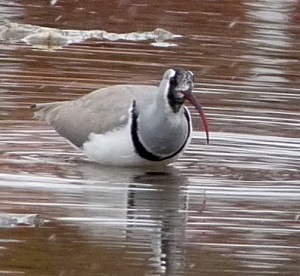 Day 01: Arrival in Paro and Scenic Drive to Thimphu.
Your journey begins with an exciting DrukAir flight from Delhi, Kathmandu, or Bangkok to Paro, offering breathtaking views of the majestic Himalayas, including some of the world's highest peaks. Upon landing, we will convene as a group and complete customs and immigration procedures as our Bhutanese hosts will warmly welcome us.
As we depart from the airport, our scenic drive alongside the Pa Chu River begins. Keep your eyes peeled for the elusive Himalayan riverine species, such as the Ibisbill, gracefully diving into the snow melt in search of sustenance. The area also hosts a diverse range of bird species, with possible sightings of the Black-tailed Crake, Eurasian Cuckoo, Common Kestrel, Olive-backed Pipit, Hodgson's and Plumbeous Redstarts, White Wagtail, Blue Whistling Thrush, Rufous-breasted Accentor, Rosy Pipit, Rock Pigeon, House Crow, Russet and Eurasian Tree Sparrows.
Upon reaching Thimphu, our first stop is the picturesque Kuensel Phodrang Nature Park, spanning an expansive 943 acres. Amidst the park's ruins lies the grand Buddha Dordenma statue. The park, enveloped by lush forests, offers breathtaking views of the Thimphu Valley from its southern approach, making it an ideal spot for capturing stunning panoramic photographs. The Buddha Dordenma statue, standing tall at an impressive 51 meters, fulfills a centuries-old prophecy and is believed to radiate an aura of peace and happiness worldwide. Crafted from bronze and gilded in gold, it houses seventeen stories of various Lhakhang and thousands of statues, making it one of the world's largest Buddha statues. Overnight: Thimphu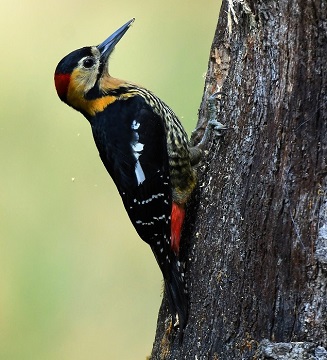 Day 02: Bird watching at Dochu La, Lampelri Park, Exploring Punakha
We kick off the day with an early start to witness the breathtaking spectacle of the Himalayas as the sun rises over Dochu La Pass (3150m). This mountain pass is adorned with vibrant prayer flags and 108 chortens (Buddhist shrines), creating a spiritually enriching atmosphere. From the pass, prepare to be captivated by the panoramic vistas of the majestic Bhutanese Himalayas. Dochu La Pass and Lampelri Park are also known for offering a chance to spot the elusive and rare Red Panda.
As we traverse the higher elevations of Bhutan, we'll immerse ourselves in the enchanting mixed evergreen and broad-leafed forests, where a diverse range of bird species and flowering plants await. Our keen eyes may catch glimpses of the Grey Nightjar, Hill Partridge, Kalij Pheasant, Large Hawk-cuckoo, Wedge-tailed Pigeon, Speckled Wood-pigeon, Rufous-bellied and Darjeeling Woodpeckers, White-collared Blackbird, Maroon-backed Accentor (rare), White-throated Fantail, Brown-flanked and Russet Bush Warblers, Black-winged Cuckoo-shrike, Chestnut-headed Tesia, Tickell's and Blyth's Leaf Warbler, Chestnut-crowned Warbler, Pygmy Cupwing, Black-eared Shrike-babbler, Red-tailed Minla, Brown Parrotbill, Grey-sided Laughingthrush, Rusty-flanked and Hodgson's Treecreepers, Blue-fronted Redstart, Sapphire Flycatcher, and Rufous-bellied Niltava.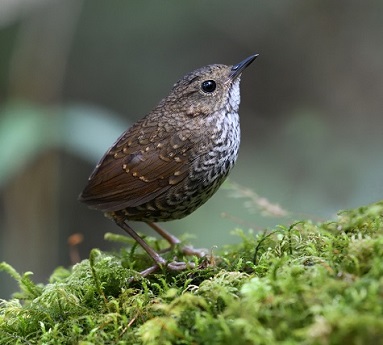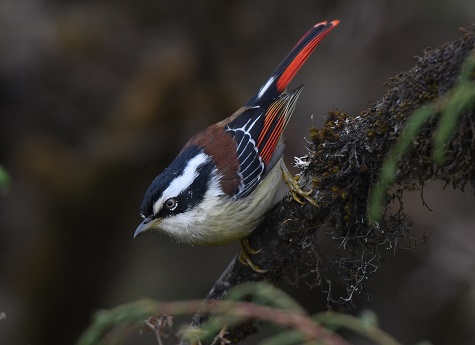 Upon reaching Punakha, our next adventure awaits at the awe-inspiring Punakha Dzong, a magnificent architectural wonder built in 1637. Poised at the confluence of the Mo (mother) and Pho (father) Chu (river), Punakha Dzong is affectionately known as the "Palace of Great Happiness" and stands as one of Bhutan's most splendid Dzongs.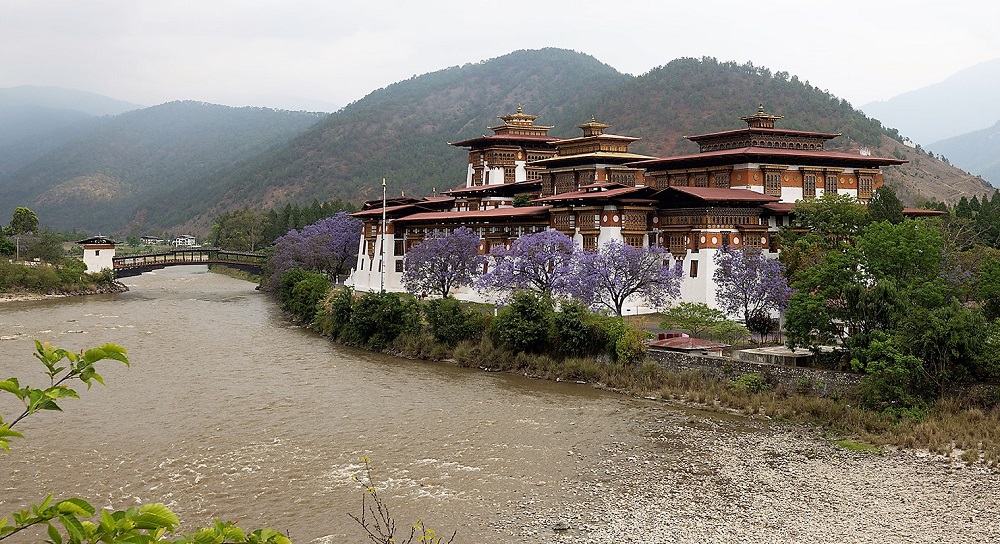 Following our visit to the dzong, we'll venture along the Puna Tshang Chu River valley for more Bird watching opportunities. Here, we have a chance to spot an array of fascinating birds, including the Osprey, Pallas's Fish-eagle (Endangered), Common Kingfisher, Goosander, Common Shelduck, Northern Shoveler, Common Pochard, Great Crested Grebe, Tufted Duck, Garganey, Bar-headed Goose, Ruddy Shelduck, Gadwall, Eurasian Wigeon, Mallard, Eastern Spot-billed Duck, Northern Pintail, Common Teal, Red-crested Pochard, Pied Avocet, Brown Dipper, Pallas's Gull, Little Ringed Plover, River Lapwing, Richard's Pipit, Red-vented Bulbul, Spotted Dove, Scaly-breasted Munia, Slender-billed Oriole, White-browed Wagtail, Sand Martin, and Grey Heron. Overnight: Punakha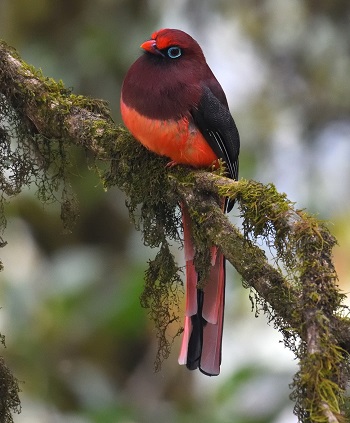 Day 03: Exploring Khelekha, Nobding, and Lawa La Pass,
Continuing to Phobjikha
Today, we embark on a picturesque journey along the meandering mountain road, ascending through enchanting oak and rhododendron forests adorned with charming lichens. Our path leads us to the stunning Lawa La Pass, standing tall at an elevation of 3350m. Amidst these diverse habitats, a world of captivating birding opportunities awaits us. Here, we anticipate encountering fascinating species, including the Ward's Trogon (one of the top species in Bhutan, exclusive to the Eastern Himalayas), the rare and unique Spotted Elachura (a top target for Bhutan), the melodious Rufous-chinned Laughingthrush, the alluring Asian Emerald and Himalayan Cuckoos. Other intriguing sightings may include the Brown-throated Treecreeper, the elegant Black-faced Warbler, the Chestnut-bellied Rock-thrush, the charismatic Grey-headed Woodpecker, Dark-breasted Rosefinch, Speckled Piculet, the elusive Long-billed Thrush (a rare find), the Rufous-winged Fulvetta, the distinctive White-browed Shrike-babbler, and the captivating Himalayan Cutia (top targets for any bird watcher), Large Niltava, Rufous-gorgeted and Slaty-blue Flycatchers.
Continuing our journey from Lawa La, we are captivated by the picturesque Phobjikha Valley, renowned for its breathtaking beauty. Standing out as one of Bhutan's rare glacial valleys, Phobjikha holds the status of an essential wildlife sanctuary. One of the valley's most cherished residents is the Black-necked Crane (Near Threatened), gracing the landscape from November until early March.
Phobjikha Valley is a haven for bird watchers, hosting an array of avian treasures. Our sightings may encompass the enchanting Oriental Skylark, the regal Hen Harrier, Northern Lapwing, and the magnificent Himalayan Vulture (Near Threatened). With such a rich and vibrant birdlife, Bird watching enthusiasts will find themselves in a paradise of avian delights. Overnight: Phobjikha
Day 04: Exploring Pele La Pass, Continuing to Bumthang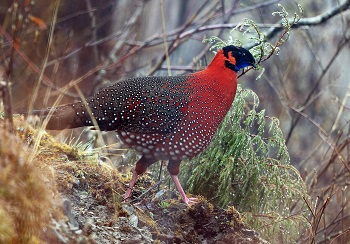 As we retrace our path through the captivating Lawa La pass at 3350m, we can't help but pause once again to marvel at the awe-inspiring panoramic views that surround us. Our journey then takes us to our next birding haven, the renowned Pele La pass, where our morning light Bird watching session awaits.
This region offers a chance to spot some remarkable bird species, including the magnificent Satyr Tragopan (one of the top birds in Bhutan), the majestic Bearded Vulture (Near Threatened), the stunning Fire-tailed Myzornis (another top bird), Dark-rumped Rosefinch, Brown Bullfinch, the delightful Verditer Flycatcher, White-winged Grosbeak, the vibrant Gold-naped Finch, the rare Solitary Snipe, the melodious Hume's Bush Warbler, and the charismatic Rufous-vented Yuhina.
Continuing our drive towards Chendibji, we will seize the opportunity to capture photos of the captivating Nepalese-styled Chorten. Nestled by the riverside, this picturesque structure was built in the 19th century by Lama Shida, inspired by the Sambhunath stupa in Kathmandu, Nepal. Legend has it that it was erected to cover the remains of a vanquished evil spirit.
Our journey then leads us through breathtaking landscapes as we head to Trongsa. Ascending to Yotong La pass, the highest point of the day at 3450m, we will soon descend into the serene and stunning Bumthang valley, where we will spend the night. Throughout these routes, we may come across various captivating bird species, such as the Himalayan Buzzard, Short-billed Minivet, Eurasian Jay, Yellow-browed Tit, the melodious Grey-sided Bush Warbler, Lemon-rumped Warbler, Common Chiffchaff, the lively White-throated Laughingthrush, Green Shrike-babbler, Bar-throated Siva, Rufous Sibia, the rare Fulvous Parrotbill, Red-throated Thrush, White-browed Bush-robin, Green-tailed Sunbird, Alpine Accentor, White-browed Rosefinch, and the remarkable Red Crossbill. Overnight: Bumthang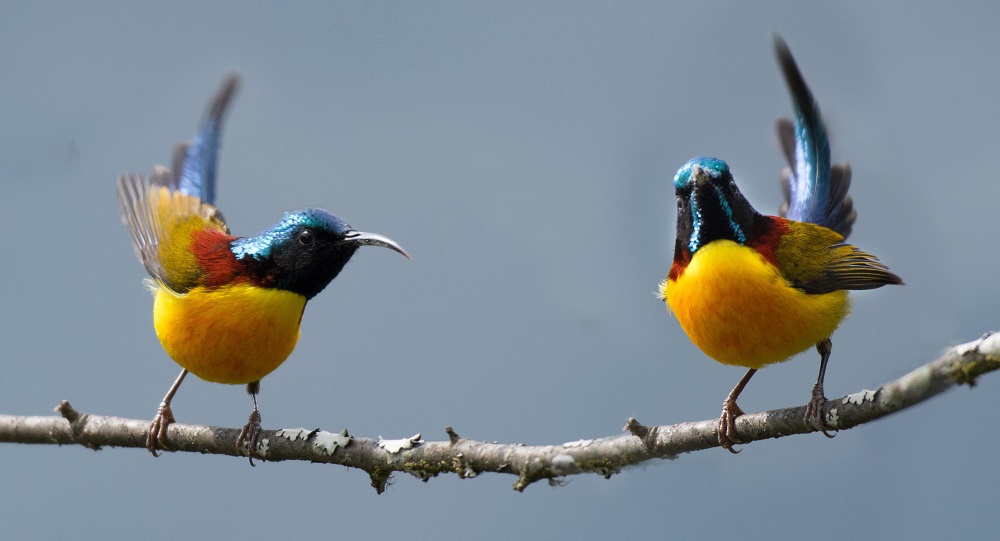 Day 05: Bumthang to Yongkola - Exploring Thrumshing La and Sengor Valley
Today's journey promises one of the most breathtaking drives amidst the majestic Himalayas. As we ascend to the enchanting Selthang La pass at 3600m, weather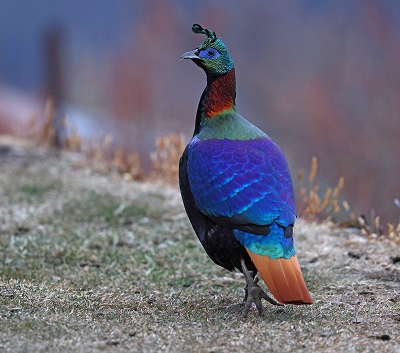 permitting, we are treated to awe-inspiring views of the magnificent Gangkar Puensum, an impressive peak soaring to 7315m, and famously the highest unclimbed peak in the world. The High Himalayan landscapes surround us, adorned with auspicious prayer flags and the charming villages typical of Bhutan. Truly, it feels like stepping into a magical land!
During our drive, we take a delightful pause to explore the tranquil valley of Ura, the highest among the four valleys in Bumthang. Nestled in the shadow of Thrumshing La at 3780m, Ura boasts prosperity and charm. This section of our journey offers the opportunity to spot various captivating bird species, including the iridescent Himalayan Monal (top target for Bhutan), Goldcrest, Greenish Warbler, Himalayan Beautiful Rosefinch, Collared Grosbeak, the stunning Gould's Sunbird, White-browed Fulvetta, Eurasian Hobby, Eurasian Sparrowhawk, Upland Buzzard, the recently split Himalayan Owl (formerly a Tawny Owl), Rufous-vented Tit, Buff-barred Warbler, and the delightful Black-faced Laughingthrush.
Continuing our ascent, we traverse forests adorned with larch, silver fir, spruce, and towering hemlocks until we reach the magnificent Thrumshing La pass at 3780m. This picturesque stretch offers the opportunity to spot Blood Pheasants feeding by the roadside, all while relishing breathtaking views of the Eastern Himalayas. From Thrumshing La, we proceed to the captivating village of Sengor, nestled at 3000m. In Sengor, we venture into the coniferous forests, in search of special bird species, such as the rare Bar-winged Wren-babbler, White-browed Shortwing, Blanford's Rosefinch (a summer visitor), Asian House Martin, the striking Hoary-throated Barwing, Black-headed Shrike-babbler (rare), Fire-tailed Sunbird (rare and scarce), Crimson-browed Finch, Himalayan Bluetail, Red-headed Bullfinch, the widespread Striated Laughingthrush, and the elusive Rufous-breasted Bush-robin (a rare migrant).
Continuing to Yongkola, we make a stop along Namling Valley, where we'll search for the rare migrant species, the Gould's Shortwing. Finally, we descend to the warmer Yongkola region. Overnight: Yongkola
Days 06 & 07: Bird watching at Thrumshing La National Park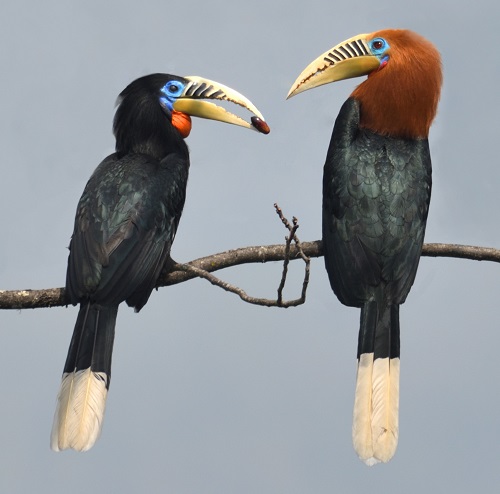 We have the privilege of dedicating two full days to explore the incredibly diverse and bird-rich Thrumshing La National Park, which stands proudly as a renowned gem among Asia's premier birding destinations. Within this captivating landscape, we have a golden opportunity to encounter some of Bhutan's most extraordinary and elusive bird species, many of which are rarely found elsewhere. In addition to the commoner species, our keen eyes will be searching for some rare gems, including the enchanting Chestnut-breasted Partridge (Vulnerable), the rare and elusive Ashy Wood-pigeon, Blue-fronted Robin, Green Cochoa (rare), the Rufous-necked Hornbill, a breathtaking species and among the top five, finds its stronghold in Bhutan, the rare Long-billed Wren-babbler, Rufous-throated Wren-babbler (Near Threatened), the strange Himalayan Wedge-billed Babbler (Near Threatened), the Beautiful Nuthatch (one of the top species in Bhutan, with a range restricted to the Eastern Himalayas), Besra, Booted Eagle, Collared Owlet, Lesser Cuckoo, Large-billed Leaf Warbler, Grey-cheeked Warbler, Rufous-capped Babbler, Lesser Shortwing, Scaly Thrush, Fork-tailed Swift, the striking Golden-throated Barbet, Ferruginous Flycatcher, Lesser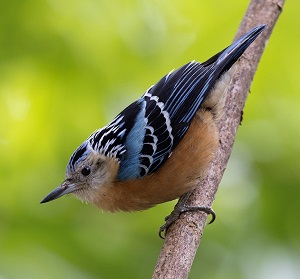 Yellownape, Yellow-cheeked Tit, Nepal House-martin, Grey-bellied and Slaty-bellied Tesias, Mountain Tailorbird, Black Bulbul, Whistler's and Broad-billed Warblers, Scaly and Blue-winged Laughingthrushes, Red-faced Liocichla, Yellow-throated Fulvetta, Black-chinned Yuhina, Black-throated and Grey-headed Parrotbills, Alpine Thrush, Golden Bush-robin, Little Forktail, Grey Bushchat, Pygmy Flycatcher, Orange-bellied Leafbird, Common Rosefinch, Scarlet Finch, Rusty-fronted Barwing (another range restricted species), Spot-winged Grosbeak, Grey-capped Woodpecker, Grey-chinned Minivet, Grey-backed Shrike, Hair-crested Drongo, Yellow-bellied Fantail, and if our luck shines, the rare and elusive Purple Cochoa.
As night falls, our adventure continues with a search for the elusive Brown Wood-owl, the rare Hodgson's Frogmouth, and the captivating Mountain Scops Owl. During our nocturnal safari, we may also be lucky enough to encounter the rare Bhutan Giant Flying Squirrel.
Overnight: Yongkola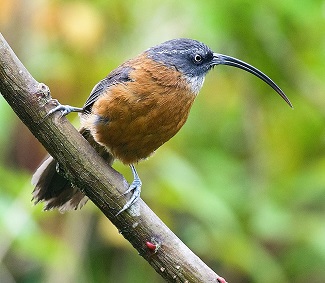 Day 08: Yongkola to Bumthang - Birding along the Scenic Route
As the sun rises, we embark on a delightful morning of Bird watching in the bird-rich areas of Yongkola. After a satisfying breakfast, we set our course towards Bumthang, making several well-planned stops along the way at Namling, Sengor, and Thrumshing La. These strategic stops offer us the chance to uncover more bird species, admire the vibrant array of blooming flowers, and revel in the breathtaking panoramas that surround us.
Throughout our birding expeditions, we remain keen-eyed for a diverse array of bird species, eagerly anticipating sightings of the elusive Slender-billed Scimitar-babbler (a top target for Bhutan), Shikra, Great Parrotbill, Golden-breasted Fulvetta, Eurasian Woodcock, Ashy Drongo, Rufous-fronted Tit, Grey-crested Tit, Stripe-throated Yuhina, White-throated Redstart, Streak-breasted Scimitar-babbler, and the Little Bunting.
Amidst our Bird watching delights, we may also catch glimpses of some fascinating mammal species, such as the charming Hoary-bellied Squirrel and the agile Himalayan Five-striped Squirrel. If luck is on our side, we may even be graced with a sighting of the rare and elusive Red Panda. Overnight: Bumthang

Day 09: A Bird watching Adventure to Tharpaling Monastery and the Enchanting Trongsa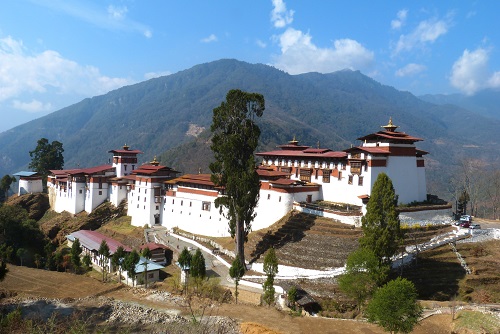 An early wake-up call, setting off on an exciting drive to Tharpaling Monastery. Our mission? To catch a glimpse of the resplendent and brilliantly colored Himalayan Monal, a true gem of the avian world. Along the way, we'll also keep our eyes peeled for the graceful Snow Pigeon, often found in small, mesmerizing flocks, and the rare and elusive Godlewski Bunting. But that's not all! The lush surroundings teem with a rich variety of bird species, including the endemic Eurasian Magpie of the Bumthang valley, the melodious Black-throated Thrush, Blue-fronted Redstart, the dainty Plain Mountain Finch, Eurasian Wren, Grey-winged Blackbird, and the bold Red-billed Chough.
After a delightful picnic breakfast amidst the scenic beauty of Tharpaling, we will continue with our journey to Trongsa, where we'll seize every opportunity for bird watching along the way, stopping at Yotong La and the mesmerizing Doshong Goenba valley. Nature's wonders unfold before our eyes as we revel in the magic of these enchanting landscapes.
Once we reach Trongsa, a spellbinding experience awaits us at the strategically perched Trongsa Dzong, an architectural marvel dating back to 1648. This awe-inspiring dzong holds a fascinating history as the seat of power over central and eastern Bhutan, having been the residence of both the first and second kings of Bhutan. Even today, it is a site of immense significance, with the king being invested as Trongsa Penlop ("governor") before ascending the throne. Our exploration of this majestic dzong takes us through a maze of lanes and ancient stone steps, leading us to sunlit courtyards that house an array of sacred temples.
As we bask in the splendor of the dzong, we may even catch sight of some intriguing wildlife, such as the curious Assamese Macaque and the graceful Muntjac. Overnight: Trongsa
Day 10: From Trongsa to Tingtibi - A Bird watching Expedition through Diverse Landscapes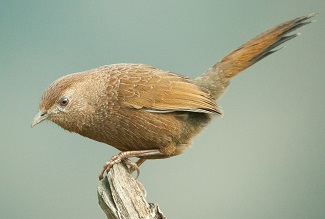 Get ready for an extraordinary day of Bird watching as we journey through a breathtaking range of altitudes, beginning at 2,170m and descending to 600m upon reaching the charming town of Tingtibi. Along this scenic drive, the Himalayan landscape unfolds before us, treating our eyes to a feast of natural beauty.
As the morning sun bathes the surroundings in golden hues, we'll be on the lookout for a dazzling array of bird species. Keep your binoculars at the ready, as we may spot the majestic Black Eagle, White-tailed Robin, the regal Crested Kingfisher, the abundant Oriental Turtle-dove, Barred Cuckoo-dove, Asian Barred Owlet, Asian Palm-swift, Crimson-breasted and Bay Woodpeckers, Black-throated Prinia, Yellow-breasted Greenfinch, White-gorgeted and Little Pied Flycatchers, Long-tailed Shrike, the near endemic Bhutan Laughingthrush, Orange-headed Thrush, Spotted Forktail, and the rare Spot-winged Starling.
Our journey takes us through a symphony of bird songs, where we might also encounter the Bar-winged Flycatcher-shrike, Lesser Racket-tailed Drongo, Tibetan Serin, Crested Bunting, Grey-headed Bullfinch, Striated and Mountain Bulbuls, White-bellied Erpornis, and the inquisitive Black-throated Tit.
After a satisfying breakfast near Kuenga Rubten, our Bird watching adventure continues towards Tingtibi. Time permitting, we'll make additional birding stops, increasing our chances of spotting some remarkable species. The Peregrine Falcon, the agile Oriental Hobby, Chestnut-winged Cuckoo (a summer visitor), the exquisite Fire-breasted Flowerpecker, White-throated Bulbul, Blue Rock-thrush, Common Tailorbird, Yellow-vented Warbler, the mighty Mountain Hawk-eagle, Green-billed Malkoha, and the impressive Great Hornbill (listed as Vulnerable) might grace us with their presence. Overnight: Zhemgang.
Day 11: Into the Enchanting Realm of Royal Manas National Park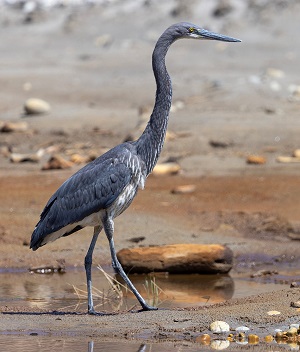 Today's adventure takes us deep into the mesmerizing Royal Manas National Park, tucked away in the heart of Tingtibi. This secluded paradise is a haven of biodiversity, promising an extraordinary encounter with some of Bhutan's rarest and most remarkable bird species.
As we venture into the sub-tropical bamboo forests, our Bird watching wish list becomes a treasure trove of avian wonders. With keen eyes and a touch of luck, we hope to spot the White-bellied Heron, a majestic bird on the brink of extinction, classified as Critically Endangered. Another jewel of the forest, the Pale-billed Parrotbill.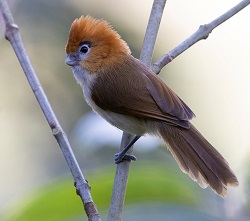 Our journey is a symphony of discoveries, with each bird species offering its unique melody. The White-browed Scimitar Babbler and the White-hooded Babbler, both local bamboo specialists and rarities, Pin-tailed Green Pigeon, Banded Bay Cuckoo, the charming White-browed Piculet, the shy Pale-headed Woodpecker, Blyth's Paradise Flycatcher, Northern Goshawk, while Sultan Tit, Yellow-bellied and Rufous-faced Warblers enchant us with their songs.
More surprises await as we encounter the Rusty-cheeked Scimitar-babbler, Rufous-necked Laughingthrush, and the Lesser Necklaced Laughingthrush, Plain Flowerpecker, flocks of Silver-eared Mesia, and Blue-winged Sivas add a touch of vibrancy to the forest's green canvas. The Golden Langur, one of Bhutan's rare primates, may grace us with a curious glance as it forages along the roadside, offering a magical encounter with these captivating creatures.
As the day unfolds, the symphony of bird calls fills the air, accompanied by the soothing rustle of bamboo leaves. Every moment spent in Royal Manas National Park feels like stepping into a living storybook, where nature's secrets unfold before our very eyes.
Overnight: Zhemgang.
Day 12: Enchanting Birding Journey to Gelephu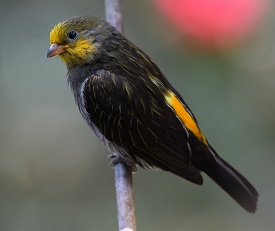 With the sun rising over Tingtibi, we begin our day with a delightful symphony of birdcalls around our hotel. The morning chorus sets the perfect tone for our journey towards Tama La at 1661m. As we descend from the pass, a tapestry of mixed temperate forests unfolds before us, leading us to the picturesque village of Surey. Along this magical path, we'll make a special stop near Tama La at a sheer cliff face, hoping to catch a glimpse of the elusive Yellow-rumped Honeyguide, a species near-threatened but ready to reveal its hidden secrets.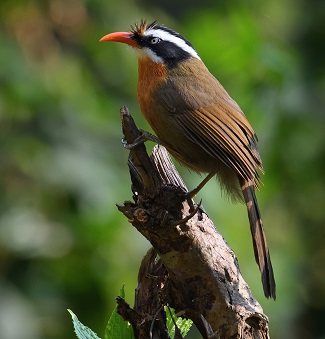 After a scrumptious breakfast near Tama La, we delve deeper into the enchanting temperate forests that embrace Surey valley. Nature's wonders await as we uncover a diverse array of bird species such as Changeable Hawk and Rufous-bellied Eagles grace the skies, while the melodious calls of Hodgson's Hawk-cuckoo resonate through the foliage, Mountain Imperial-pigeon and the striking Blue-bearded Bee-eater captures our attention.
The forest reveals more of its treasures as we encounter the captivating Wreathed Hornbill, a species classified as Vulnerable, and the Greater Yellownape, Black Drongo flits through the branches, and Himalayan Swiftlets glide effortlessly overhead. Our keen eyes may spot the elusive Rufous-throated Partridge, and the Ultramarine Flycatcher adds a touch of brilliant blue to the scene, Eurasian Wryneck, White-naped Yuhina, Black-throated Sunbird, Golden-fronted Leafbird, Rufous-backed Sibia, Chestnut-bellied Nuthatch, Maroon Oriole, and the Coral-billed Scimitar Babbler enchant us with their unique traits.
As we arrive in Gelephu, the Bird watching adventure continues. We explore the town area and visit the water treatment plant, discovering a diverse avian community. The resplendent Indian Peafowl displays its glorious plumage, and the Red-wattled Lapwing struts confidently, the Citrine Wagtail and the dainty Green and Common Sandpipers, Indian Pond-heron, the Intermediate Egret, Little Cormorant, Pied Falconet, Black Kite, while the White-breasted Waterhen strolls by the water's edge, Indian Thick-knee and the Red Collared-dove complete the enchanting picture. Overnight: Gelephu
Day 13: Birding Bliss from Gelephu to Tsirang

Today's journey is a bird watcher's dream as we traverse the captivating landscapes from Gelephu to Tsirang. The morning unfolds with dedicated birding along the Sarpang road, where an array of feathered wonders awaits us.
As we explore further, we may have the privilege of encountering majestic birds such as the Steppe Eagle, Jerdon's Baza, Red Junglefowl, Black Stork, Striated Heron, Cattle and Little Egrets, and Emerald Dove. The melodious calls of the Asian Koel will harmonize with the symphony of nature, while the Alexandrine Parakeet (Near Threatened) and the Rose-ringed Parakeet (an introduced species), along with the vibrant Orange-breasted and Thick-billed Green Pigeons, will paint a beautiful array of colors on our birding palette.
The forests hold many secrets, and the Oriental and Collared Scops-owls may reveal themselves to our attentive gazes. The Rufous Treepie, the Greater Coucal, and the Crested Treeswift showcase their unique traits, Paddyfield Pipit, Great (Cinereous) Tit, Greater Racket-tailed Drongo, Black-naped Monarch, Rufescent and Ashy Prinias, Red-whiskered Bulbul, and Aberrant Bush Warbler. As the day progresses, we are treated to the captivating sight of the Chestnut-headed Bee-eater, Oriental Pied-hornbill, Common Iora, Scarlet Minivet, Lineated, Coppersmith, and Blue-eared (rare) Barbets are a sight to behold.
As we delve deeper into the sub-tropical forests above Sarpang, our quest continues. Lunch amidst the scenic beauty of Dara Chu presents us with the delightful White-crested Laughingthrush, Nepal Fulvetta, Whiskered Yuhina, Red-rumped Swallow, while the Long-tailed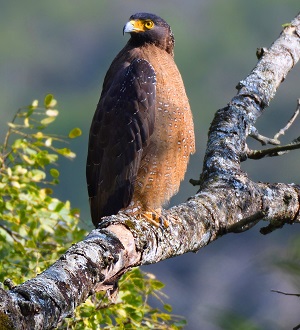 Broadbill and the Red-headed Trogon captivate with their splendor. The elusive Collared Treepie, another rare species, might grace us with a glimpse. Overnight: Tsirang
Day 14: A Bird watching Odyssey from Damphu to Paro
Today's adventure takes us on an enthralling Bird watching journey as we traverse the scenic landscapes from Damphu to Paro. Our first destination is the picturesque Sunkosh valley, where a rare avian gem awaits us - the elusive White-bellied Heron. This extraordinary bird is one of the rarest in the world, making this encounter a truly special and unforgettable moment - our third chance on this incredible trip.
As we journey through the valley, we will look for Greater Goldenback, Barn Swallow, Blue-throated Barbet, Rufous Woodpecker, the dapper Velvet-fronted Nuthatch captivates with its charm, Dusky Warbler, Slaty-backed Forktail, Blue-throated Flycatcher, and Long-tailed Minivet completes the array of avian wonders we hope to encounter along this route.
Upon reaching Wangdue, our birding adventure continues as we journey towards Paro. Where we look for Crested Serpent-eagle, Crested Goshawk, Great Barbet, Grey Treepie, Large-billed Crow, Striated Prinia, Black-crested Bulbul, Grey-hooded Warbler, Indian White-eye, Fire-capped Tit, Eurasian Crag Martin, Ashy-throated Warbler and the Oriental Honey-buzzard. Overnight: Paro
Day 15: Tiger's Nest Monastery Trek - A Majestic Farewell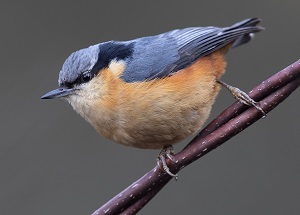 Our final day in Bhutan promises to be an unforgettable blend of Bird watching and cultural exploration in the stunning Paro valley. The highlight of the day is the awe-inspiring hike to the renowned Tiger's Nest Monastery, also known as Taktsang Monastery. This sacred site, perched 600m high on a cliff, holds a rich spiritual significance as the place where Guru Padma Sambhava defeated demons on the back of a tiger to spread Buddhism in Bhutan.
Our journey begins with a 1½-2-hour hike through enchanting wooded areas, ascending 340m to reach the sacred monastery. Along the way, we'll seize opportunities for Bird watching, keeping an eye out for delightful species such as Chestnut-crowned Laughingthrush, Hume's Leaf Warbler, Green-backed and Coal Tits, White-tailed Nuthatch, Yellow-billed Blue Magpie, and Spotted Nutcracker.
As we pause at the tea house, a welcome spot for refreshments and an excellent viewpoint of the monastery, we continue the ascent for another half-hour, reaching a breathtaking viewpoint directly across from the monastery. The final stretch takes us on a thrilling descent into the gorge that separates us from the monastery, followed by a triumphant climb back up to our destination.

Exploring the rocky ledges near the monastery, we'll be on the lookout for small flocks of delightful Altai Accentors. While the nearby waterfall is a haven for the graceful Little Forktail and the vibrant White-capped Redstart, adding to the wonder of this unforgettable trek.
As the day draws to a close, we gather for a heartwarming farewell dinner, celebrating the cherished memories we have created during our journey in Bhutan. This enchanting evening provides us with a special opportunity to share stories, laughter, and reflections on our remarkable experiences. With a touch of nostalgia, we bid adieu to this captivating land and the treasured moments we hold dear.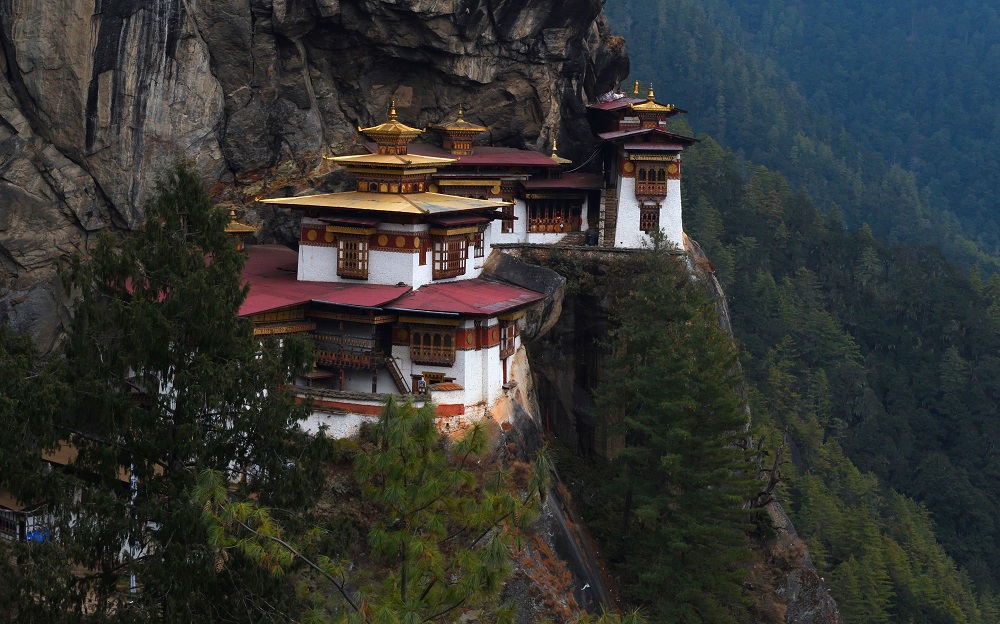 The Paro Taktsang (Tiger's Nest Monastery), a sacred Buddhist site constructed in 1692 is located in the cliffs above Paro.
Day 16: Departures
After breakfast, we will take a short 15-minute drive to Paro Airport and catch our flight with Drukair to Delhi/Kathmandu or Bangkok, for our onward connection.
ROUTE MAP