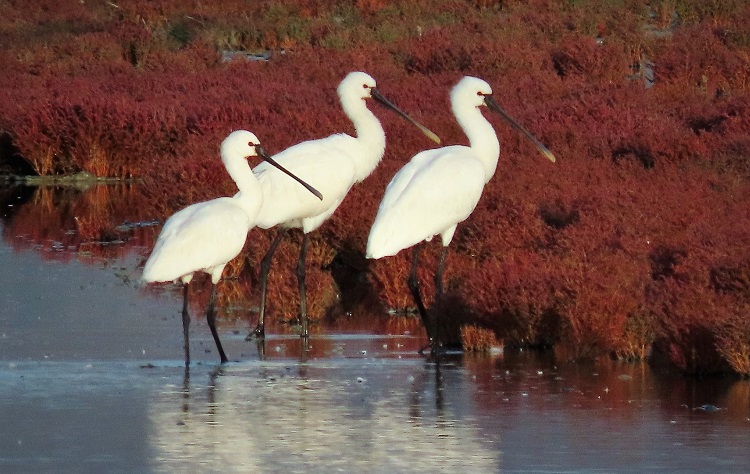 European Spoonbills, Lesvos, September 2021. Photo by Gina Nichol
Greetings Birders!
As we look forward to 2022, we are so thankful to our clients for their continued messages of support through nearly two years of the pandemic. You've kept us going and we've been able to get back to what we love - creating and sharing opportunities to explore and marvel at the natural world through travel. Below is a recap of Sunrise Birding's 2021.

2021: The Year in Review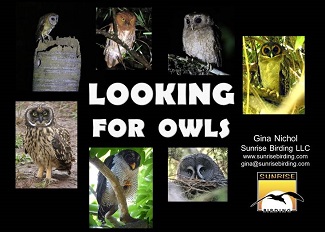 2021 began with hopes of the new vaccines making the return to travel possible. As the year unfolded, it became clear that the process was going to take longer than expected. We monitored the situation carefully with the health and safety of our clients as our highest priority. That meant postponing several tours early in the year - a major disappointment for many but the right thing to do given the situation.
We filled the early months of 2021 with a number of Zoom talks for birding and Audubon groups, tour rescheduling and planning, and venturing out cautiously with some local guided and private bird walks. It wasn't long until spring migration was in full swing in New England and the demand for guided bird walks and private guiding kept us busy. Photo: Looking for Owls lecture cover slide
By late June, we had to make a decision about getting back to tours. We had two fall trips planned to Spain and Lesvos. These would be our first forays back into international travel and would put our diligently designed health and safety protocols to the test. Our requirement that all of our travelers and everyone involved with a tour be fully vaccinated was well received and we went ahead and confirmed the tours for September.
In late June, after a 16-month separation forced by government regulations, Gina reunited with Steve Bird in England. It was a test of the international travel process and involved multiple Covid tests and 10 days of quarantine (with Steve, so not bad). In the end, it all worked and was very much worthwhile. We spent time conducting entomological surveys in Cornwall, Devon, and the at the Sandwich Bay Bird Observatory and explored the famous White Cliffs of Dover (a bucket list tick).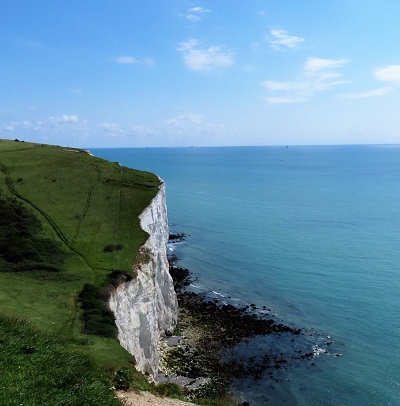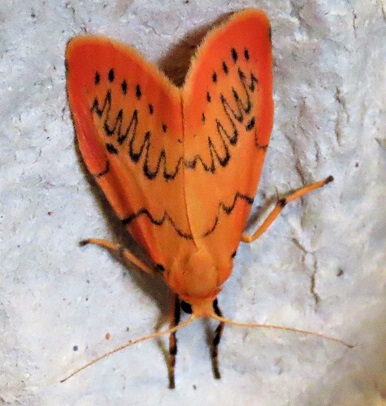 Photos: White Cliffs of Dover, Rosy Footman (moth)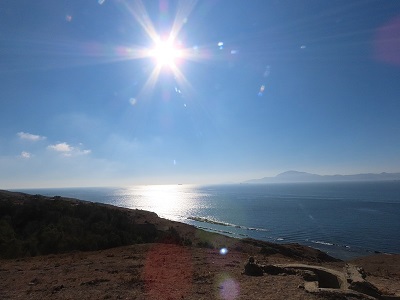 In September, it was finally time to head to Spain for our Grand Fall Migration tour. Guides Frank Gallo and Cristian Jensen led a superb tour from Seville starting with witnessing the migration at the famed Strait of Gibraltar. From there, we traveled through Monfragüe National Park to El Planeron, an ornithological reserve north of Belchite, to the beautiful Pyrenees, finishing in the Ebro Delta. The birds did not disappoint with many, many highlights including Bald Ibis, White-headed Duck, DuPont's Lark, both Great and Little Bustards, Red-necked Nightjar, Wallcreeper, skies full of Bee-eaters, White Storks and Honey Buzzards on migration, Spanish Imperial Eagle, Alpine Chough, and the incredible bird show at the Ebro Delta (a must experience for birders!). The trip went off without a hitch and all of the feedback was positive including comments like "Best birding trip ever!" from our clients. Our protocols worked, everyone stayed healthy and made memories to last a lifetime. Trip Highlights> Photo: Straight of Gibraltar, Spain by Gina Nichol.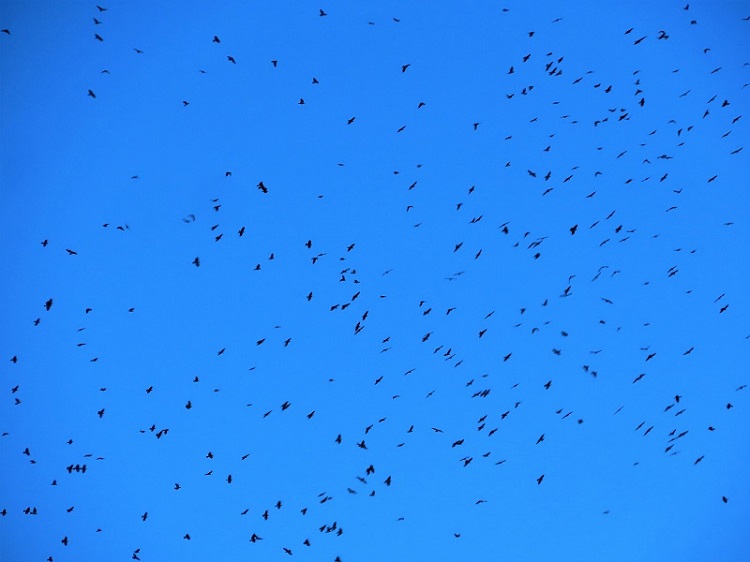 Migrating Honey Buzzards, Gibraltar, Spain, September 2021. Photo by Gina Nichol.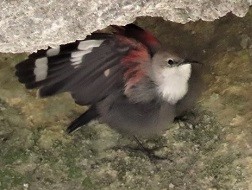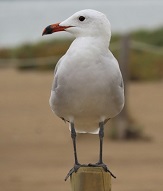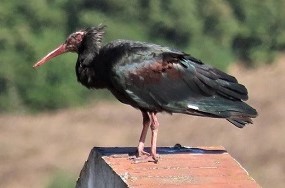 Wallcreeper, Audouin's Gull, Bald Ibis. Photos by Gina Nichol.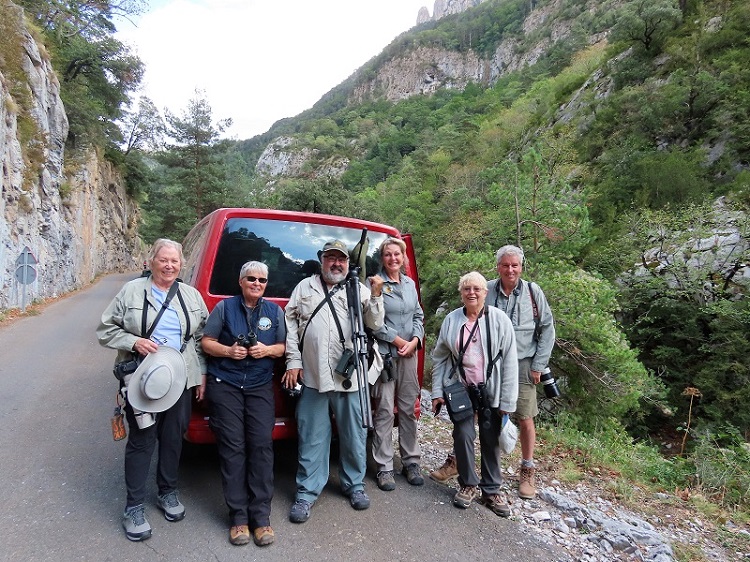 Happy Birders, Shorebirds at the Ebro Delta. Photos by Gina Nichol.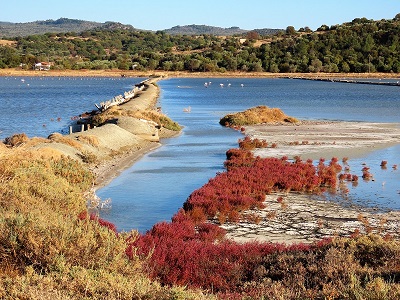 After Spain, Gina and Steve traveled to our beloved Greek island of Lesvos for our inaugural fall migration trip and for the first time in more than two years. The island was as beautiful as ever and offered a different perspective bird-wise compared to our many spring migration trips. Highlights included Middle Spotted Woodpeckers (many and easy to see compared to spring when they are breeding), Red-backed Shrikes (common), Golden Eagle (rare for Lesvos), Red-footed Falcon, Lesser Grey Shrike, Black-tailed Godwit, several Dalmatian Pelicans, of course, the main attractions: Krüper's Nuthatch and the Flamingo show on the various salt pans.
Once again, the trip was highly successful trip with gorgeous scenery, great birds, and wonderful memories. Trip report>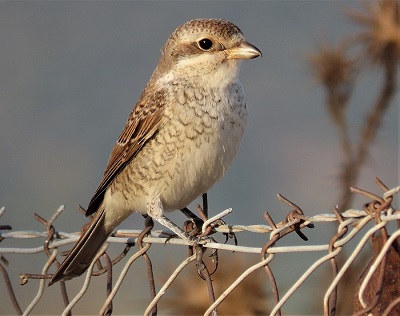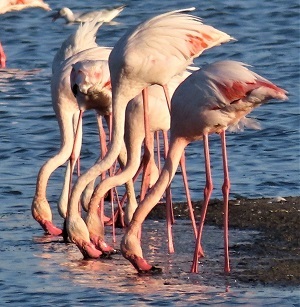 Autumn scenery, Lesvos; Red-backed Shrike (juv); Flamingos by Gina Nichol
In October, it was back to leading local bird walks in Connecticut, private guiding, and a visit to the Quaker Ridge Hawkwatch in Greenwich, Connecticut with the Cornell Club of Fairfield County and an assist from James Purcell (Cornell Class of 2018).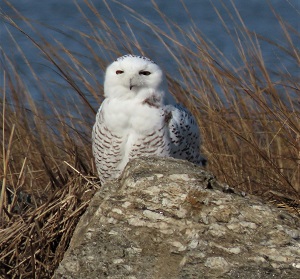 In early November, Steve finally arrived in the US after 20 months as US government restrictions were finally lifted. We added more Fall Migration Bird Walks, Zoom Travel updates, did some private guiding, and continued planning for our 2022 trips and beyond. Gina was featured in a panel discussion entitled "Birding: From Backyard to Big Year", part of the acclaimed speaker series, Bruce Museum Presents: Thought Leaders in the Fields of Art and Science.
As we close out 2021, our tour schedule for 2022 is chock full with several tours to make up and new destinations to explore. As we look ahead, we'll continue to proceed cautiously with the health and safety of our clients and guides our highest priority. We've run safe, successful tours during the pandemic and have learned much about how to do it well. Our travelers are vaccinated and many of them already boostered. We're checking statistics and restrictions in every destination regularly and to the nth degree.
Photo: Snowy Owl, Stratford, CT, November 2021 by Gina Nichol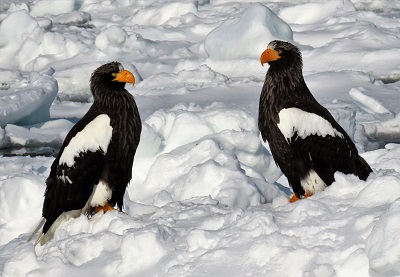 Traveling to see and share the wild and wonderful places in the world and seeing wildlife is what we love. Now, more than ever, we all need the rich experience, the new perspective, and the renewal of travel. We need the thrill of seeing a Jaguar or a Hyacinth Macaw or a Steller's Sea Eagle. And we know that our tourism dollars support conservation and the livelihoods of our local guides and the communities we visit.

Photo: Steller's Sea Eagles, Japan by Gina Nichol.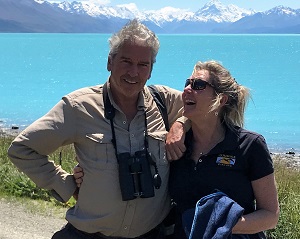 To our wonderful clients, guides, agents and operators around the world THANK YOU for your continued patience and support as we navigate through the pandemic. We wish you a joyous, bright, prosperous and birdy new year and we encourage you to keep your travel dreams alive. Get out there to experience the wild and wonderful places of the world. We hope you will join us on a tour and make your travel dreams a reality soon!
Gina, Steve, and the Sunrise Birding team


UPCOMING TOURS>
Contact [email protected]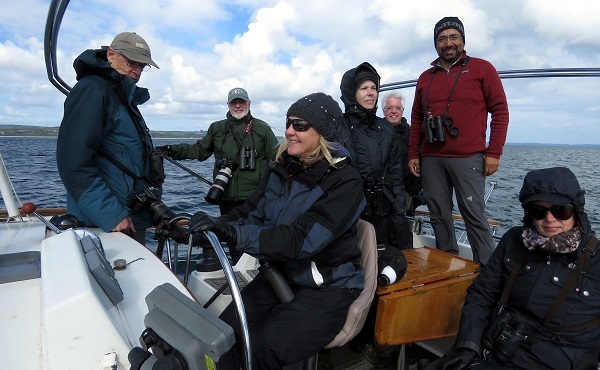 Sailing in Chile 2019>
---
STEVE BIRD ORIGINALS
Steve is continuing to illustrate and paint again and he is willing to do commissions, especially of species seen with us on past trips. See more of Steve's original art here> Contact Steve to discuss options at [email protected]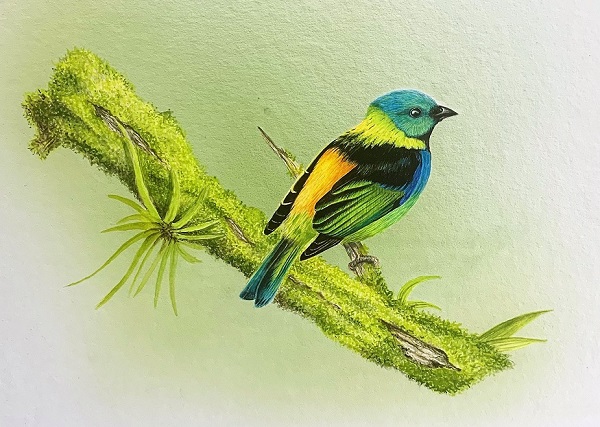 Green-headed Tanager, watercolor by Steve Bird
---
PRIVATE BIRDING TOURS
Plan your own private birding tour, including domestic, international and private local birding tours in southern New England. If you have questions, want to arrange a private tour, we'd love to hear from you. Contact [email protected]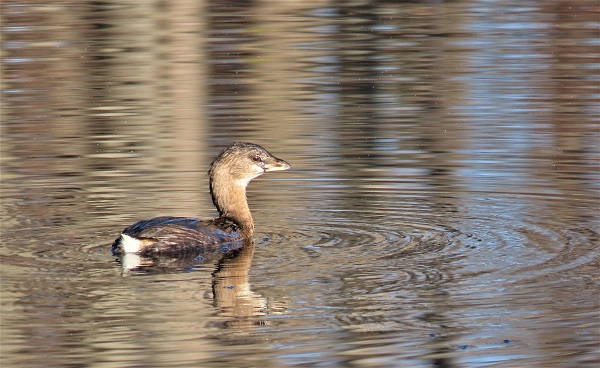 Pied-billed Grebe, November 9, 2020. Photo by Gina Nichol.
---
OUR GOAL:
Sunrise Birding's ethos is to provide the best possible birding experience for the best value. We maintain high standards and have gained a reputation for using the best local guides in combination with our expert leaders and finding the target species and seeing them well—all at a reasonable pace and for a value price. See what the buzz is about! The photo galleries, trip reports, and clients speak for themselves! A complete schedule of Sunrise Birding LLC events is online at this link>

Gina Nichol
Sunrise Birding, LLC
203.453.6724
Email: [email protected]
Web site: https://www.sunrisebirding.com
•RECENT TOUR REPORTS
•MORE TOURS
•TOUR VIDEOS ON YOUTUBE
---