The Great Great Horned Owl Adventure
Spring 2020, Photos & text by Gina Nichol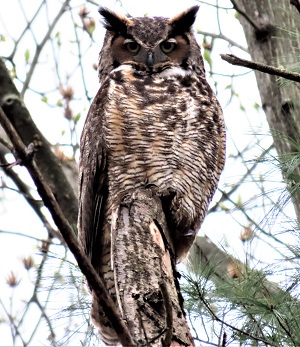 For the first time in at least 10 years, I spent the entire month of April at home in Connecticut. With life as we knew it essentially stopped, and with the increased need for mental health breaks in nature, I spent a lot of time at Lake Saltonstall, a Regional Water Authority property near in my home. The Regional Water Authority is a non-profit, public water supply utility that protects thousands of acres of watershed lands. With a permit, some of its properties are accessible for hiking, fishing, and for me, bird watching.
In early April, I was walking one of the main trails and noticed something that looked like splattered white paint on the trail. I recognized the thick white past right away as "whitewash" or owl excrement.

Great Horned Owl whitewash
The whitewash was under a pine tree and as I checked around, I also found some partially disintegrated owl pellets, the undigested fur and bones that owls cough up.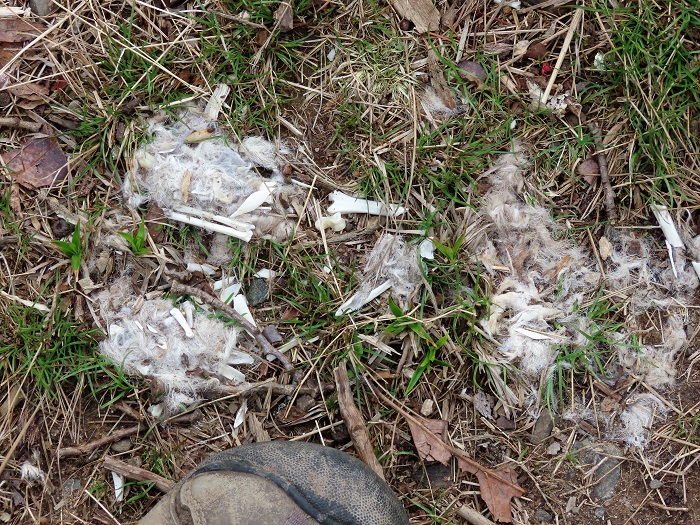 Great Horned Owl pellets on the ground (somewhat disintegrated)
I looked up into the tree and could see something that looked like it might be a nest.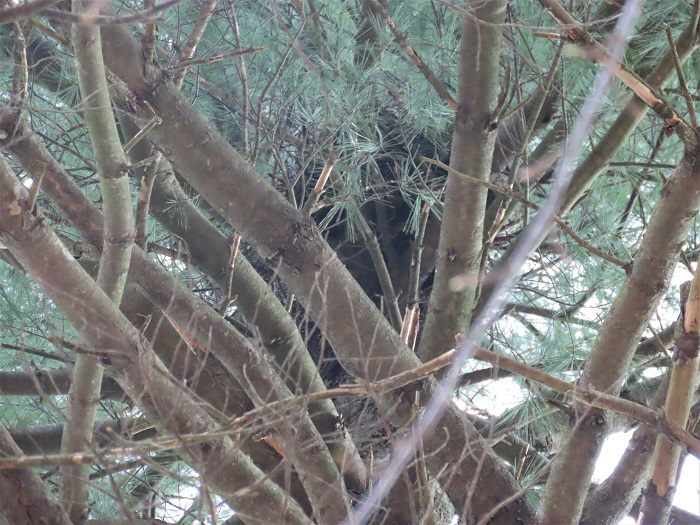 The probable nest was at least 40 feet up and it was impossible to see if there was anything in it. Each day, when I walked by, I checked around the ground and found more whitewash and pellets. And then one day as I checked the area, I realized that a Great Horned Owl was watching me from above near the nest.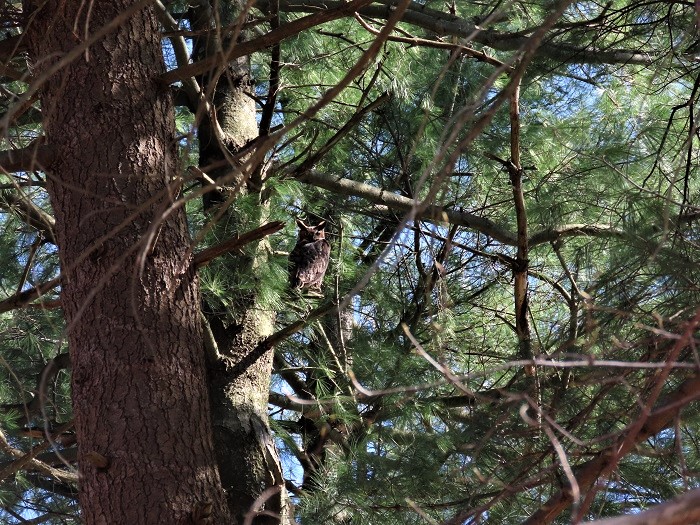 Great Horned Owl, April 17, 2020
After that, each day when I walked through the area, there was always a Great Horned Owl watching me.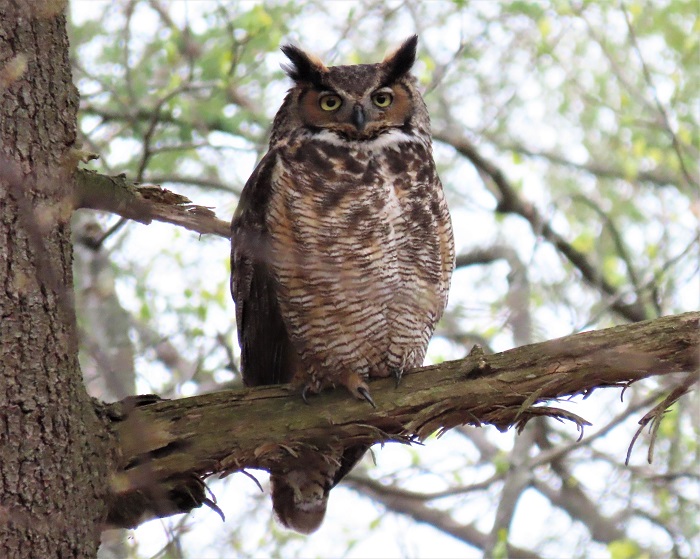 On April 23, I was watching some Pileated Woodpeckers nearby and filmed this interesting behavior.
While I was filming the woodpeckers, I heard an interesting bird call. I recognized it and remembered hearing that same call a few years earlier when I found this baby Great Horned Owl not far from the fishing docks at the south end of Lake Saltonstall.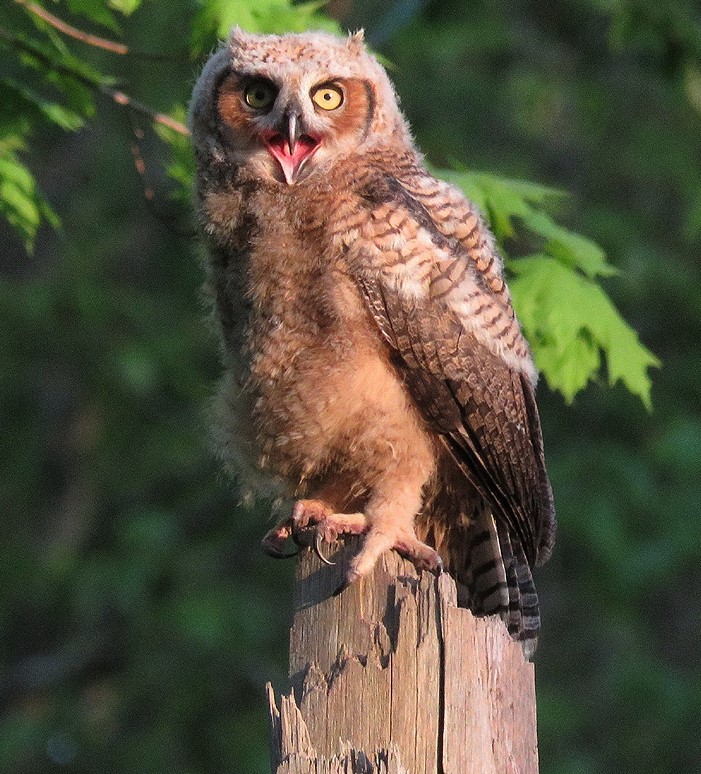 Great Horned Owl chick, May 2018, Lake Saltonstall (south)
I knew instantly that the sound was coming from a young Great Horned Owl begging for food. Satisfied with my film of the woodpeckers, I moved cautiously toward the sound which was coming from the ground below the suspected nest. As I approached, a pair of Northern Ravens flew by and dived down at something on the ground. The adult Great Horned Owl perched in the pines above clacked its bill as a warning to the Ravens and they promptly departed. There on the ground was a fledgling Great Horned Owl.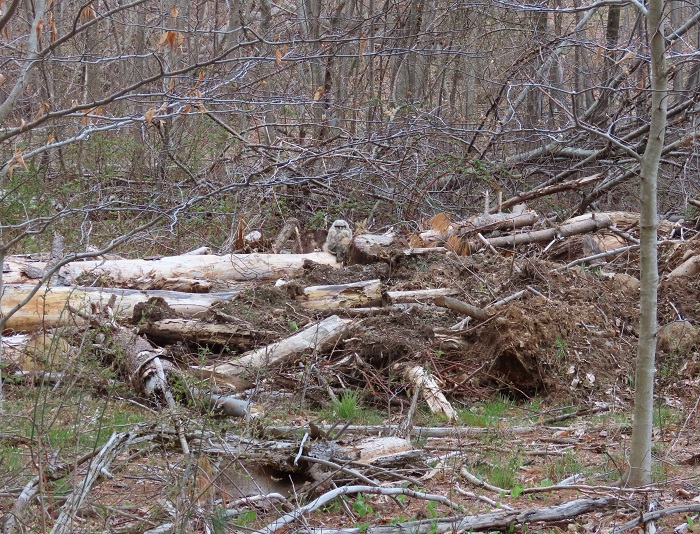 Great Horned Owl chick, April 2020, Lake Saltonstall (north)
This young bird was in its "brancher" stage. It had left its nest but it could not yet fly. During branching, gravity often brings these owls to the ground where they are tended to by the adult birds. And that is just what was happening. The adult owl was there watching over the young fluff ball, protecting it and feeding it.
The branching stage is a critical time for young owls. Being on the ground means they are vulnerable to predators, dogs and well-meaning people. They have strong legs at this stage and can climb into bushes and eventually they will take their first flights. But this one was in a fairly open area and it was calling every few minutes for food which could easily attract unwanted attention.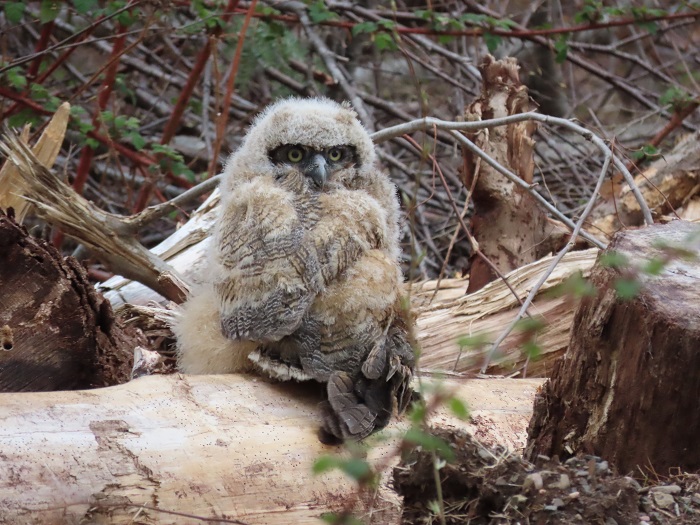 Zoomed up photo of the Great Horned Owl chick, April 23, 2020
I went back later that afternoon and the young owl was in the same spot and the adult was there as well. I walked away thinking just how vulnerable the baby was. But the parent was in attendance and this was a natural part of the Great Horned