Birds, Tigers, and Taj Mahal Tour Finds Ten Tigers, 265 Bird Species
>Photo Highlights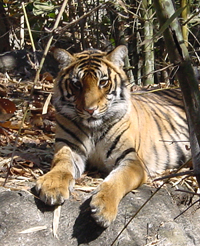 Delhi, India -- Gina Nichol of Guilford-based Sunrise Birding recently co-led a wildlife watching tour in central India. The tour, entitled Birds, Tigers, and the Taj Mahal, explored one of the world's most famous bird watching destinations in Central India, Keoladeo Ghana National Park, better known as Bharatpur. The tour also visited Kanha National Park, a known stronghold for the Indian Tiger. In all, ten Indian Tigers were seen roaming the wilds of Kahna and a total of 265 species of exotic birds were recorded on the tour. Travel was by plane, bus, train, rickshaw, elephant, and jeep.
At Bharatpur, the tour explored the 29 square kilometer bird-filled park on foot and by bicycle-rickshaw. Water loving birds were everywhere and sightings included Sarus and Common Crane, Black-necked, Woolly-necked, and Painted Storks, Great, Intermediate, and Cattle Egrets, Purple and Striated Herons, Black-headed Ibis, Pheasant-tailed and Bronzed-winged Jacanas, and Oriental Darter. Many endemic bird species were logged as well including Indian Courser, Indian Scops Owl, Jungle Owlet, Yellow-wattled Lapwing, and Orange-headed Thrush. In addition to birds, Rock Pythons and Palm Civets were spotted at Bharatpur.
A boat ride on the nearby Chambal River yielded Indian Skimmer, Bonelli's Eagle, Black-bellied Terns, Red-crested and Ferruginous Pochards, Bar-headed Goose, Demoiselle Crane, and Great Thick-knee and provided numerous opportunities to view the rare and endangered Gharial.
The second half of the tour visited Kahna National Park in the remote wilderness of Central India. Kahna is famed as the setting for Rudyard Kipling's Jungle Book. Here, the tour focused on finding the endangered Indian Tiger. During early morning and late afternoon jeep safaris into the park, seven tigers were spotted and another family group of three were seen from elephant back. In addition, there were numerous sightings of other mammals of the park including Sambar, Spotted Deer, Barasingha, Indian Muntjac, Nilgai, Wild Boar, Golden Jackal, Indian Mongoose, Common Langur, and Rhesus Macaque and quick, but exciting views of Sloth Bear and Jungle Cat. Among the many birds that were also recorded here were Red Spurfowl, Red Junglefowl, Yellow-footed Green-pigeon, Green Bee-eater, Jerdon's Leafbird, Large Cuckooshrike, White-bellied, Spangled and the very common Greater Racket-tailed Drongo, Asian Paradise-flycatcher, Taiga and Red-breasted Flycatchers, and Thick-billed Flowerpecker, Tickell's Blue Flycatcher, Brown-cheeked Fulvetta, White-rumped Shama, Puff-throated Babbler, Grey-breasted Prinia and the shy Indian Scimitar-babbler.
The tour included a visit to the wondrous Taj Mahal in Agra where a Dusky Eagle-Owl was found nesting on the grounds near the monument and a tour of the Red Fort in Agra.
Sunrise Birding is planning another tour to wild India in early 2008. For more information, contact Gina Nichol at Sunrise Birding, LLC at 203.453.6724
or log on to http://www.sunrisebirding.com.