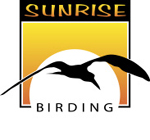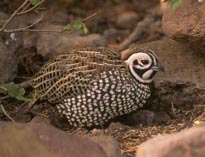 In association with Naturalist Journeys
Big Bend & The Davis Mountains
Birding & Natural History
April 28 - May 6, 2007
Photo highlights from 2006>
Big Bend is large enough to encompass an entire mountain range: the spectacularly eroded Chisos Mountains, home to the elusive Colima Warbler. This is a bold landscape with constantly changing views -- a playground of light, rugged mountains, rolling desert hills, deep river canyons, and endless intrigue.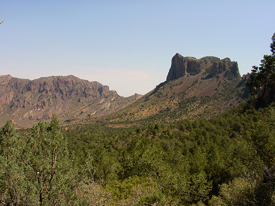 It is an exotic place close to home, with a definite Texas flair. Even the names of the natural features are exotic: Tornillo and Terlingua Creeks, Mesa de Anguila, mountains called Dead Horse, Santiago, Christmas, and Glass. Plant names hint of Mexican affinities: Lechugilla, Agave, Ocotillo, Mesquite, Hechita, Javelina Bush, Guyacan, Candillia, and Sangre de Drago. Mammals include Kangaroo Rat, three species of skunk, Javelina, Mountain Lion, and Black Bear.
Our journey in this wonderfully isolated region features time for birding and wildlife observation while interpreting the region's significance and ecological complexity. We also have time for fun: dining in west Texas restaurants, learning the history, and discovering a fine sense of place.
While many visiting groups rush in to record the rarities, we have the entire week to hike the trails, find lush hidden oases, watch desert sunsets, and experience the rhythm of spring bird migration. Because eastern and western, Mexican and Rocky Mountain species mingle in Big Bend, nearly 450 species of birds have been recorded here, many of them rare or vagrants. Every field day is exciting; don't miss this chance to discover this special place!
Trip Cost and Travel Planning | Registration Form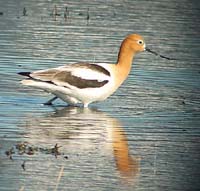 ITINERARY
Saturday, April 28 -- Arrive in El Paso, Texas
Please plan to arrive in El Paso, TX today. Those arriving by 2:00 PM. will have the opportunity to do some birding at local ponds that can attract migrants at this time of year. Or, arrive at your leisure, take the airport shuttle to our hotel, and plan to meet the group at 6:30 pm for a welcome dinner and introductions. Accommodations at the El Paso Airport Hilton (D).

Sunday, April 29 -- Balmorhea State Park / Travel to Fort Davis
Driving from El Paso to the Davis Mountains, we pass several mountain ranges that rise from the desert, giving us glimpses of some of the oldest rocks in west Texas. At the northern end of the Davis Mountains, we visit Balmorhea State Park, a lush green oasis in this high desert region. Here an artesian spring pours forth millions of gallons of water, encouraging the growth of tall trees and marsh vegetation. The park is a haven for migrating birds, with such beauties as Painted Bunting sometimes coming in to the feeders. We look for Bullock's Oriole, Western Kingbird, Pied-billed Grebe, and two species of rare desert fish. After lunch at a favorite local restaurant, we continue a short way to one of the larger reservoirs in this area; Balmorhea Lake. Here we may find a variety of ducks and shorebirds and, with luck, a flock of magnificent White Pelicans.
Our afternoon drive of 30 miles or so down to Fort Davis reveals tall cliffs of columnar volcanic rocks, and the chance to look for Mule Deer, Coyote, and some grassland birds. Settle into your accommodations at the delightful Hotel Limpia and enjoy a group dinner in the hotel. Accommodations at Hotel Limpia (L,D).

Monday, April 30 -- The Davis Mountains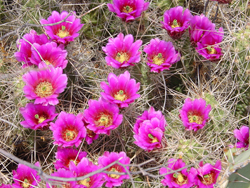 Today we explore the Davis Mountains, one of Texas' Sky Island mountain ranges. Learn more about the ecological significance of the Davis Mountains as a link between Mexico and the Rocky Mountains. In the morning we visit the Nature Conservancy's outstanding preserve high in the range. For many years the higher elevations of this range were privately owned and so inaccessible. Since the preserve was established, limited public access is allowed, and a number of very exciting birds have been recorded. Those familiar with the Chiricahua Mountains of Arizona will recognize species such as Olive Warbler, Buff-breasted Flycatcher, Painted Redstart, and Dusky-capped Flycatcher, which occur in both ranges. Enjoy a walk amid large Ponderosa Pines, with a view of the highest peak in the Davis Mountains, Mt. Livermore.
Returning by mid-afternoon, we offer an optional visit to historic Fort Davis, one of the best-preserved post-Civil War forts in our National Park system. Set in an area of spectacular volcanic rocks, Ft. Davis offers much to explore! Dinner is at your leisure tonight, with a choice of local restaurants. Or, join an optional excursion to McDonald Observatory for some fine night sky viewing. Accommodations at Hotel Limpia (B,L).

Tuesday, May 1 -- The Post at Marathon / Prairie Dogs / Big Bend National Park

This morning we visit Davis Mountains State Park, where Montezuma Quail may be coming into feeders along with Scrub Jay, Acorn Woodpecker, and Green-tailed Towhees. It will be hard to tear ourselves away from this idyllic sit-down birding!
However, adventure and Big Bend call us, so we head east to a lush birding oasis, a creek-side park that once housed the U.S. Cavalry. Today it is know as the Post, and its large cottonwood trees and small reservoir attract a good number and variety of birds. Passing through grassland habitat en route, we are likely to see Pronghorn and possibly Scaled Quail. We enjoy lunch under huge cottonwood trees that shelter Vermilion Flycatcher, Summer Tanager, and possibly Yellow-billed Cuckoo. Driving back into extensive grasslands we visit an active Prairie Dog town to observe these animals' lively and sometimes comical behavior. With luck a Coyote or Golden Eagle may be here on the prowl.
Then we turn south to Big Bend National Park, interpreting the geologic features on the way. We pass through low desert that was once so rich in Tobosa grass the early settlers could cut it as hay. Our destination is Chisos Basin, which sits at a comfortable 5,400 feet surrounded by mountain peaks. Here, we keep an eye out for Zone-tailed Hawk and other birds of prey. After settling in to our accommodations at the Chisos Mountain Lodge, we meet for dinner in the lodge's dining room. A Say's Phoebe may have a nest by the door; at night Gray Fox and Javelina are both commonly seen from the balconies. Accommodations at Chisos Mountain Lodge, Big Bend National Park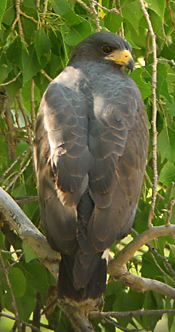 (L,D)

Wednesday, May 2 -- Big Bend National Park / Rio Grande Village
We get an early start this morning with a field breakfast in tow, so we can get to Rio Grande Village early enough for prime bird activity. Ro Wauer, author of The Birds of Big Bend, regards this as the most consistent location in the park for seeing good numbers of species, and today should be no exception. Painted Buntings often steal the show, but there is stiff competition from Greater Roadrunner, Golden-fronted Woodpecker, Inca Dove, Indigo Bunting, and Blue Grosbeak.
Take time to learn some of the calls -- you'll then be aware of Yellow-breasted Chat and Bell's Vireo; with luck you'll hear the scream of a Gray Hawk. Common Black Hawks have nested here for several years, and Black Vultures can be seen along the river. The nature trail -- a boardwalk through a pond created by beavers – winds through a striking blend of lush cattails and rushes, desert scrub, and distant views of the Chisos.
Enjoy a picnic lunch with a view of the Sierra del Carmen Mountains. A siesta under shade of the cottonwoods is a must before we return to the Basin. We stop at the Boquillas Canyon Overlook and the park's visitor center en route. Tonight, enjoy dinner at your leisure. Accommodations at Chisos Mountain Lodge (L)

Thursday, May 3 -- Big Bend National Park/ Boot Springs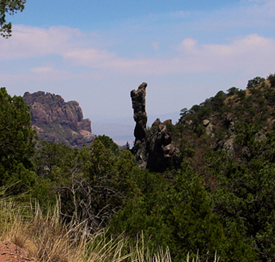 Enjoy a full day of walks and hikes in Chisos Basin. Those with energy can scale the nine-mile loop trail high into the Chisos, where we find nesting Colima Warblers. The entire hike is fascinating, and we have all day to do it, so many can participate. Climbing steadily through oak and juniper woodland we find an abundance of Mexican plant species, such as Evergreen Sumac and Drooping Juniper. Fresh-flowering Texas Madrones are magnets for warblers. We often find Townsend's, Hermit, Yellow-rumped, and sometimes Orange-crowned and MacGuillivray's Warblers. Wildflowers and brilliant cactus blooms brighten the trail.
Boot Canyon shelters huge pines and Arizona Cypress, a Mexican relict species. The route down through Laguna Meadows opens up great vistas and more birding. Listen for calls of Hutton's Vireo and Bewick's Wren, as well as the trill of Broad-tailed Hummingbirds during courtship displays.
Those who don't wish to scale the mountain can -- if we have a large enough group for two guides -- enjoy a very special hike to a place where orchids and Cardinal Flower grow at a backcountry desert spring. This oasis is great for birding and affords a visit to the Old Sam Nail Ranch, one of the best birding spots in Big Bend. If we have a small group, then those not hiking can walk partway with us, or enjoy free time in the basin where the park may have activities scheduled. Dinner is once again at your leisure. Accommodations at Chisos Mountain Lodge. (L)

Friday, May 4 -- Big Bend National Park/ Burro Mesa Pouroff/ Santa Elena Canyon
Today we head west toward magnificent Santa Elena Canyon. Our first stop is at the Old Sam Nail Ranch, where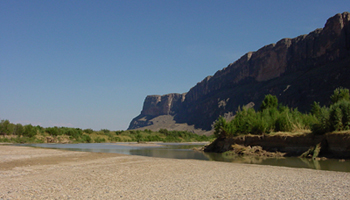 water coming from a windmill attracts Varied Bunting and a variety of other migrant songbirds. We then walk to Burro Mesa Pouroff, a unique geologic feature where unusual plants like the Texas Persimmon and Texas Buckeye bear fruit that attracts some of the larger songbirds. The arid hills provide good habitat for Black-chinned Sparrow, while the canyon echoes with the songs of Rock and Canyon Wren.
We have lunch at Cottonwood Campground, another oasis with large trees and a Hackberry and Lotebush hedgerow that provides shelter and food for migrants. In some years we see waves of birds coming through – grosbeaks and buntings seem especially fond of this area. We may also find Lucy's Warbler in the dry mesquite, and Hooded, Orchard, and Bullock's Orioles.
After an afternoon siesta, we discuss the vivid geologic story of the Big Bend region. Visit historic Castolon, where ice cream is a welcome treat. In the late afternoon, the sun is off the trail into Santa Elena Canyon, so we can enjoy a walk along 1,000-foot limestone walls laid down during the Cretaceous Period. Watch swallows hunting over the river, and listen for the calls of White-throated Swift. From here we take a back road north to the West Entrance of Big Bend, and enjoy dinner at a local restaurant as unique as its desert surroundings. Accommodations at Chisos Mountain Lodge (L,D)

Saturday, May 5 -- Big Bend National Park/ Blue Creek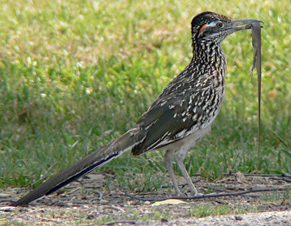 This morning explore Blue Creek Canyon, taking a leisurely route along a dry stream that allows for wonderful views, grand geology, and consistently excellent birding. Species to look for include the Lucifer Hummingbird, Gray Vireo, Crissal Thrasher, and Varied Bunting. Learn more about the history and impact of ranching in the Big Bend Region.
In the afternoon we head to Marfa, TX, stopping en route to visit the Museum of the Big Bend at Alpine. Marfa is a delightful small town, county seat, and home to the Chinati Foundation for Modern Art. Our hotel, which was recently renovated, was once the movie set for The Giant and other Hollywood films. Enjoy a final dinner and a chance to reminisce about our journey with your now familiar traveling companions. Accommodations at the Paisano Hotel, Marfa, TX. (L,D)

Sunday, May 6 -- Departures from El Paso
Our journey comes to an end today in El Paso. We have a three-hour drive, so we plan to arrive at the airport around 10:30 AM for flights out at noon or later.

Leader : Peg Abbott
Second Leader, if necessary: Gina Nichol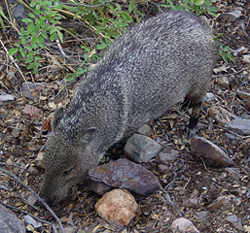 Big Bend & The Davis Mountains
Birding & Natural History Tour
April 28 - May 6, 2007
TOUR PRICE: $ 1,895.00 per person from El Paso, Texas
(based on double occupancy)
Deposit: $500 per person
Single Supplement: $425.00. per person (subject to availability)
Maximum Group Size: 14 plus leaders
Included in cost: The cost of the journey, $1,895.00 from El Paso, TX, is based on double occupancy and includes: all accommodations, meals as specified in the itinerary, group airport transfers, professional guide services, local park and other area entrance fees, and miscellaneous program expenses. The cost is based on a minimum of 8 participants; with fewer a small group surcharge (typically $100-$300) may apply. The cost does not include transportation to or from your home to El Paso; or items of a personal nature such as laundry, telephone charges, porterage, maid gratuities, or beverages from the bar. Single supplement (as available) is $425.00.

Not included: The cost does not include transportation to or from your home to El Paso, or items of a personal nature such as laundry, telephone charges, porterage, maid gratuities, or beverages from the bar.
RESERVATIONS:

To reserve your place on this tour, complete the Registration/Release Form and mail it with a deposit of $500 per person to Sunrise Birding, LLC. Instructions are on the form.
>Download and print the Registration Form.
Final payment is due by January 28, 2007 and must be paid by check. If a minimum enrollment is not met, Sunrise Birding, LLC reserves the right to levy a small group surcharge for this trip.
Travel Planning: You are responsible for planning your arrival to and departure from El Paso, Texas. A good number of airlines service El Paso. Plan to arrive El Paso no later than 2:00 p.m. on April 28, and plan to depart after NOON on May 6. If you arrive early or stay on after the trip in El Paso, there are a number of motels close to the airport; we recommend the historic Camino Real Hotel downtown, which should have an airport shuttle.
Cancellations and Refunds: Refunds, less a cancellation fee of $200 per person will be made only if Sunrise Birding, LLC is notified in writing of intent to cancel on or before January 28, 2007. No refunds will be made after February 1, 2006. All cancellations must be made in writing. There are no refunds for unused meals, accommodations, or other trip features.
Insurance: The purchase of trip cancellation insurance is strongly recommended. Sunrise Birding, LLC can not accept liability for airline cancellations or delays or penalties incurred by the purchase of non-refundable airline tickets or other expenses incurred by tour participants in preparing for this tour.
Questions? Contact Gina Nichol at [email protected].com Phone: 203.453.6724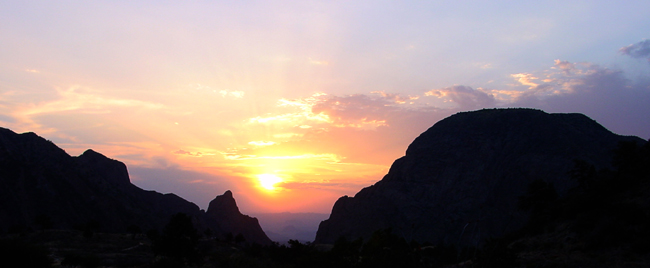 Photo credits:
Montezuma Quail, Prairie Dog by Peg Abbott.
Greater Roadrunner by Mahlon Hale.
Landscapes, American Avocet, Cactus Flowers, Common Black Hawk by Gina Nichol.