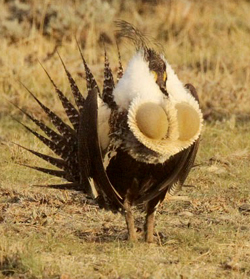 COLORADO CHICKENS!
Photo Highlights: April 7 - 17, 2015




Species List (pdf)>

Trip Report (pdf)>
Scroll down for photo and video highlights!
Leaders: Wezil Walraven, Steve Bird, & Gina Nichol
Distance traveled: 2243 miles
Species recorded: 140 including 5 heard only
Lifers logged (per person): Between 0 and 52!
Temperature range encountered: 20 – 80 degrees F
Top birds of the trip as voted by participants:
1) Greater Sage Grouse
2) Greater Prairie Chicken
3) Lewis's Woodpecker & American Three-toed Woodpecker (tie)
4) Broad-tailed Hummingbird, White-tailed Ptarmigan, Mountain Plover (tie)
5) Gunnison Sage Grouse, American Dipper, McCown's Longspur (tie)
6) Chestnut-collared Longspur, Dusky Grouse, Scaled Quail, Sharp-tailed Grouse, Swainson's Hawk (male and female perched together), Franklin's Gull, Black-throated Sparrow, Mountain Bluebird, Red-bellied Woodpecker, Black Rosy Finch (tie)
Photo above: Greater Sage Grouse by Steve Bird.
---