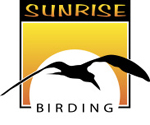 COLOMBIA


BEST VIEWS EVER TOUR!
Jan. 25 - Feb. 8, 2013
696 species recorded!
Trip Report & Species List (8 mb pdf)>
HIGHLIGHTS :
Best views ever of many species!
Applause worthy performances by Black Inca,
Dusky Starfrontlet, Oscellated Tapaculo, Antioquia Wren and others
Black Hawk-eagle perched
Yellow-eared Parrot
Colombian Screech Owl
Bill's 200th hummingbird: Shining-green Hummingbird

Bill's 3500th world bird: Black-thighed Puffleg
Ruby Topaz
White-mantled Barbets dueting
Grayish Piculet
Chestnut-crested Cotinga
Apical Flycatcher
Turquoise Dacnis
Yellow-tufted Dacnis
Chestnut-breasted Chlorophonia
Multicolored Tanager
Red-hooded Tanager
Olive Finch
Northern Screamer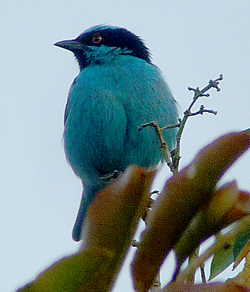 Turquoise Dacnis
Photo © Gina Nichol
Contact [email protected]
for information on
future tours.
Click the thumbnails below
to see a larger version
of the photo and scroll
down for more photos.
All photos © Gina Nichol.