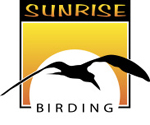 LESVOS!


Spring Migration Tour
April 26 - May 3, 2012


Trip Highlights & Photos
LEADERS: Steve Bird & Gina Nichol
Tour operated by Zoothera Global Birding.

Trip Report (pdf)>> Species List (pdf)>>


HIGHLIGHTS & MAGIC MOMENTS:
Baillon's, Little and Spotted Crakes - all amazing views!
Kruper's Nuthatch - a pair bringing in food at a nest site
Cinereous Buntings singing
Masked Shrike and Lesser Grey Shrike
Scop's Owl and Long-eared Owl
Little Owls - 5 on one day along the road and 6 on another!
Dalmatian Pelican
Yelkouan Shearwaters - 600+ (with a few Scopoli's mixed in) feeding in Aegean waters off the north coast between Efthaloy and Skala Sykamineas
Red-footed and Eleonora's Falcons
European Nightjar, Bee-eater, and Roller
Sombre Tit
Citrine Wagtail and 4 subspecies of Yellow Wagtail
Collared Flycatcher and Red-breasted Flycatcher
Thrush Nightingale
Rüppell's Warbler - very showy near Petra
Amazing orchids and butterflies
Right: Eurasian Scop's Owl & Cinereous Bunting. Photos © Gina Nichol
Photo Highlights ALL PHOTOS © GINA NICHOL
Start here to click through the slides >> or click the photos below.