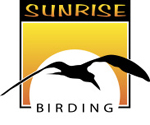 GUYANA
REAL BIRDING TOUR!
November 10 - 25, 2012
370 species recorded!
TOP BIRDS & SIGHTINGS OF THE TRIP:
Guianan Cock-of-the-rock
Harpy Eagle
Sun Parakeet
Capuchinbirds displaying on a lek
Rio Branco Antbird
Red Siskin
Crested Doradito
Bearded Tachuri
Orange-breasted Falcon
Agami Heron
Giant Snipe

Paradise Jacamar
Capped Heron
Vermilion Flycatcher
Blue-backed Manakin
Yellow-chinned Spinetail
Fork-tailed Flycatchers everywhere and some doing display flights
Ted, the orphaned Southern Two-toed Sloth
Giant Anteater (6, including one baby)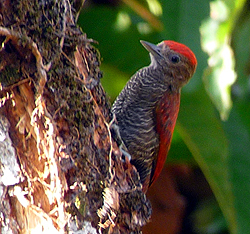 Blood-colored Woodpecker
Photo © Gina Nichol
Trip Report and Species List(pdf)>

Click the thumbnails below
to see a larger version
of the photo and scroll
down for more photos.
All photos © Gina Nichol.
For information about future tours, contact
[email protected]