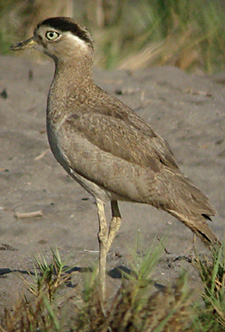 Chile 2006 - BIRDS
Photos © Gina Nichol SCENERY & GROUP PHOTOS>>
Back to Sunrise Birding>>
In late September, I had the opportunity to explore the distinctive habitats of Chile in preparation for a future Sunrise Birding tour to that diverse country. The tour included two pelagic trips, one from the central coast and one from the north coast; a stay in the heart of the subarctic, windswept plains of Tierra del Fuego; a visit to the Atacama Desert in the north and a tour of the high grasslands of Lauca National Park to see the superb Diademed Sandpiper-Plover. Sightings included two Diademeds with a chick, Magellanic Woodpecker, Magellanic Plover, Magellanic Penguin, five species of Albatross, and a host of other unique birds including the Peruvian Thick-knee (pictured right). The scenery was absolutely stunning from snow-capped mountains to dry desert to temperate forest. Below are some photo highlights of the tour. If you are interested in a possible Sunrise Birding tour of Chile, please contact me.
Peruvian Thick-knee. Photo by Gina Nichol.
Click the photos to see a larger version.