First and Last Name:

E-mail Address

How did you hear about Sunrise Birding?

Please send me the trip report for

(Specify Tour location and year):

Note: Your email address must be able to a reply email from gina@sunrisebirding.com.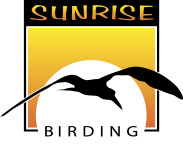 Trip Report Request

Submit this request to receive a trip report and species list

for any tour.  Reports are sent via email either as pdfs

or web links.