TRINIDAD & TOBAGO
with David Lindo!
April 12 - 20, 2024

Trinidad is the perfect introduction to tropical birding and a must visit destination for every birder. This tour is arranged to take advantage of the very best timing for visiting this nature lover's dream and all in the great company of David Lindo and excellent local guides. This tour is offered by our affiliate, Bird's Wildlife & Nature LTD.



For itinerary details, go to Bird's Wildlife & Nature LTD>
To reserve your place on this tour,
email [email protected]
Photos, above: White-necked Jacobin, Scarlet Ibis. Below, David Lindo.
David Lindo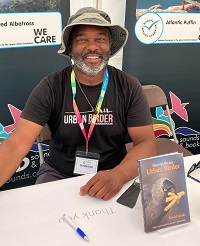 David Lindo is The Urban Birder - broadcaster, writer, speaker and tour leader. His mission is to engage city folk around the world with the environment through the medium of birds. He has written countless articles on urban birds, urban conservation and wildlife in general for many websites, publications and magazines and has written the Forwards to several books. He is a regular television and radio presenter and has been featured on the BBC, ITV, Channel 4 in the UK as well as other TV and radio channels around the world including CBS in the United States. David was recently named as the 7th most influential person in wildlife by BBC Wildlife Magazine.
David is a Vice-President of the Wildfowl & Wetlands Trust alongside giants like Sir David Attenborough and Chris Packham. He is also a proud Ambassador for Leica Optics and the London Wildlife Trust and a Patron of the Alderney Wildlife Trust and Birding For All – charity dedicated to facilitating access to nature reserves for disabled people. See more on David's website: www.theurbanbirderworld.com