---
2018: Our Year in Review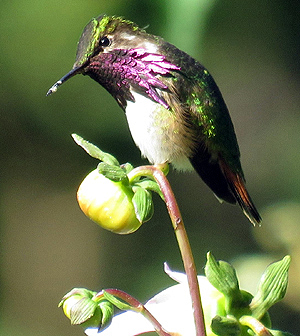 Sunrise Birding has had yet another successful year packed with fantastic experiences and adventures and many, many great birds. Thank you to our wonderful clients, leaders and guides around the world!
Below is our annual wrap-up of the year. Click the links for more photos and trip reports. When you get to the end of this report, we've included a suggestion for a New Year's Resolution!
Photo: Wine-throated Hummingbird, Guatemala
by Gina Nichol.
Many of our tours for 2019 are full or near full and some of our 2020 tours are full as well. If you are interested in any of our tours, don't hesitate to contact [email protected] to get your name of the list!
To get regular updates from Sunrise Birding, please join our eNews list>

To be part of our online community, please like and follow and like us on Facebook>
---
2018: Our Year in Review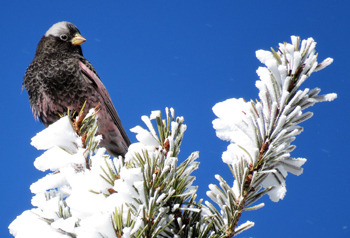 NEW MEXICO & ARIZONA
We started off the year with a southwest trip to see Rosy Finches, the gathering of cranes and geese at Bosque del Apache, and winter specialties in NEW MEXICO & ARIZONA. The amazing sunrise and sunset at Bosque and the unique hoar frost at Sandia crest offered spectacular backdrops to our bird-filled days. The Sandhill Cranes, Ross's and Snow Geese at Bosque del Apache were indeed highlights, we saw all 3 Rosy Finches up close at Sandia and managed victory with the elusive Baird's Sparrow. Report>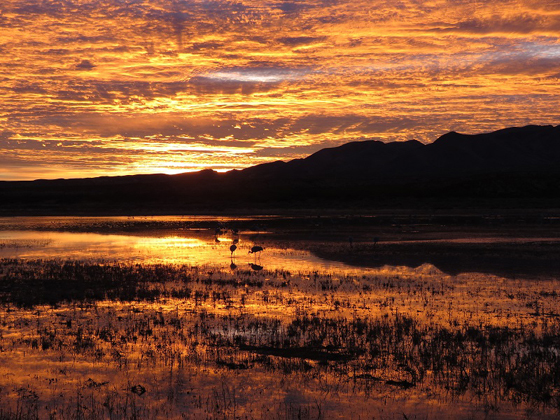 Above, Black Rosy Finch; Sunset at Bosque del Apache, New Mexico by Gina Nichol.

YUCATAN
At the end of January, Gina Nichol and Steve Bird led our inaugural trip to Mexico's YUCATAN Peninsula. Some of the many highlights of this tour were Mexican Sheartail, Yucatan Wren, Rose-throated Tanager, Black Catbird, Gray-throated Chat, showy Ruddy Crakes, Ocellated Turkey, an amazing performance by a Yucatan Black Howler Monkey, Yucatan Woodpecker, Cozumel Emerald and Cozumel Vireo. Guacamole galore, Mangos and excellent Margaritas added to the fun! Report>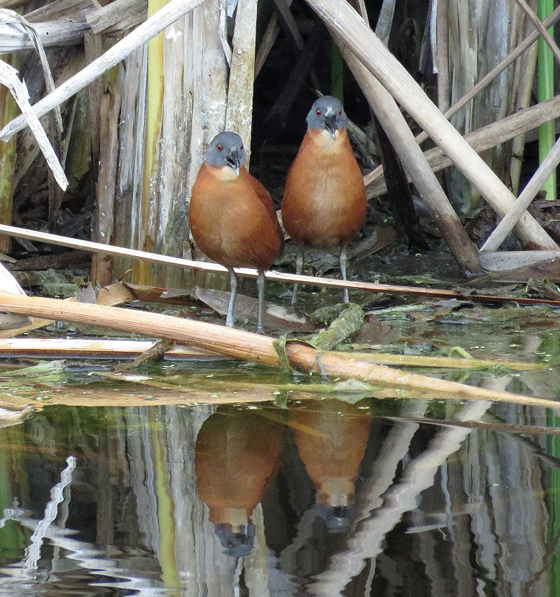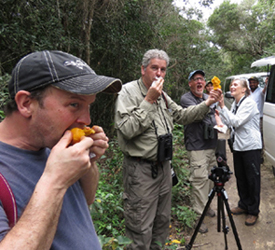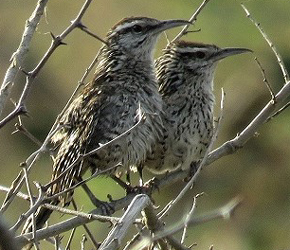 YUCATAN PHOTOS: Ruddy Crakes; Enjoying Mangos on the birding trail; Yucatan Wrens by Gina Nichol.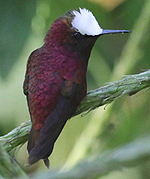 COSTA RICA
In February, Frank Mantlik once again led a group in COSTA RICA for our Quetzal & Hummingbird Special. Resplendent Quetzals did not disappoint with 7 sightings and of the 19 hummingbird species seen, favorites included Snowcap and Black-crested Coquette. Highland specialties included Ochraceous Pewee, Flame-throated Warbler, Flame-colored Tanager, Long-tailed Silky-flycatcher, Dusky Nightjar, Wrenthrush and Volcano Junco. Report>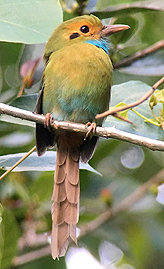 PHOTO, left: Snowcap by Frank Mantlik.


GUATEMALA
Meanwhile, Diego Calderon took a group to GUATEMALA on one of two tours to this fabulous country in 2018. The specialties of Guatemala were obvious highlights including Horned Guan, Resplendent Quetzal, Pink-headed Warbler, Wine-throated Hummingbird, Goldman's Warbler, Blue-throated Motmot, and Azure-rumped Tanager plus Fulvous Owl and the fabulous ruins of Tikal. Report>
PHOTO, right: Blue-throated Motmot, Guatemala by Diego Calderon.

NANTUCKET / AMAZON
In March, Frank Gallo led a winter birding weekend in NANTUCKET and John Kricher led our AMAZON CRUISE on the luxury Zafiro in the Peruvian Amazon. Our group enjoyed top notch accommodations while watching Hoatzins, Blue-and-Yellow Macaws and a host of other exotic birds, ten species of primate including Pygmy Marmoset, Night Monkeys and both River Dolphin species! Report>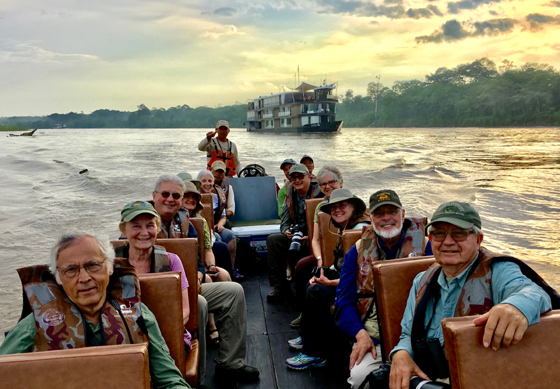 Sunrise Birding group on the Peruvian Amazon!

ETHIOPIA
Meanwhile, Gina and Steve embarked on a scouting trip in ETHIOPIA to explore tour possibilities for the future. This incredible country offers everything from Arabian Bustard, to Ethiopian Wolf, to Northern Carmine Bee-eater to the Gelada. Watch for a new Sunrise Birding tour in 2020. Report>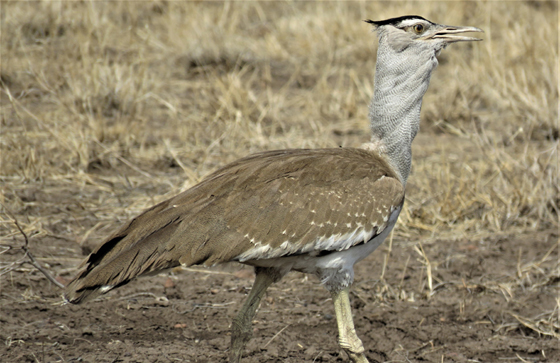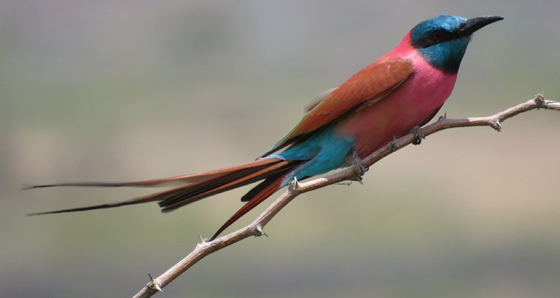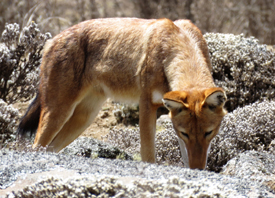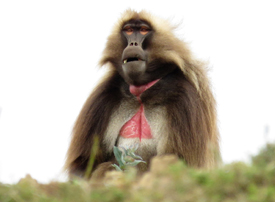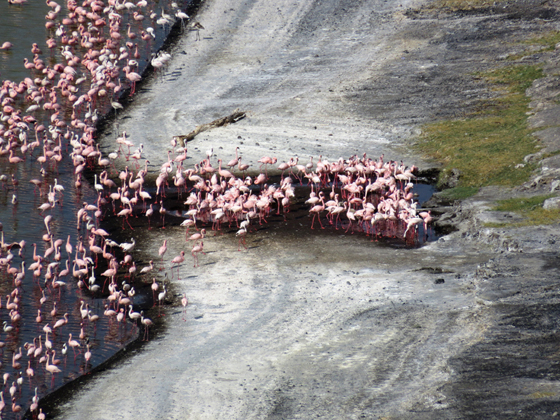 ETHIOPIA PHOTOS: Arabian Bustard, Northern Carmine Bee-eater, Ethiopian Wolf, Gelada,
Lesser Flamingos by Gina Nichol.

BRAZIL
At the end of March, top Brazilian guide and good friend Eduardo Patrial led our trip to Southern BRAZIL along a scenic route through the diverse Brazilian Atlantic Forest. Logging more than 410 species with fifty three (53) genuine Brazilian endemic species and hundred and thirty (137) endemics from the Atlantic Forest, the trip was a great success! Report>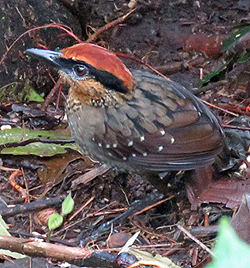 ECUADOR
By then, Gina and Steve were leading our ECUADOR tour and our group enjoyed birding spectacles like the outrageous Sword-billed Hummingbird, the tiny Booted Rackettail and glistening Shining Sunbeam, tanagers at point blank range including Glistening-green, Flame-faced, Moss-backed, and a variety of Mountain Tanagers. We enjoyed super rare birds such as the Rufous-crowned Antpitta and Long-wattled Umbrellabird plus displaying Andean Cock-of-the Rock and several stunning Fruiteaters. With many lodges and reserves having both hummingbird feeders and fruit feeders, we delighted in close up views of many birds. Our adventure to the remote Canandé Reserve will be well remembered and our final day watching Giant Hummingbirds and the king of vultures, the Andean Condor, made the perfect finale to our birding in Ecuador. REPORT>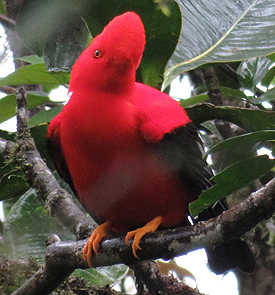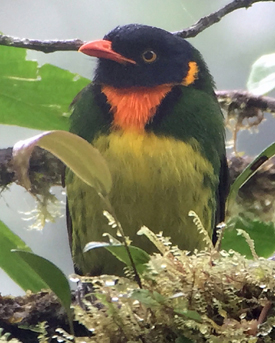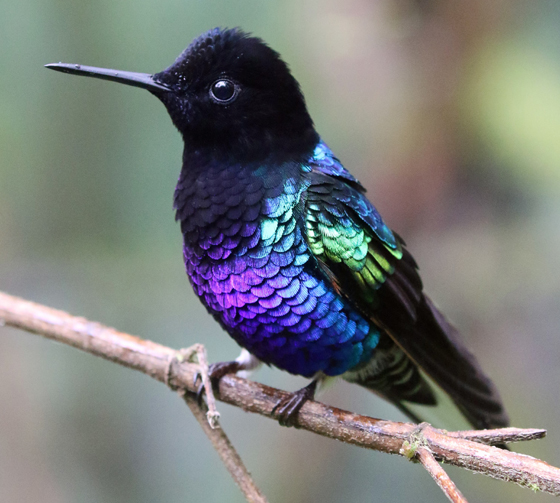 ECUADOR PHOTOS: Rufous-crowned Antpitta, Andean Cock-of-the-Rock, Orange-breasted Fruiteater, Violet-purple Coronet by Steve Bird.

Back in the US, we once again sent birders to COLORADO to witness dancing Prairie Chickens in all of their finery.
LESVOS
Before long we were back on our beloved Greek island of LESVOS enjoying the European spring migration. This year, we set up an "information center" in our hotel so that birders could share their daily sightings. The hotel also hosted social nights so birders could meet and mingle and share their birding stories of the week. We saw the usual Lesvos specialties including Kruper's Nuthatch, Cinereous Bunting, Eleanora's Falcon, Audouin's Gull, lots of Little Owls, Red-footed Falcons, Eurasian Scops Owl, plus Bee-eater, Hoopoe, Golden Oriole, Sardinian Warbler and some special sightings including Cattle Egret (rare for Lesvos), Pallid Harrier and Black-winged Pratincole. REPORT>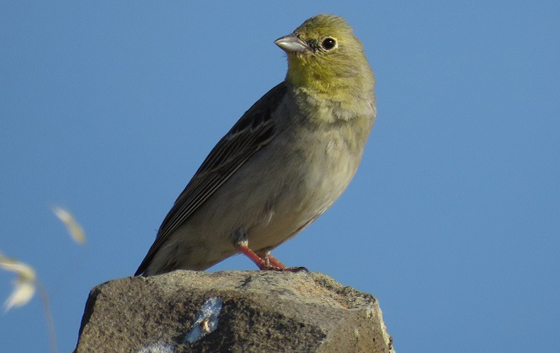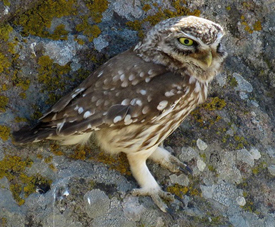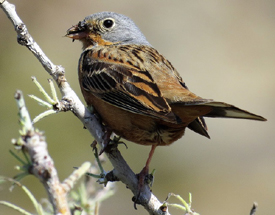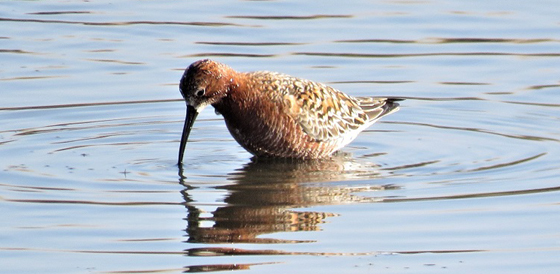 LESVOS PHOTOS: Cinereous Bunting; Little Owl, Cretzschmar's Bunting, Curlew Sandpiper by Gina Nichol.

FINLAND
In late May, we were birding the high arctic starting in Finland looking for breeding owls and displaying Capercaillies in the boreal forests of eastern Europe. Capercaillie performed and we witnessed Great Gray Owl bringing food to the nest, Hawk Owls feeding hungry chicks, Ural Owl and Eurasian Pygmy Owl. The stunning Smew was a favorite and a very accessible nest of Black Woodpecker on a golf course near Oulo offered stunning views of this beauty. REPORT>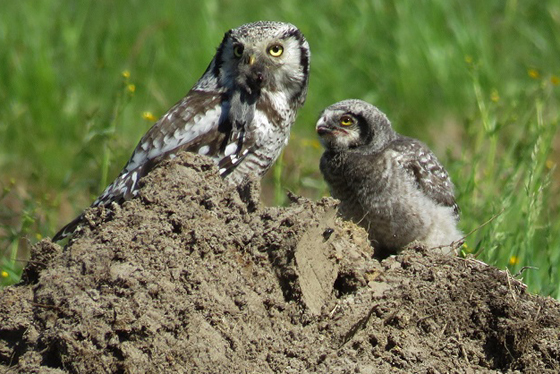 FINLAND PHOTOS: Capercaillie; Hawk-Owl feeding chick by Gina Nichol.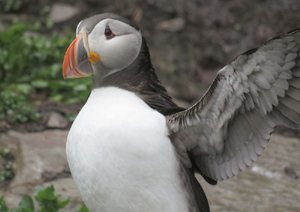 NORWAY
By early June we were crossing the Arctic Circle to Lapland and Norway's Varanger Peninsula and were captivated by prolonged, close views of displaying Ruff, incredibly close views of Bar-tailed Godwit, colorful Bluethroats, Temminck's Stint performing its butterfly display, and the gorgeous Dotterel. The fjords offered White-tailed Eagle and eventually gave way to the sprawling, wintry fells of the far north. The area around Vardø offered its own spectacular, jagged landscape and access to Hornøya, the "Bird Island" which teemed with thousands of alcids, puffins, shags and other nesting seabirds. REPORT>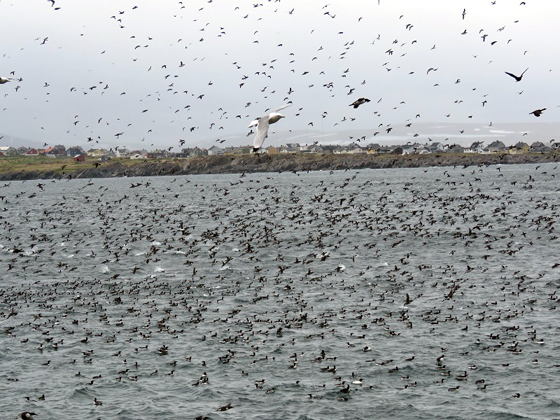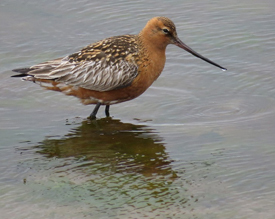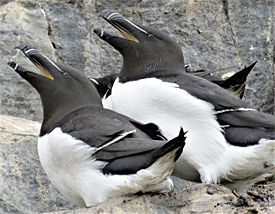 NORWAY PHOTOS: Atlantic Puffin; Seabirds off Hornøya; Bar-tailed Godwit; Razorbills by Gina Nichol.

In the northern forests of the US, we sent a small group on a short trip to the Adirondacks.


COSTA RICA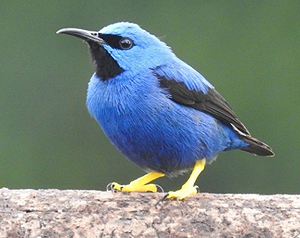 Back to the tropics, the Dragonflies & Nature of COSTA RICA were our quarry later in June. Under the watchful eyes of Dennis Paulson and Tom Bird, we logged 72 species of Odonates including specialties like Amazon Sapphirewing. We logged two dragonfly species yet to be described (Perithemis and Telebasis species) and 2 species that last year were new for the country, Peten Dasher and Mexican Scarlet-tail. Other highlights included a visit with photographer and artist Jose Perez, who showed our group Spectacled Owl, Great Potoo, Bat Falcon, and some gorgeous Honduran White Bats. Great Green Macaw, Snowy Cotinga and King Vulture were also highlights as were Brown-throated Three-toed Sloth and Mexican Hairy Dwarf Porcupine. Great food, great people and excellent wildlife made for a memorable and successful trip. REPORT>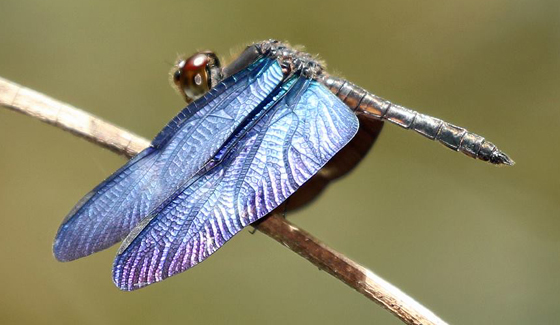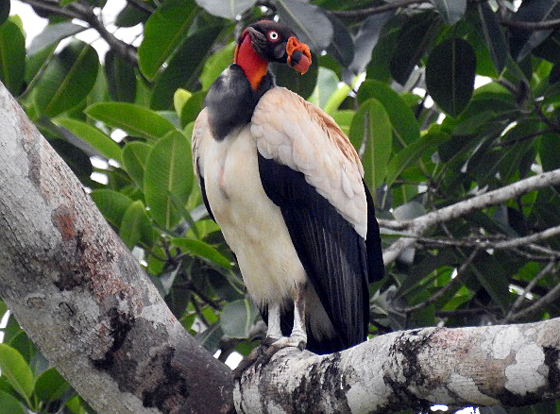 COSTA RICA PHOTOS: Shining Honeycreeper; Amazon Sapphirewing; King Vulture by Tom Bird.
HENSLOW'S SPARROW
Back in Pennsylvania, Frank Gallo took a group on a successful search for Henslow's Sparrow with great views of other open country species including Indigo Bunting, Grasshopper Sparrow, Field Sparrow, Chipping Sparrow, Savannah Sparrow, Bobolink, Eastern Meadowlark, American Kestrel, Cliff Swallow and Elk. REPORT>
Henslow's Sparrow by Frank Gallo.

BRITISH BIRD FAIR
In August, we once again visited the BRITISH BIRD FAIR where Gina gave her very well attended and received talk about birding on the Greek Island of Lesvos. One of the talk attendees reported: "Just got back from a second day at the Rutland Birdfair. We found most of the talks and image shows to be on a higher plane than previous years, and one of the real highlights was an excellent presentation today on Lesvos by American wildlife tour leader Gina Beebe Nichol. Particularly pleasing was that Gina drummed home to the large audience that the magnificent efforts by islanders and others to deal with the large passage of refugees had little effect on Lesvos as a tourist/birding destination. We went to several great talks at Birdfair, but our love for Lesvos made Gina's really stand out. The audience certainly loved it."
Frank W., England


CAPE COD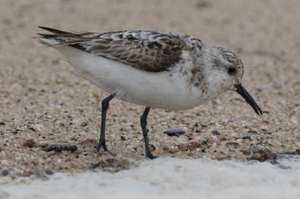 Fall migration was already underway when Dan Berard took a group to Cape Cod for an early September birding weekend. Highlights included stunning views of Roseate, Forster's, and Common Terns side by side, Red Knots still in their red breeding plumage, Great Blue Herons performing a territorial display, and shorebirds including American Oystercatcher, Whimbrel and 'Western' Willet. The landscapes, charm, wonderful seafood of the Cape combined with a laughter loving group made for a fun weekend. REPORT>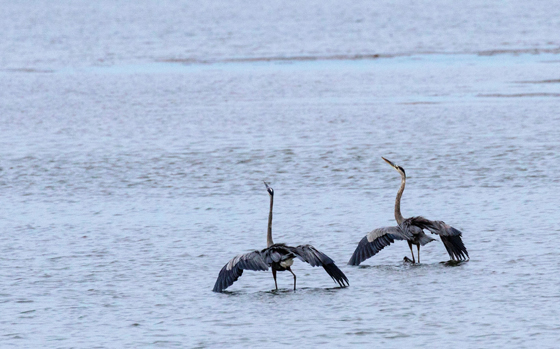 CAPE COD PHOTOS: Sanderling; Great Blue Herons displaying by Dan Berard.

SPAIN
Fall migration across the pond was the backdrop for our September Spain trip under the direction of Frank Gallo. Raptors, gulls, shorebirds and passerines all cooperated and the food and old world landscapes made for a memorable trip. REPORT>
Meanwhile, Gina and Steve manned the Sunrise Birding stand at the American Expo and Gina's Hummingbird talk once again dazzled the audience.


CHILE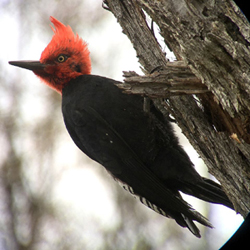 In October, Diego Calderon took a group to southern South America to explore Chile's Torres del Paine & Tierra del Fuego. The trip offered unbelievable intimate moments with several pumas, Magellanic Woodpeckers, King Penguins, Andean Condors, Lesser (Magellanic) Horned Owl, Long-tailed Meadowlark, Magellanic Plover, Magellanic Penguin and the most beautiful landscapes the southernmost part of the continent can offer...WHAT A TRIP!
A photo collection can be seen here>
Our next trip to Chilean Patagonia
(October 10 - 20, 2020) is already filling up.
See the details here>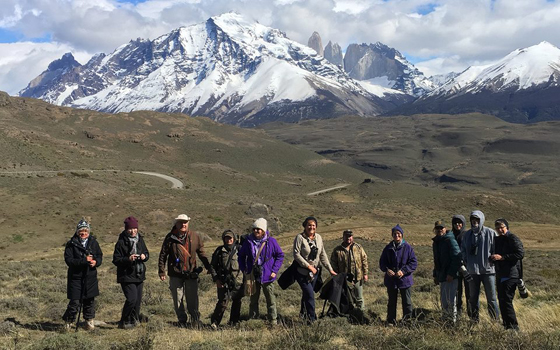 CHILE PHOTOS: Magellanic Woodpecker; Group at Torres del Paine by Diego Calderon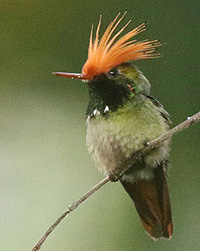 PERU
Meanwhile, Gina and Steve spent a week in PERU scouting for upcoming trips to this bird filled country. Watch for upcoming trips to Peru's Manu region and Macchu Picchu. Contact [email protected] for more information.
Photo: Rufous-crested Coquette, Peru by Steve Bird.


GUATEMALA
In November, Gina & Steve led Sunrise Birding's second trip of the year to Guatemala. Highlights included Horned Guan, amazing views of the mythical Unspotted Saw-whet Owl, Goldman's Warbler, Fulvous Owl, Cabanis's Tanager, Pink-headed Warbler, Orange-breasted Falcon at Tikal, Lesser Ground Cuckoo, and stunning views of Wine-throated Hummingbird. A happy client commented, "the combination of local hospitality, expert guidance and superb birding made it one of my best ever visits to the neotropics. Like everyone else I'm lost in admiration for Aron's field craft and Maynor's mastery of logistics which made it such a seamless and productive tour, plus your leadership and knowledge." REPORT>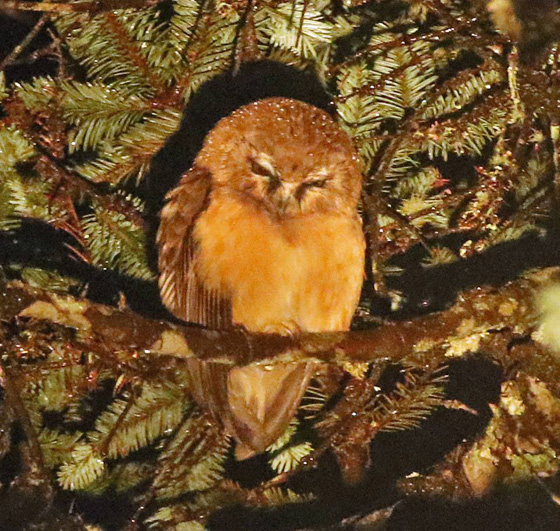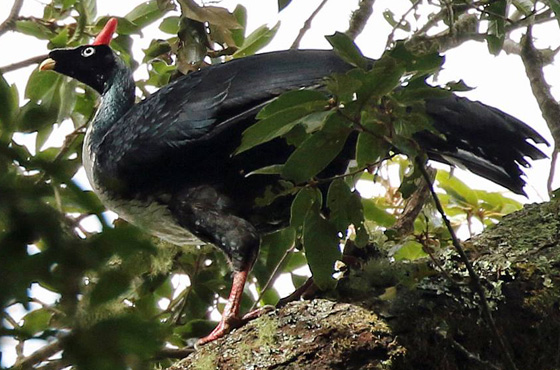 GUATEMALA PHOTOS: Unspotted Saw-whet Owl; Horned Guan by Steve Bird.
Throughout the year, Frank Mantlik & Frank Gallo offered local bird walks to our Connecticut Sunrise Birders.
2018 was another incredibly successful year for Sunrise Birding. Thank you to our wonderful clients for your continued support, good humor and sense of adventure and to our fantastic guides for all of your hard work. We look forward to seeing everyone out on the birding trail in 2019!
Gina & the Sunrise Birding Team
---
One more thing! If you are looking for a New Year's Resolution,
here is a suggestion:

Great Gray Owl by Gina Nichol.
---
For more information, contact Gina Nichol at [email protected] or call 203.453.6724.
TOURS> TRIP REPORTS>

To register for a tour, use the Registration form.