---
The Bird Parties of 2017!

Videos best watched in HD!
Sunrise Birding has had another incredibly successful year thanks to our wonderful clients, guides and ground agents around the world. This year featured new tours, some old favorites and some incredible concentrations of birds for us to enjoy. Here is a quick round up of the year including some of the bird "parties" we attended. Click the links for more photos and highlights. For more trip reports, click here>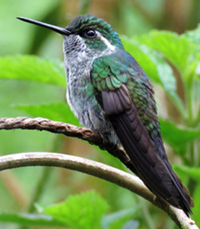 In January, Gina along with the team from Wildlife Lodges visited Nicaragua to investigate possibilities for ecotourism in the country. (Photo: Green-breasted Mountain Gem, Nicaragua by Gina Nichol). In the meantime, Luke Tiller led a tour in Southern California that featured specialties of the state and the trip to Santa Catalina Island made for an alcid party with good numbers of stunning Rhinoceros Auklet, Scripps's Murrelet, and Cassin's Auklet. PDF report>
In February, John Kricher led a group in Honduras at the wonderful Lodge at Pico Bonito. The lodge and its environs offered a great selection of colorful, tropical birds of the area while staying at in the most luxurious accommodations you'll find on a birding tour. PDF report>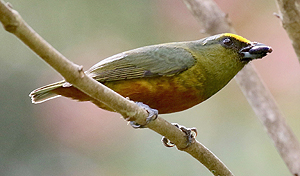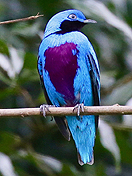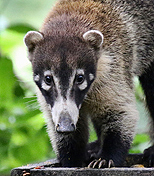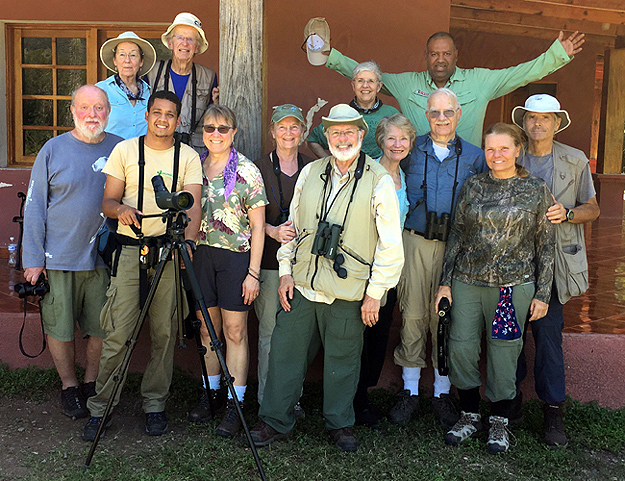 Photos: Olive-backed Euphonia, Lovely Cotinga, White-nosed Coati by John Kricher and
the Sunrise Birding group in Honduras.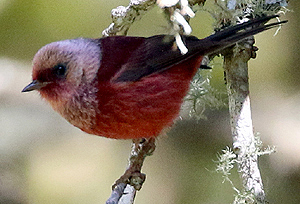 Meanwhile, Gina and Steve led Sunrise Birding's inaugural tour to Guatemala and Tikal. The cast of characters at this party included Pink-headed Warbler (Photo: Steve Bird), Azure-rumped Tanager, Orange-breasted Falcon, Blue-throated Motmot Resplendent Quetzal, Horned Guan, Belted Flycatcher, Guatemalan Pygmy Owl, Buffy-crowned Wood-Partridge, Slender Sheartail, Wedge-tailed Sabrewing, Ocellated Turkey and Rose-throated Tanager among others. The hike up for the Horned Guan (Photo: Gina Nichol) was fairly humane and we celebrated with great views of this enigmatic species.
More photo highlights, report, species list>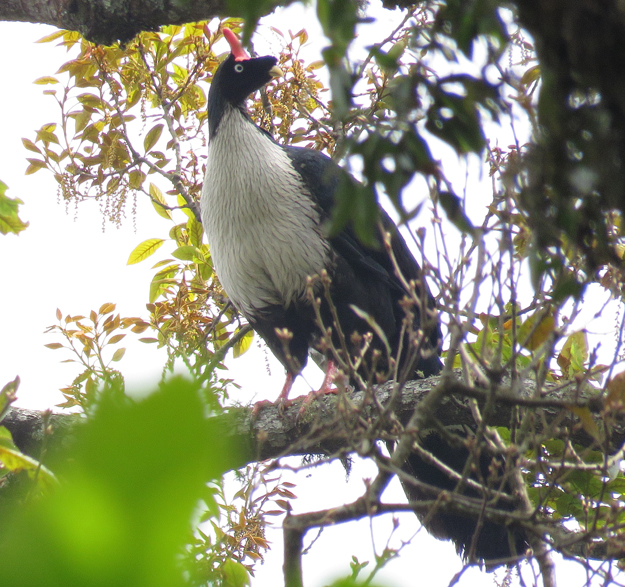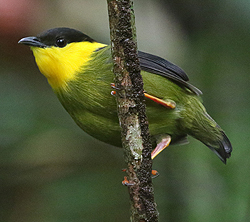 In March, Sunrise Birding visited Panama's Tranquilo Bay Lodge for the first time and enjoyed Golden-collared Manakins (Photo: Steve Bird) performing at their leks, and witnessed the spectacle of thousands of migrating raptors highlighted by 500+ Swallow-tailed Kites and Strawberry Poison Dart Frogs (Oophaga pumilio) of all colors. PDF report>
Just after Panama, Gina and Steve headed to Costa Rica to lead the classic trip. The party here again offered a variety of colorful tropical birds and highlighted by an amazing gathering of Scarlet Macaws at a lodge feeder in the Tarcol area.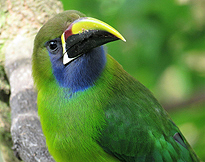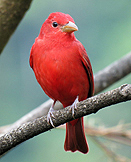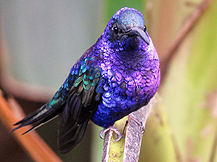 Blue-throated Toucanet, Summer Tanager, Violet Sabrewing by Gina Nichol.
Videos best watched in HD!
In April, Gina and Steve embarked on Sunrise Birding's inaugural tour to Cuba. Mojitos, Cuban music and several endemic bird species like Bee Hummingbird (Photo: Steve Bird) and Bare-legged Owl (Photo: Steve Bird) were the hits of this party.
More photo highlights, report, species list>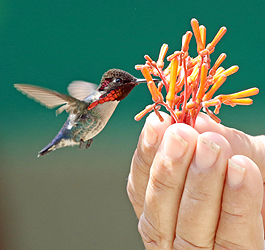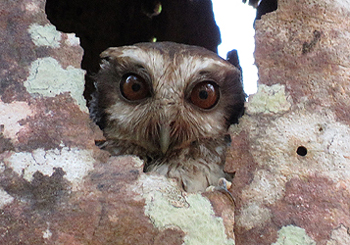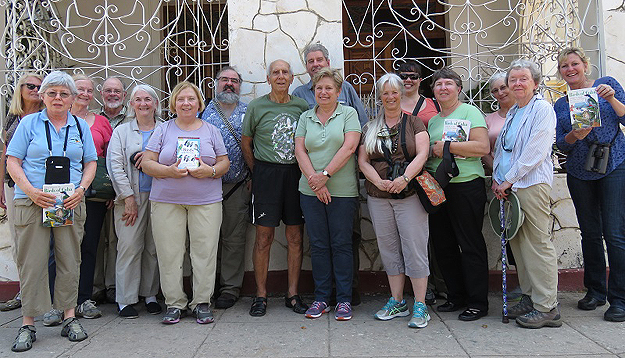 Sunrise Birding Cuba group with Orlando Garrido.
Later in April, Gina and Steve made the annual trip to the charming Greek Island of Lesvos for the biggest bird party of the spring migration in Europe. Shorebirds, passerines and migrating raptors and breeding birds were all in attendance. We'll never forget the incredible light on the Flamingos in Alykes Wetlands (Photo: Steve Bird) one morning or the Long-eared Owl in the parking lot of our hotel, the amazing views of Krüper's Nuthatch bringing food to chicks in a nest, and oh those Taverna lunches. As usual, we enjoyed wonderful food and hospitality of our extended family at our hotel.
More photo highlights, report, species list>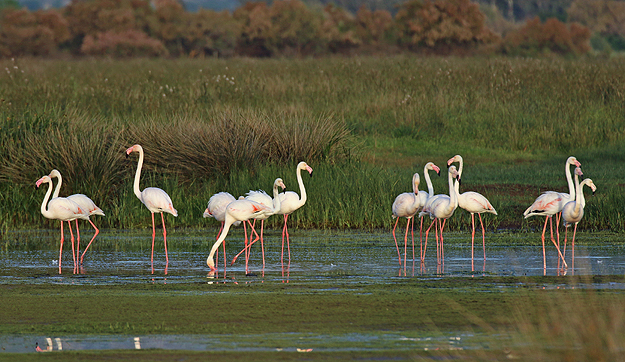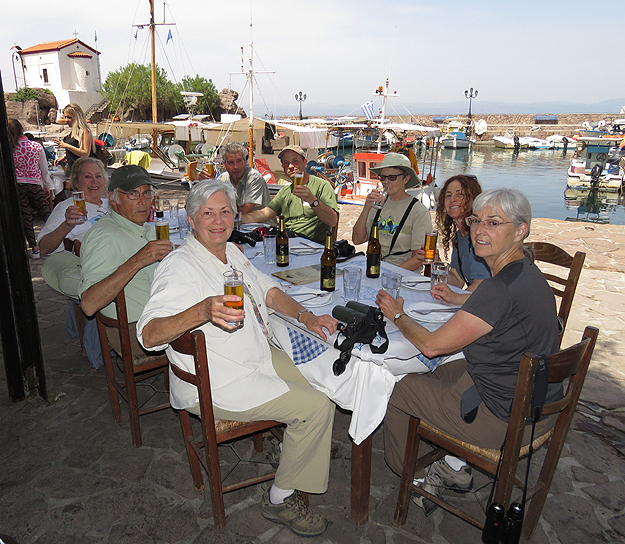 Taverna lunch in Lesvos.
In May, Gina was back in the US to be the featured speaker at the New Haven Bird Club's Annual Banquet. The topic: Lesvos: Europe's Biggest Week of Birding. Sunrise Birding also offered a Birdathon Walk to support Menunkatuck Audubon Society and Frank Mantlik offered a series of Spring Migration Bird Walks.
Later in May, Gina and Steve headed to Finland where the party included Capercaillie and Hazel Grouse in the house plus Ural, Great Gray and Eurasian Pygmy Owls, Dotterel, Black Woodpecker and so many fantastic sightings.
More photo highlights, report, species list>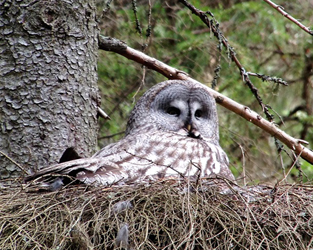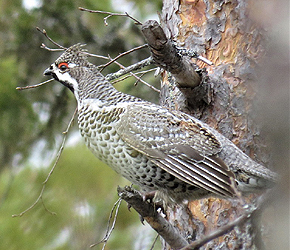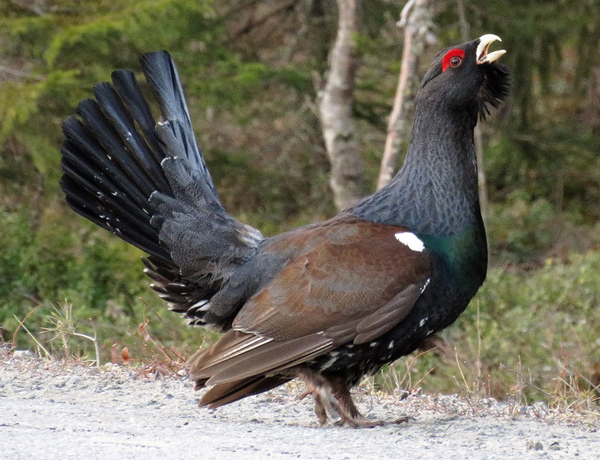 Great Gray Owl, Hazel Grouse, and Capercaillie by Gina Nichol.
The Finland trip was linked to Lapland and arctic Norway which featured fantastic arctic specialties including Arctic Redpoll, Bluethroat, Ring Ouzel, and King Eider in numbers. The big party, though was on Hornoya, the "Bird Island" with nesting Puffins, Shags, Kittiwakes all within inches of the walking path.
More photo highlights, report, species list>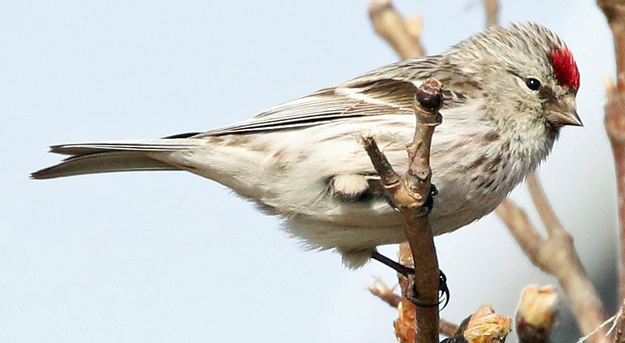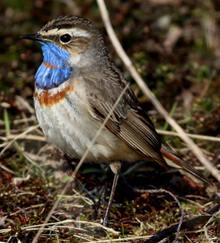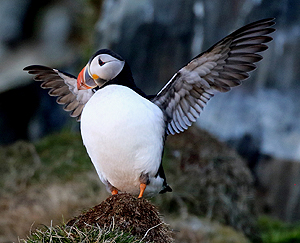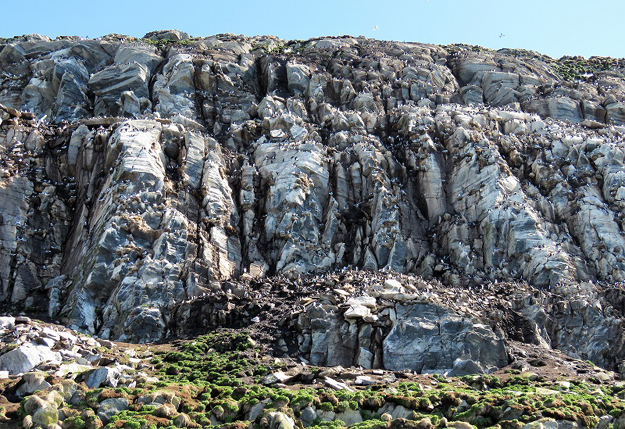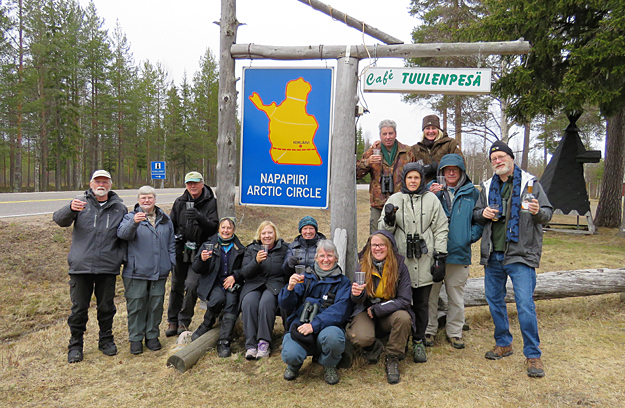 Photos: Arctic Redpoll, Bluethroat, Atlantic Puffin by Steve Bird. Hornoya Bird Cliffs by Gina Nichol.
Party at the Arctic Circle by fantastic driver Kari!
From there, we continued to Svalbard for our pre-cruise land trip which included visits to a Common Eider breeding colony and a bird party at the Dovekie nesting colony. The cruise offered incredible numbers of alcids along with a few Polar Bears.
More photo highlights, videos, report, species list>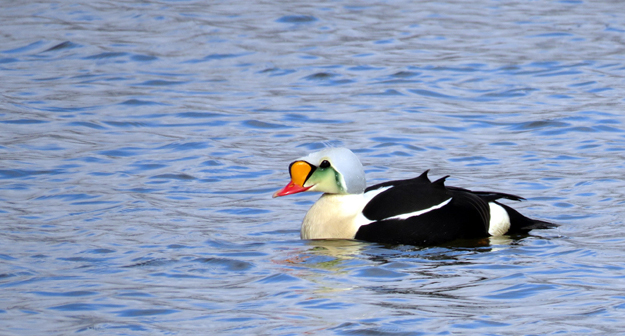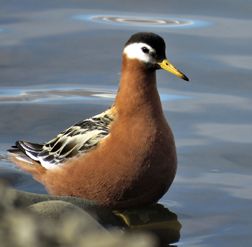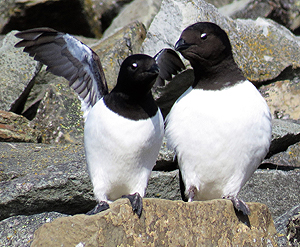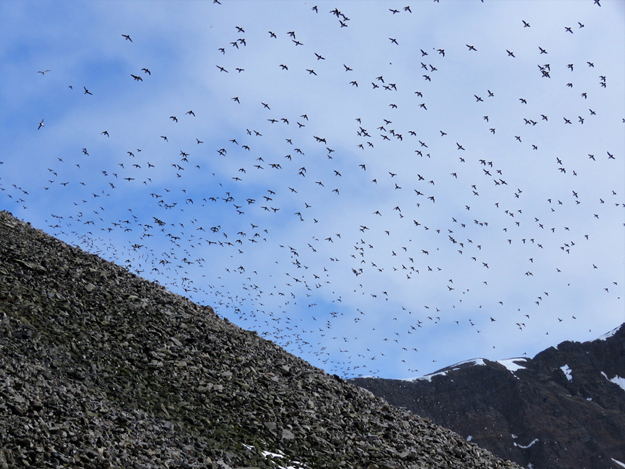 Photos: King Eider and Red Phalarope by Steve Bird. Dovekies and Dovekie colony by Gina Nichol.
In July, Sunrise Birding offered our first ever Dragonfly tours. Organized by Steve Bird and led by expert Dennis Paulson, we sent two groups for an ode party in Costa Rica.
Later that month, we embarked on a cruise in the Peruvian Amazon where the Bird Party featured Amazon River Islands Specialist bird species as well as Pink and Gray River Dolphins. More photo highlights, videos, report, species list>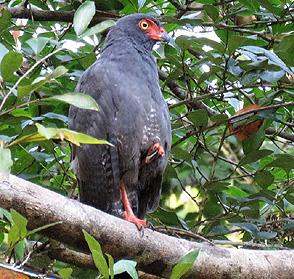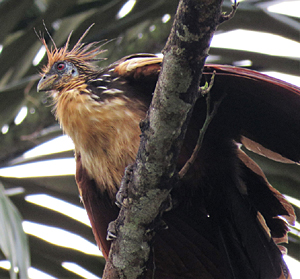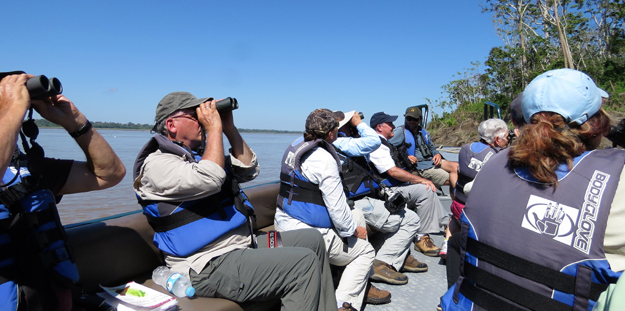 Photos: Slate-colored Hawk, Hoatzin, Group cruising the Amazon by Gina Nichol.
In August, we once again traveled to the British Bird Fair where we met guides and clients from around the world. Gina's Hummingbird Talk once again attracted a standing room only crowd.
In September, a small, lucky group traveled to Panama's Canopy Camp where the Bird Party featured the majestic Harpy Eagle. Ray Brown headed to the Galapagos Islands where the party featured Red-footed Boobies, Blue-footed Boobies, Galapagos Penguins, etc. and a special broadcast of Ray Brown's Talkin' Birds.
Follow this link to hear the October 1>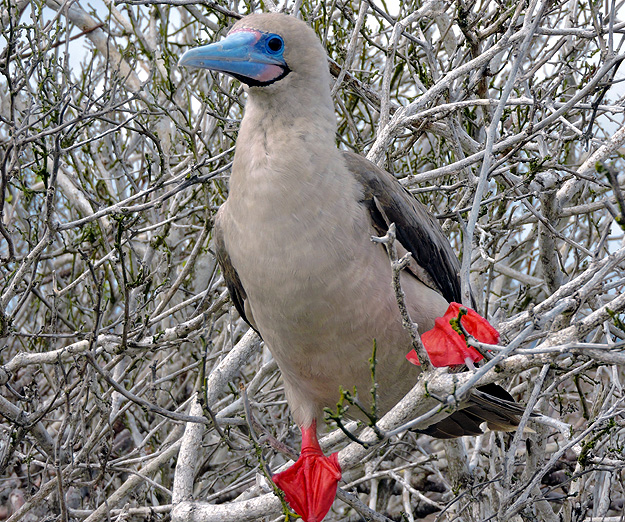 Red-footed Booby, Galapagos by Ray Brown.
At the same time, Diego Calderon and Eduardo Patrial brought a group to Jardim da Amazonia Lodge and Brazil's Pantanal which featured amazing encounters with Jaguars, Hyacinth Macaws, Sunbittern and a host of other gorgeous birds and an incredibly friendly Giant Anteater.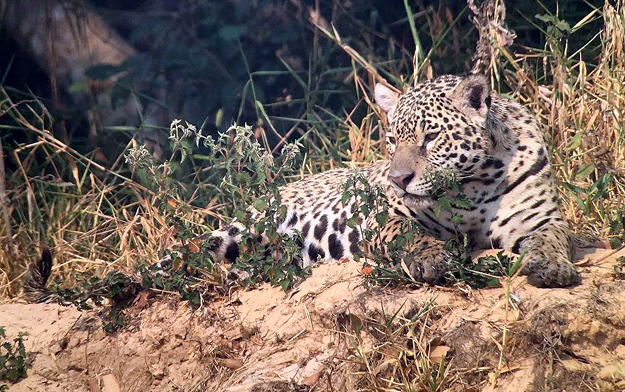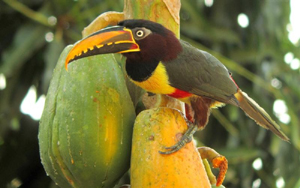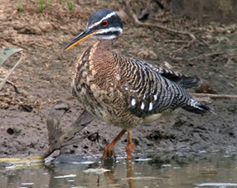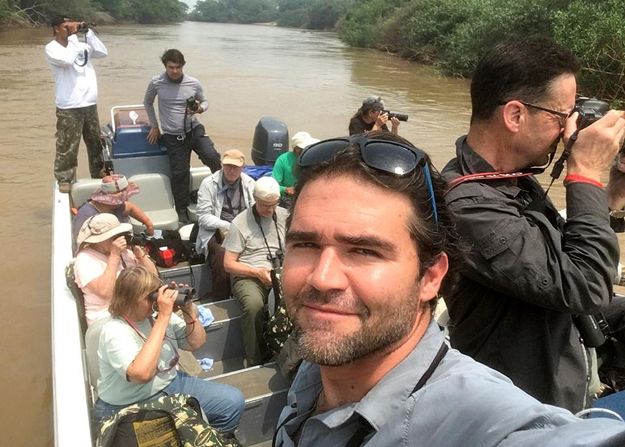 Photos: Jaguar, Chestnut-eared Aracari, Sunbittern and
group watching Jaguars in the Pantanal by Diego Calderon.
At the end of September, Sunrise Birding sponsored and attended the American Birding Expo in Philadelphia where we once again met clients and guides from all of the world.
More photo highlights>

Gina Nichol, Steve Bird and Tom Bird with Birding Expo founder Bill Thompson III.

Steve Bird, Carlos Bethancourt (Panama Canopy Tower), Benedicto and Lily Grijalva (Birding Expeditions, Guatemala) and Tom Bird (Wildlife Lodges) at the Birding Expo vendor party.
In October, we accepted an invitation to investigate for a future tour in northwest Argentina. This Bird Party featured three species of Flamingos, the bird specialties of the northwest, and lovely Malbec wine! Watch for an upcoming tour to this stunning part of South America! More photo highlights and videos>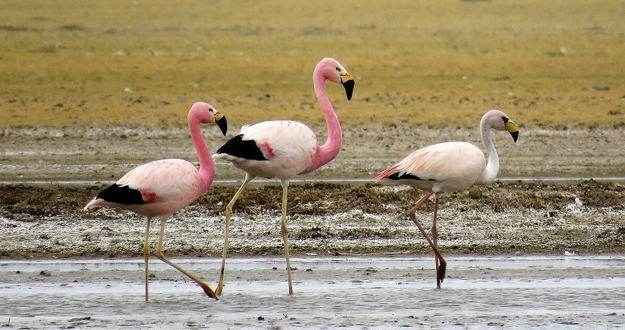 Andean Flamingos and James's Flamingo (right). Photo by Gina Nichol.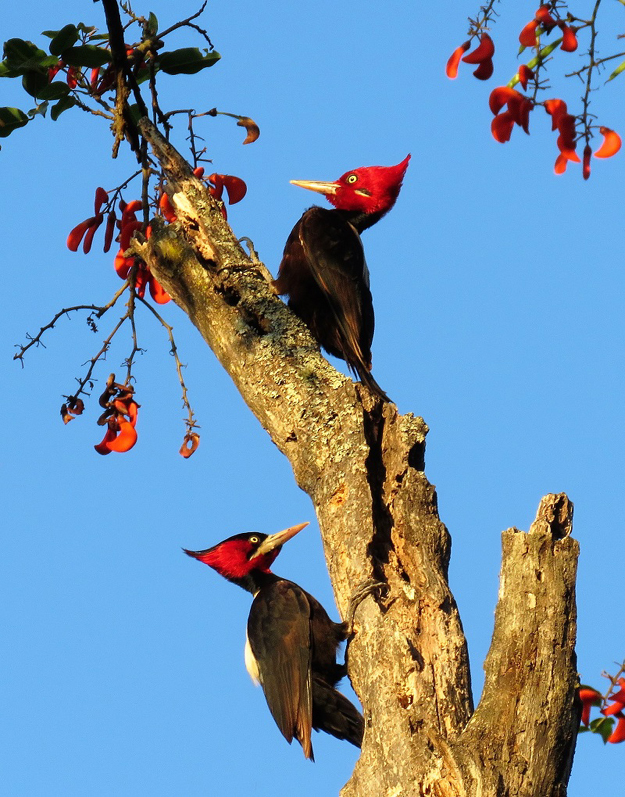 Cream-backed Woodpeckers. Photo by Gina Nichol.
At the end of October, Gina gave her very popular Hummingbird Talk for the Cove Island Sanctuary Annual Meeting. And in November, Sunrise Birding participated in WaderQuest's Wader Conservation World Watch with a local walk along the Connecticut shoreline.
Meanwhile, Diego Calderon took another group to Guyana to experience the wonders of the pristine forest there and see everything from Hoatzin to Guianan Cock-of-the-rock to Harpy Eagle as well as many Guianan Shield endemics.
Later in November, Steve and Gina led a tour in Japan to find some of the special island endemics and witness the gathering of Hooded and White-naped Cranes in Arasaki and Red-crowned Cranes in Hokkaido. Steller's Sea Eagle and Blackiston's Fish Owl were seen very well, Spectacled Guillemot was a highlight and the spectacle of thousands of cranes and waterfowl was nothing short of incredible.
More photo highlights and videos>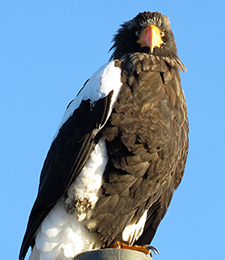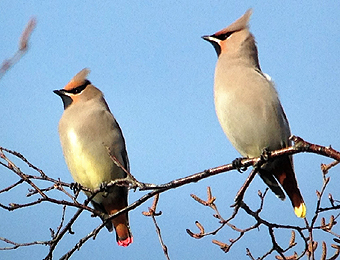 Steller's Sea Eagle, Japanese (left) and Bohemian Waxwing. Photos by Gina Nichol.
In December, another lucky group of birders enjoyed the endemics of the wonderful island of Jamaica and Gina was back in the US to give her Hummingbird Talk for Menunkatuck Audubon.
Throughout the year, Frank Mantlik, Frank Gallo and Steve Bird offered local bird walks to our Connecticut Sunrise Birders.
All in all, 2017 was another incredibly successful year for Sunrise Birding.
Thank you to our wonderful clients for your continued support, good humor and sense of adventure and to our fantastic guides for all of your hard work. See you on the birding trail in 2018.