PANAMA
September 14 - 24, 2019
Plus Canopy Camp extension
September 24 - 28, 2019

A Dragonfly & Nature Tour
with Dennis Paulson
Staying at the famous
Canopy Tower & Canopy Lodge
with an extension to the Darien Canopy Camp!
Contact
info@stevebirdswildlife.com
to
reserve your space!


Trip Cost & Travel Planning> Registration Form>


Like so many areas in the New World tropics, Panama is a paradise for dragonflies and damselflies. More than 200 species are known from the country and new ones are being discovered regularly. Additional species known from Costa Rica and Colombia but not yet from Panama are just waiting to be found. The 15 families of Odonata that occur there even further indicate the great diversity of dragonflies in Panama, compared with 11 in the US and 9 in the UK.
Landscapes and habitats are varied in Panama, from heavily forested lowland swamps and shallow marshy ponds to rushing rocky streams and open highlands lakes. Each one has its specialists among the Odonata, the damselflies and dragonflies. This tour will visit three parts of this diverse country, each different from the other in landscape, flora and fauna. This tour is focused on dragonflies with opportunities (especially in dull or wet weather) to look for other forms of nature including birds, mammals, butterflies, reptiles, etc. During the Canopy Camp extension, we will have the opportunity to go to a Harpy Eagle nest site.
Photo: Panamanian Knobtail by Dennis Paulson
---
ITINERARY:


Day 1: Start of Tour, Saturday, Sept. 14, 2019 Arrival Panama City – Welcome Dinner
If traveling from the UK or US you need to plan for a flight that arrives in Panama City, Tocumen International Airport (PTY) on September 14, 2019. Note this is just an arrival day and a free transfer service is available for us but only at specific times which are 09.30 and 15.30. Try to arrange flights that work with these transfer times. The tour begins with dinner tonight. Night Canopy Lodge. (D)



Days 2 - 5: Sunday, Sept. 15 - Wednesday, Sept. 18 – Canopy Lodge

The Canopy Lodge is a naturalist's heaven set in the hill country of the Valle de Antón at the foot of the Cerro Gaital. Bird life is spectacular here and quite different from that around the Canopy Tower, with many species coming in to the lodge feeders and the constant chance to encounter a truly rare species. Streams abound, each with its collection of exotic odonates, including such species as Black-lined Flatwing, Pygmy Sanddragon, and Little Clubskimmer. We will visit both higher and lower altitudes from here, with very different species. Higher sites will produce Blue-tailed Skimmer, Olmec and Talamanca Dancers, and Malachite Darner. Lower altitudes will include large numbers of skimmers of numerous species in open marshland. With one stream running right alongside the lodge we wont have to go far to start our adventure. If the gardens are in flower we could be treated to the gorgeous little Rufous-crested Coquette hummingbird feeding close by the dining area where wonderful meals are prepared daily. We will take excursions to visit a variety of habitats thus enabling us to find a wide variety of species.
4 Nights Canopy Lodge. (B,L,D) Photo: Tropical Amberwing by Dennis Paulson.
Days 6 - 10: Thursday, September 19 - Monday, September 23 – Canopy Tower

Today we travel back towards the famous Canopy Tower which was originally erected as a radar tower and used in defense of the Canal Zone. After it was no longer needed for that purpose, it and the land around it were transformed into a center for rainforest exploration. The hotel was opened in 1999 and, completely surrounded by forest, has been a prime destination for birders and naturalists ever since.
The tower is in Soberania National Park, a very large reserve, with an abundance of lakes and ponds and streams that are homes for a great variety of dragonflies and damselflies. The park borders the Panama Canal, quite visible in the distance, and there are lengthy trails through it into prime forest. Odonata species common in the area include four rubyspots, eight dancers, five pondhawks, seven dashers, and an array of fancy species such as Crimson Threadtail, Gold-tipped Darner, Bates's Emerald (Photo, right: Dennis Paulson), Panama Knobtail, Ruddy Streamskimmer, Amazon Pennant, and Sunshine Leafsitter (Photo, below: Dennis Paulson). Among them, all the colors of the rainbow are represented. What a great time we will have!
Birds are diverse and abundant here, monkeys are all around, and at any moment a well-camouflaged frog or brilliant butterfly or startling millipede may be a distraction as we look for dragonflies. The tower is especially exciting because it puts us up in the canopy, looking into it and even over it, where a Bat Falcon or Swallow-tailed Kite may swoop in and capture a migrating Spot-winged Glider. A Three-toed Sloth may be munching on a cecropia leaf nearby as a big Green Iguana looks on and at night-time for those that can can stay awake both Panamanian Night Monkey's and Kinkajou are often seen right from the dining area. Our days spent here will be packed with a full array of wildlife experiences. Nearly everyone interested in nature from around the world has heard of the famous Canopy Tower and it has been featured in many magazines and on TV. This will be your opportunity this unique and wonderful place.
5 Nights Canopy Tower. (B,L,D)
Day 11: Tuesday, September 24 – End of Tour or continue on Extension to Canopy Camp

For those ending our fabulous tour there will be 2 transfers back to Panama Tocumen International Airport (PTY). And for those continuing on the the wonderful Canopy Camp Darien we will set off early on our journey to arrive there in time for lunch. The Canopy Camp was designed after the famous African style tented camps and in no way would it be considered camping. Beautiful large canvas tents with mesh windows are built onto a concrete base and have hot showers and flushing toilets. A proper bed, nice flooring and a selection of furniture make it a very cozy place to stay. All the rooms have a wooden balcony looking out into the forest and are all set a nice distance away from each other. There is a well laid out lounge and dining area and the food is simply superb. If you can tear yourself away from your lovely accommodation or comfy seats in the lounge area then in the afternoon we will visit some nearby forest streams and wetland for our first insight into an area that has been very little studied.
4 Nights Canopy Camp Darien (B,L,D)
Days 12 - 14: Wednesday, September 25 - Friday, September 27 – Canopy Camp Darien
The Canopy Camp is set in a very different place. At present we have no dragonfly list to share, which is the most exciting thing about visiting there. This is Darien, the far eastern province of Panama and until very recently the most poorly known part of the country. Now the birds have been well documented, but nothing is known about the dragonfly fauna. Many birds are common here that don't occur farther west in the Canal Zone, and we are confident that the same situation will prevail among the odonates, with Colombian species never before found in Central America. We know enough about those Colombian species to be very excited at the prospect. So we can't even give an indication of what species we are likely to see, it just gets more exciting the more we think about it.

As for birds and other nature there is one obvious bird that all those with an interest in nature have heard ab
out and would love to see – the magnificent Harpy Eagle. On one day we will go in search of this the largest flying bird of prey in the Americas. While heading for one of its known nest sites we will pass many bodies of water so our odonata fix will still be satisfied. Other rare and unusual birds here include Green-and-rufous Kingfisher, Black-and-white Hawk Eagle, Spot-fronted barbet, Black Oropendola and much more.
4 Nights Canopy Camp. (B,L,D)
Day 15: Saturday, September 28, 2019 – Return to Panama City, Tocumen international airport - END of Tour
Please try to arrange your departing flight no earlier than 2.00pm (midday). You should allow 2½ to 3 hrs from arrival at airport to your flight departure. We will leave Canopy Camp Darien shortly after breakfast (B, L)

The tour includes:
* Lodging as per itinerary based on sharing a room with en-suite facilities
* Meals from dinner day 1 to breakfast on day 11 on Main Tour, and lunch on day 15 extension
* Group airport transfers
* Ground transportation by air-conditioned coach and or 4x4 depending where we go and how big group is.
* All Reserve and parks entrance fees
* Hotel Taxes
* Bottled water throughout
* Services of all leaders and local guides

Leaders: Dennis Paulson and Tom Bird plus Local guides
Dennis Paulson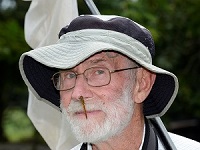 Dennis Paulson grew up in Miami, exposed to subtropical nature in all its glory while southern Florida was still largely unspoiled. He received his Ph.D. in Zoology from the University of Miami in 1966 with a study of the dragonflies of southern Florida, and shortly thereafter he moved to Seattle, where he has lived ever since. He retired as the Director of the Slater Museum of Natural History at the University of Puget Sound, where he also taught in the Biology Department. Dennis has taught at three universities and continues to teach adult-education courses in many venues. He has also led nature tours and traveled on his own to all continents, and he has studied and photographed dragonflies and birds worldwide and published over 75 scientific papers on his favorite animals. He is an avid nature photographer, with many photos published in magazines, books and interpretive displays.
Dennis's published books include Dragonflies and Damselflies of The West; Dragonflies and Damselflies of the East; Shorebirds of North America:The Photographic Guide; Shorebirds of the Pacific Northwest; Exotic Birds; and Alaska:The Ecotravellers' Wildlife Guide. Beyond these interests, he is a well-rounded naturalist with a broad knowledge of plants and animals of the world. We are pleased to have Dennis leading our dragonfly and nature trips.