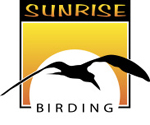 The arctic wilderness of Svalbard lies between mainland Norway and the North Pole just 600 miles away. This Norwegian archipelago in the Arctic Ocean is astonishingly beautiful with rugged mountains, sprawling tundra, massive glaciers and ice caps. Svalbard (also known as Spitsbergen) houses some of the most spectacular scenery and remarkable wildlife on earth and is one of the best places to see Polar Bear. And, since Ivory Gulls feed on offal left by Polar Bears, it is one of the best places to see this enigmatic bird.
Under the perpetual sunshine of high summer, we will explore the wild treasures and cultural remains of Svalbard from the comfort of our 300 foot expedition vessel. We will search for Svalbard's most imposing resident, the Polar Bear, as well as Walrus, Bearded and Ringed Seal, Arctic Fox, Svalbard Reindeer and Minke and Fin Whale among others.
Avian specialties here include the elegant Ivory
Gull, the stunning King Eider, Red Phalarope, Atlantic Puffin, Dovekie, Thick-billed Murre, Northern Fulmar, Pink-footed Goose, Rock Ptarmigan, Arctic Tern, Great Skua, and Parasitic and Long-tailed Jaeger among others and the frenetic seabird cliffs. This arctic adventure in high summer will surely be the trip of a lifetime!


Join Sunrise Birding to experience the unique wilderness and wild residents of Svalbard in Arctic Norway !
Trip Cost & Travel Planning> Registration Form> About the M/V Plancius> Pre-cruise extension>
---
ITINERARY Itinerary map>
Day 1: Our tour begins in Longyearbyen, the administrative capital of the Spitsbergen archipelago of which West Spitsbergen is the largest island. Most flights go through Oslo, Norway to reach Svalbard, Longyear Airport (Airport code: LYR) Longyearbyen, Norway.

If you arrive early you can take the opportunity to stroll around this former mining town, whose parish church and Polar Museum which are well worth visiting. The flowering tundra surrounding Longyearbyen, may offer Rock Ptarmigan or White-winged Snowfinch, while closer to the shore there should be Purple Sandpipers, Dunlin, Common Eider and beautiful Long-tailed Ducks. Glaucous Gulls should be around and we can search among them for something more unusual. In the early evening we will board our ship and settle into our cabins, before having a briefing and then sailing out of Isfjorden. We will follow the intended itinerary below nonetheless the weather, sea and ice conditions may require the captain to alter the route.


Day 2: We sail to Raudfjord on the north coast of West Spitsbergen, a beautiful fjord dominated by spectacular glaciers and favored by Ringed and Bearded Seal. The cliffs and shoreline of the fjord also support thriving seabird colonies and a surprisingly rich vegetation, which flourishes in sheltered spots. Here we are in prime habitat for the largest land carnivore in the world, the Polar Bear, so we will all be on high alert as we search this spectacular scenery with hopes of seeing this enigmatic and rare creature. There are several rich seabird colonies in this area and we could easily come across Black-legged Kittiwake, Atlantic Puffin, Thick-billed Murre, Pomarine and Parasitic Jaeger. In the evening we will sail by the island of Moffen where there is often a huddle of Walruses to be found.


Day 3: Depending on the weather we may sail to the mouth of Liefdefjorden on the north coast of Spitsbergen and go ashore for a walk on the tundra island of Andøya. The influence of the gulf stream creates a favorable climate for unique arctic wildflowers here and we'll hope to see some of them as we explore the landscape of the island which is colored by red sandstones in the soils. Common Eider, Arctic Tern and Pink-footed Goose nest here, and if we are lucky we can find the rare King Eider. We hope to sail into Liefdefjorden and cruise near the face of the impressive Monaco Glacier, a favorite feeding spot for thousands of Black-legged Kittiwake. Polar Bear have been seen on the glacier, providing wonderful opportunities for photography.


Day 4: Today we will sail into Hinlopen Strait watching for Blue Whale as we enter. The Strait is home to Bearded Seal, Ringed Seal, Polar Bear, and Ivory Gull. We'll navigate the ice floes of Lomfjordshalvøya in our zodiacs and explore the bird cliffs of Alkefjellet home to thousands of Thick-billed Murres. On
the east side of Hinlopenstrait, we'll attempt a landing at Palanderbukta on Nordaustlandet, part of the Northeast Svalbard Nature Reserve and home to Reindeer, Pink-footed Goose, breeding Ivory Gull, and Walrus. On land, we hope to see the Svalbard Poppy (Papaver dahlianum) growing on the scree slopes and ledges. This small, delicate flower can be yellow or white. It is one of 164 vascular plant species on the archipelago (an amazing number this far north) and holds the altitude record for flowering plants in Svalbard and is the symbolic flower of the region.


Day 5: We will try to reach our northernmost point at Phippsøya, in the Seven Islands north of Nordaustlandet. Here we will be at 81 degrees north, just 540 miles from the geographic North Pole. Once again we are in prime Polar Bear habitat and we will watch for these as well as a host of birds that include Ivory Gull, Long-tailed Skua, King Eider, and Sabine's Gull. Ringed and Bearded Seals should be present.

Day 6 - Retracing our route westwards, our route takes us through and along the pack ice, keeping watch for Polar Bear and the elusive Greenland Whale (Bowhead). About 40 nautical miles west of Spitsbergen we sail along the edge of the continental shelf, where Fin Whale forage in summer in the upwellings along the Spitsbergen banks. At the mouth of the Kongsfjord we have also good chances to see Minke Whale.


Day 7: We land at the northern tip of Prins Karls Forland near Fuglehuken. Seabirds nest on the cliffs, and along the coast we hope to see Harbor Seal, the only population found in Spitsbergen. Here we also will observe the remains of the Polar Bear hunting era, with demolished set guns and bear traps. At the opposite site of Forlandsundet at Sarstangen is a haul out place for Walrus. Alternatively we sail into St. Johns Fjord or south to the mouth of Isfjorden and land at Alkhornet. Seabirds nest on its cliffs and Arctic Fox search the cliff base for fallen eggs and chicks, while Spitsbergen Reindeer graze the relatively luxuriant vegetation. In the evening, we arrive in Longyearbyen.

Day 8: We disembark in Longyearbyen, the administrative center of Spitsbergen, for the flights south to Oslo and onward home.
---
ABOUT THE M/V PLANCIUS

Passengers: 116 in 53 cabins
Staff & crew: 47
Length: 89 meters (293 feet)
Breadth: 14.5 meters (47 feet)
Draft: 5 meters (16 feet)
Ice class: 1D (Plancius has a Lloyds class notation 100A1 Passenger ship, Ice Class 1D at a draught of 5 meters)
Displacement: 3211 tonnes
Propulsion: 3x Diesel-Electric
Speed: 10 - 12 knots maximum
Cabins/$US per person:
Quadruple Porthole: $3900
Triple Porthole: $4700
Twin Porthole: $5,540
Twin Window: $5,800
Twin Deluxe: $6,150
Superior: $6,850

M/v "Plancius" accommodates 116 passengers in 53 passenger cabins with private toilet and shower in 4 quadruple porthole cabins, 2 triple porthole cabins, 9 twin porthole cabins, 26 twin cabins with window and 2 twin deluxe cabins, all (ca. 12,5 square meters) and 10 twin superior cabins (ca. 21 square meters). All cabins offer lower berths (one queen-size bed in the superior cabins and two single beds in the twin cabins), except for the 4 quadruple cabins (for 4 persons in 2x upper and lower beds), and 2 triple cabins (1 bunk bed plus 1 lower bed).
The vessel offers a restaurant/lecture room on deck 3 and a spacious observation lounge (with bar) on deck 5 with large windows, offering full panorama view. M/V"Plancius" has large open deck spaces (with full walk-around possibilities on deck 4), giving excellent opportunities to enjoy the scenery and wildlife. She is furthermore equipped with 10 Mark V zodiacs, including 40 HP 4-stroke outboard engines and 2 gangways on the starboard side, guaranteeing a swift zodiac operation. M/v "Plancius" is comfortable and nicely decorated, but is not a luxury vessel. The vessel is equipped with a diesel-electric propulsion system which reduces the noise and vibration of the vessel considerably. The 3 diesel engines generate 1.230 horse-power each, giving the vessel a speed of 10 - 12 knots. The vessel is ice-strengthened and was specially built for oceanographic voyages. M/V"Plancius" is manned by an international crew of 37 (18 nautical crew and 19 hotel crew), 8 expedition staff (1 expedition leader, 1 assistant expedition leader and 6 guides/lecturers), and 1 doctor.
---
SVALBARD: Ice Bears & Ivory Gulls
June 15 - 22, 2017
Trip Cost & Travel Planning> Registration Form> About the M/V Plancius> Pre-cruise extension>

CABIN PRICES -- $ US per person:
$3,900 ~ Quadruple Porthole

(Deposit: $780 pp)


$4,700 ~ Triple Porthole

(Deposit: $940 pp)


$5,540 ~ Twin Porthole

(Deposit: $1,108 pp)


$5,800 ~ Twin Window

(Deposit: $1,160 pp)


$6,150 ~ Twin Deluxe

(Deposit: $1,230 pp)


$6,850 ~ Superior

(Deposit: $1,370 pp)

DEPOSIT:

20% of cabin cost per person. See left for deposit amount.


Tour deposits can be paid by credit card via PayPal. Use this link>

to make your credit card payment. Please advise gina@sunrisebirding.com when you have made payment.




Prices are from Longyearbyen, Norway and based on current exchange rates.

BOOK EARLY to secure your choice of cabin.
Contact gina@sunrisebirding.com to reserve your space!
Included in cost:
- Expedition aboard the M/V Plancius as indicated in the itinerary.
- All meals throughout the voyage aboard the ship including snacks, coffee and tea.
- Shore excursions and activities throughout the voyage by Zodiac.
- Program of lectures by noted naturalists and leadership by experienced expedition staff.
- Free use of rubber boots.
- All miscellaneous service taxes and port charges throughout the program.
- AECO fees and governmental taxes.
- Comprehensive pre-departure material.
Not included: Cost does not include roundtrip airfare to and from Longyearbyen, Norway; passport/visa fees, insurance, departure taxes, items of a personal nature such as: laundry, telephone, beverages, or gratuities for porterage or personal services.

Transportation/Travel Planning: You will be responsible for making your travel plans to Longyearbyen, Norway. We have a flight agent who can help with your travel plans. Please inquire.
Do not book flights until you have the detailed information from us about timings for arrivals and departures.


RESERVATIONS:

To reserve your place on this tour, complete the Registration Form and mail it with a deposit of 20% per person to Sunrise Birding, LLC. Instructions are on the form.
>Download and print the Registration Form.

Final payment is due by February 15, 2017 and must be paid by check or bank transfer.
**Please note: Tour prices are based on quoted costs from ground operators (in their local currency), estimated fuel costs, and the rate of exchange the time of itinerary publication. The erratic nature to global financial markets makes it difficult to predict changes in costs and foreign currency exchange rates over the long term. Since tours are priced well in advance of the actual operation of the tour, tour costs, fuel costs and exchange rates can change, sometimes drastically. Depending on the extent of such changes, it may be necessary to implement a surcharge on this tour. If a surcharge is necessary, every effort will be made to minimize the amount.


Cancellations and Refunds: All cancellations must be made in writing. In the event that you must cancel your booking at any stage, all payments you have made to Sunrise Birding, LLC will be retained by us, except at our discretion. Please ensure that you take out adequate insurance to cover this and any other eventuality as early as possible. You may have the opportunity to transfer your booking to another tour or another person, provided you are unavoidably prevented from coming on the tour. In this case, you will bear any extra costs that such changes may incur.
There are no refunds once the trip is confirmed to go ahead and no refunds will be made for unused meals, accommodations, or other trip features.
Insurance: The purchase of trip cancellation insurance to cover any and every eventuality is strongly recommended. Medical emergency evacuation insurance is MANDATORY for this tour. Sunrise Birding, LLC can not accept liability for airline cancellations or delays or penalties incurred by the purchase of non-refundable airline tickets or other expenses incurred by tour participants in preparing for this tour.
Questions? Contact Gina Nichol at gina@sunrisebirding.com
Phone: 203.453.6724
---