Itinerary
Day 1 - Arrival Houston
The first part of the tour begins in Houston, Texas on the afternoon of April 10 which should give us some time to visit W. G. Jones State Forest. Here we will search for pine forest specialties including Red-cockaded Woodpecker and Brown-headed Nuthatch. Night Conroe.
Day 2 - W. G. Jones State Forest / Winnie
We will return to W. G. Jones State Forest where other woodpeckers include Downy, Red-headed, Red-bellied, and the huge Pileated can be found. Within the pine forest we can also find Wood Duck, Carolina Chickadee, White-eyed Vireo, and Pine Warbler.

From here, we will drive to the coast and birding en route should yield more common birds such as Red-winged Blackbird, Turkey Vulture, and Loggerhead Shrike and possibly our first sighting of the beautiful Scissor-tailed Flycatcher. Depending on timing, we may pull of to survey the open country for our first Buff-breasted or Pectoral Sandpipers or perhaps American Golden Plovers. We will stop at sites to look for Cinnamon Teal, King Rail, Eastern Kingbird, and the first returning Dickcissels of the spring.We'll check into our accommodation near High Island where we spend the next five nights. Nights Winnie.
Days 3 to 6 -
High Island / Anahuac / Bolivar
We are now based on the doorstep of some of the most exhilarating birding imaginable. Anahuac National Wildlife Refuge, with its wealth of marshes and pools is excellent for a great variety of species including Fulvous Whistling Duck, White-faced Ibis and sometimes Glossy Ibis. Rails are well represented including Sora, King, Clapper and even Yellow Rail. Black Rail is also possible here if we are lucky. We can look for Little and American Bittern among the reeds and watch for Purple Gallinules peering out from the lily pads, and waders such as Wilson's Phalarope, Baird's, Buff-breasted, Stilt and Pectoral Sandpipers can be found.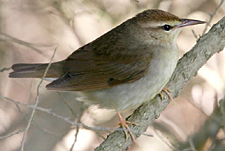 At High Island, we will make regular visits in the mornings and evenings to both Boy Scout and Smiths Oaks Woods where a profusion of brightly colored warblers will vie for our attention. Up to 25 species of warbler in a day is not unusual and among those we will be seeking are Yellow-throated, Mourning, Worm-eating, Swainson's, Cerulean, Blackburnian, Hooded, Magnolia, Prothonotary, Bay-breasted, Chestnut-sided, Golden-winged, Kentucky and Blue-winged, plus Northern and Louisiana Waterthrush, Ovenbird and Northern Parula. There will be many other species migrating through the area, such as Indigo and Painted Buntings, Baltimore Oriole, Rose-breasted and Blue Grosbeaks, Wood Thrush, Veery, Scarlet and Summer Tanagers, and Black-billed Cuckoo to name but a few.

Bolivar Flats is a huge tidal lagoon where thousands of waders, gulls and terns congregate. Here and among the surrounding fields, we will be able to get very close views of Western, Least, Semipalmated, Pectoral, Buff-breasted and Upland Sandpipers, Marbled Godwit, Long-billed Curlew, Wilson's and Piping Plovers, American Oystercatcher, Willet, Brown and White Pelicans, Caspian, Royal, Forster's, Least and Gull-billed Terns, Black Skimmer, and in the marshes bordering this incredible area Nelson's, LeConte's and Seaside Sparrows.

On one day we will pay a visit to Silsbee in Big Thicket country where we will search for Bald Eagle, American Swallow-tailed Kite, Bachman's Sparrow, Brown-headed Nuthatch and Prairie Warbler. These days will provide a relaxed yet bird-filled experience in Spring Migration heaven. Nights in Winnie.

Day 7 - Departures from Houston
This morning we head back to Houston for flights home or to continue on to the Texas Hill Country tour.
NOTE: This tour can be combined with:
Texas Hill Country
April 16-20, 2013

Ultimate Big Bend & the Davis Mountains
April 20-25, 2013
Click here for the itinerary>>
Leader: Frank Mantlik